Chongqing Transportation - by Air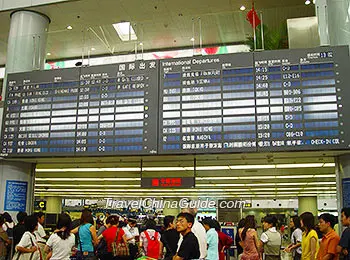 As a major municipality in southwest China, Chongqing can be easily reached by air. The city has three aviation portals in service, the principal one is the
Chongqing Jiangbei International Airport
. Jiangbei International Airport is located in Lianglu Town, Liangjiang District, about 13 miles (21km) northeast of the city proper. The other two are located in the suburbs of this city, Wanzhou Wuqiao Airport in Wanzhou District and Qianjiang Wulingshan Airport in Qianjiang District.
Jiangbei International Airport links 28 capitals, three municipalities and many other cities in China, mainly including Beijing, Shanghai, Guangzhou, Nanjing, Hangzhou, Xi'an, Lhasa, etc. In addition, planes also fly to 37 international cities, including HK, Macau, Taiwan, Colombo, Chiengmai, Doha, Helsinki, Seoul, Singapore, Tokyo, Bangkok, Phuket, Philippine, Sabah, Maldives, Jeju, Los Angles, San Francisco, Sydney, etc.
In the near future, more and more international flights will be in place. On Feb. 3, 2015, four times weekly direct flights to Kuala Lumpur are launched.

Chongqing Flights

Chongqing Airport Transfer

From Jan. 3, 2014, passport holders of 51 countries and regions are granted a visa-free stay of up to 72 hours when taking an international transfer via Jiangbei International Airport. After its implement, an increasing number of international tourists choose to have a short layover in the city. Read details about
72-Hour Visa-Free Transit
.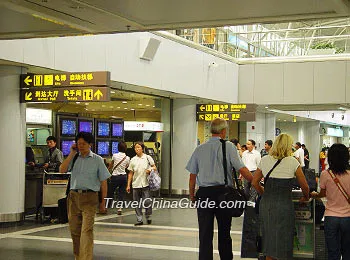 How to transit between the airport and city proper?
By Shuttle Bus: There is only one shuttle bus between the airport and Shangqingsi in the city. Shangqingsi Station is about 656 yards (600m) to the east of Niujiaotuo Subway Station of Line 2 or Line 3. The bus operates till the last flight from the airport has landed.
By
Subway Line 3
: This line links the airport and the city proper, and also connects the North Railway Station, the Railway Station and the Sigongli Transportation Hub together. The ticket fare from the airport to north railway station is CNY5, CNY6 to railway station, CNY7 to Sigongli Transportation Hub.
By Taxi: The taxi can be hired easily outside the airport. The taxi fare to the north railways station is around CNY40 to 45 and around CNY55 to 60 to the railway station.

Long-distance buses to suburb and nearby cities: Between terminal T2A and T2B lies the long-distance bus center, where travelers can board buses to suburb of Chongqing and cities of Hubei Province, Sichuan Province as well as Guizhou Province.
The other two airports only have a few domestic flights. The Wanzhou Wuqiao Airport, about 9 miles (15km) from the Wanzhou central part, is the first airport built in the
Three Gorges Dam
area and attracts many sightseers. It operates scheduled flights to 10 cities including Beijing, Shanghai Guangzhou, Chengdu, Chongqing, Hangzhou, Kunming, Xi'an, Xiamen, and Guiyang. In 2016, flights to HK are also in the works. The Qianjiang Wulingshan Airport is located at Zhoubai Town, Qianjiang District, about 2.5 miles (4km) from the Qianjiang central part. This airport operates flights to Beijing, Shanghai, Guangzhou, Chongqing, Chengdu, and Kunming.
According to the plans, another two suburban airports will be built for the convenience of sightseeing. One of the airports is Wushan Shennu Airport, which was constructed at the end of 2014, lasting two years. The other is Wulong Airport. Travelers may easily reach Wulong to visit the splendid Wulong Karst after everything is completed.
- Last modified on Mar. 27, 2018 -
Questions & Answers on Chongqing Transportation by Air
Asked by Seongwoo Yi from SOUTH KOREA | Mar. 27, 2018 03:50

Reply
Travel from Chongqing to Chishui
Where and When should I take a long distance Bus?
And also I`d like to know the time-table at the each Bus terminals.
Please let me know!
Answers (1)
Answered by Julie from AUSTRALIA | Mar. 27, 2018 19:55

0

0

Reply
Many buses from the CQ Bus Station and Bus Station in South Square of North Train Station are available. The schedule is as follows:
CQ Bus Station: 7:40, 9:00, 11:40, 13:20, 15:20, 18:30.
The other station: 7:00, 8:00, 11:00, 12:10, 14:00, 17:50.
Asked by anne from THAILAND | Mar. 05, 2018 18:13

Reply
can i exchange yuan money to thaibaht at chongqing airport?
Answers (1)
Answered by Gloria from USA | Mar. 05, 2018 19:51

0

0

Reply
Yes, you can exchange it at the domestic and international arrival hall.
Asked by Ampan Cheepsatayakorn from THAILAND | Mar. 04, 2018 09:39

Reply
Can we board the bus to Chishui at Chongqing Sigongli Transportation Hub?
Answers (1)
Answered by Hillary from UNITED KINGDOM | Mar. 05, 2018 00:32

0

0

Reply
I am afraid not. No bus seems available to Chishui at Sigongli. You should go to Caiyuanba Bus Station or Longtousi South Bus Station instead.
Asked by Pauline from AUSTRALIA | Aug. 17, 2015 02:21

Reply
Connecting flights from Chongqing International Airport to Beijing.
My flight arrives in CQ from Sydney at 4:45am with a connecting flight departing at 7:30am for Beijing on the same day. Can I catch that connecting flight to Beijing from Jiangbei International Airport or would I have to transit to a domestic airport to get to Beijing, if so is there a shuttle bus & how far away is it. Will I have time to reach in time to board the 7:45am flight.
Answers (1)
Answered by Wendy from INDONESIA | Aug. 17, 2015 04:52

2

0

Reply
Hi, your transfer can be finished in the same airport. The airport operates both international and domestic flights. Take it easy, Pauline.
Asked by Ray from AUSTRALIA | Mar. 12, 2015 22:49

Reply
Long-distance bus or train to Chengdu
I arrive at Jiangbei International Airport at 04:45 AM, and wish to travel to CD during the morning.
I am happy to travel by bus or train depending on convenience.

I understand that the long distance bus centre sits between domestic terminals T2A and T2B. Can I book and travel to Chengdu from this centre, and is the bus centre close to the international terminal (T1)

Regards
Ray
Answers (1)
Answered by Heuli from UAE | Mar. 13, 2015 00:49

1

1

Reply
I'm afraid the long-distance bus is no longer available.

Train is actually faster. You can take subway line 3 from Jiangbei airport to CQ north railway Station, then take a train to Chengdu. There are many schedules daily. The thing is the first subway from the airport departs at 06:30. You may need to wait.