Best Chongqing Tours
Top Chongqing Attractions
Top 10 City Tours
Chongqing Tours -

100% No Shopping Stops
Located at the confluence of Yangtze River and Jialing River, the mountain city Chongqing is the starting point of the downstream Yangtze River cruise tour. Traveling in and around Chongqing, you can explore modern Jiefangbei CBD and ancient Ciqikou Town, capture the natural wonders in Wulong and appreciate the vivid rock carvings at Dazu. In addition, the frequent high-speed trains make it easy for you to extend your Chongqing tour itinerary to Chengdu.
Best Chongqing Private Tours
Tailor Your Chongqing Private Tour
How to Plan a Chongqing Tour?
Generally speaking, one day is sufficient to visit the main tourist attractions in downtown such as Ci Qi Kou, Jiefangbei CBD as well as pandas in Chongqing Zoo. As darkness falls, you are recommended to appreciate the splendid night views of this mountain city that boasts "Little Hong Kong" at Hongya Cave or Chaotianmen Dock. Your Chongqing tours can also be extended to the suburb areas like Wulong Karst National Geology Park and Dazu Rock Carvings which is a 2-3 hours' drive. In this case, additional full day is needed respectively for these two places.
Besides, enjoying the fascinating sceneries of the Three Gorges on Yangtze River is another must-do thing for travelers, and it takes 4 days to have a Yangtze River Cruise tour from Chongqing to Yichang. You are free to choose different tour routes of our Chongqing private vacation packages according to your own interest and schedule.
For more tour plans, you can refer to the
Top 10 Things to Do in Chongqing
.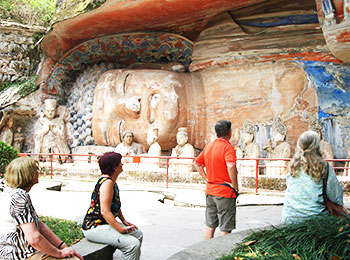 Appreciate the atistic Dazu Rock Carvings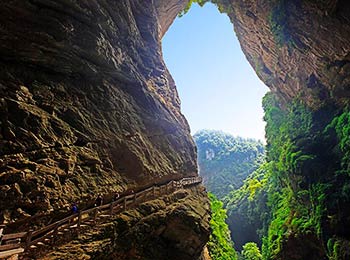 Admire the breathtaking scenery at Wulong
How to Get to Chongqing?

With a distance of around 21 kilometers (13 miles) from the downtown, Jiangbei International Airport is the mainly used one in Chongqing. Over 200 domestic and international air routes have been opened at Jiangbei International Airport, connecting almost all the major cities including Hong Kong and Macau in China as well as the international regions of Europe, North America, Australia and Asia...

Chongqing Railway Station and Chongqing North Railway Station are two main railway stations in the downtown area. Chongqing Railway Station (Caiyuanba Station) is mainly for the ordinary trains running between Chongqing and other cities like Xian, Shanghai, Kunming and Guiyang. However, North Railway Station, also called Longtousi Railway Station, serves not only normal trains, but also bullet trains and high-speed trains to most major cities in China. What's more, it is convenient to start a Chongqing trip from Chengdu by taking a 1.5-2.5 hours' high-speed train ride.

Chongqing is the biggest inland port city on the upper reaches of the Yangtze River and even in western China. Reaching Chongqing by ship from Yichang, Wuhan, Nanjing or Shanghai is also a very popular way of travel among tourists.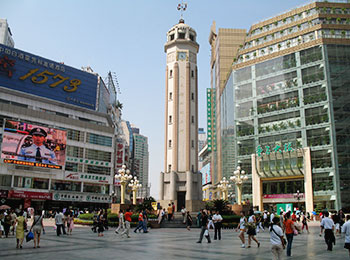 Jiefangbei Pedestrian Street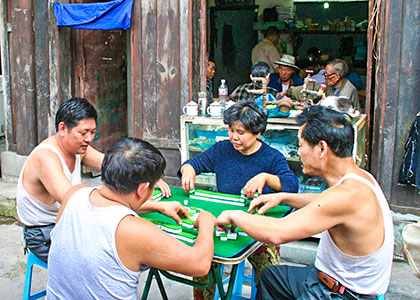 Local residents in Ciqikou Town
Travel Tips for Chongqing Visit
China's 72-hour visa free transit policy is applied to Chongqing. Foreign travelers who meet the requirements can apply for the permit at Jiangbei International Airport and stay in the city within 72 hours (3 days) without a Chinese visa.
Known as one of the 'three furnace cities' in China, the weather of Chongqing in summer is incredibly hot and muggy. Therefore, if possible, try to avoid the summer months and come in March-May or September-October which are considered to be the best seasons for Chongqing tour package.
With the humid climate, Chongqing - a paradise for food enthusiasts is famous for the spicy cuisine, especially the hot-pot. You can have a taste of some local food at Ci Qi Kou and Jiefangbei CBD if interested.
When traveling to Chongqing, a pair of comfortable shoes is recommended as the unique geography makes the roads in the city not very easy to walk. In addition, it is necessary to take some warm clothes if you visit Wulong which is located in the mountain area with big temperature difference between day and night.
Join us! Discover more of Chongqing!