Private Wulong Karst Day Tour
Chongqing - Wulong
Welcome to our Chongqing Wulong day tour! At around 08:30, our excellent tour guide will pick you up at your downtown Chongqing hotel for a 3-hour comfortable private vehicle drive to Wulong County. Wulong, featuring peculiar karst landforms, boasts of jaw-dropping stone bridges, caves, pits, eroded sinkholes and gorges.
After a hearty lunch at a local restaurant, your splendid Chongqing Wulong karst tour begins with the Three Natural Bridges, the essential scenic feature of this world heritage area. Exquisitely sculptured by the hands of god, the three giant stone arch bridges are real wonders that can't be seen anywhere else in the world. Inside the tranquil scenic area, you can embrace the rugged beauty of the mountain bridges and gorges by meandering along the narrow path on the valley's bottom.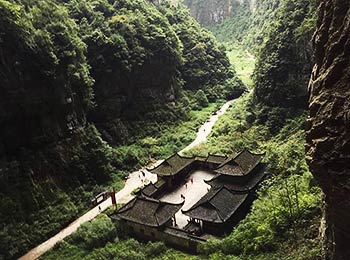 The ancient Staging Post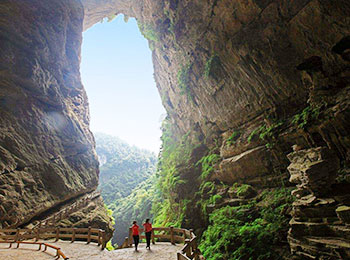 Three Natural Bridges
During the 2 - 2.5 hours visit, you will also stop by an ancient staging post near Qinglong Bridge, which was constructed during the Tang Dynasty (618 - 907) for handling official business and receiving guests. The wooden-structured courtyards are still well preserved with more than 20 rooms remaining.
After some free time to wander around, your Wulong trip from Chongqing concludes. You will be transferred back to your hotel. Upon arrival at around 18:30, you could have an independent tour to admire Chongqing's night view for which our guide could give you some helpful advice.
Meals: Lunch
Friendly Tips:
If you look forward to an in-depth tour of the Wulong karst landscape, we can customize your trip by adding the Longshui Gorge earth crack (Di Feng). The huge crack is about 4 kilometers (2.5 miles) long and you can snake through narrow canyons to enjoy the stunning karst sight. In this case, we would depart from the hotel in Chongqing at around 07:30 and return at 20:30. If you are interested, please feel free to inform us and we will quote for you separately.
Three Natural Bridges
Also named Wulong Tiankeng, it is a rare geological wonder of typical karst landforms, boasting the world's largest natural stone bridge cluster, including Tianlong Bridge, Qinglong Bridge and Heilong Bridge. With an average height and span of over 200 meters (660 feet), three 'bridges' actually refers to three naturally-formed giant arches on cliffs, spanning the Yangshui River in parallel. Besides, the scenic area boasts enchanting scenery accompanied by lush plants, waterfalls, streams, caves and mist. Trekking along the narrow footpath to the bridges' base, one can admire their majesty and splendor from a better place and be astounded by the creator of all these sights: nature. What's more, the Three Natural Bridges scenic area was the shooting place for the American film Transformers: Age of Extinction, and the Curse of the Golden Flower by Chinese movie director Zhang Yimou.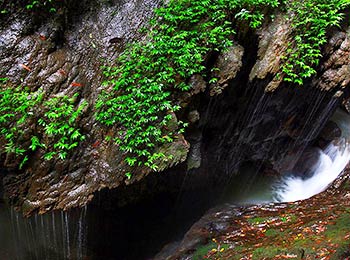 Wulong Tiankeng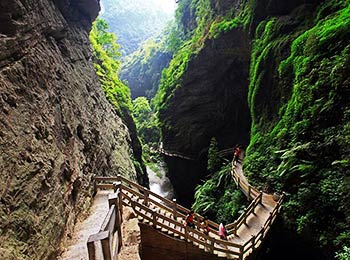 Lush karst Landscape
Prices (US$ Per Person)
1 person

$554

2 persons

$313

3 persons

$241

4 persons

$195

5 persons

$192

6 persons

$160

7 persons

$148

8 persons

$146

9 persons

$136

10+

$117

Price Includes
Private English-speaking guide
Private driver & air-conditioned vehicle
Lunches as itinerary specifies
Entrance fees to tourist sites
Price Excludes
Hotel accommodation with breakfasts
Tips or gratuities for guide and driver
Why Travel With Us
Itineraries you may also like: