Three Gorges Exploration
L-YR01: 4 Days Private Tour of Chongqing - Yangtze River Cruise - Yichang
Tour Type:
Yangtze River cruise with private transfers in Chongqing & Yichang
Guide & Driver:
English-speaking guide, experienced driver with an air-conditioned vehicle
Highlights:
Discover the mountain city of Chongqing for its vibrant life and fine food.
Savor majestic beauty of Yangtze Three Gorges: Wu, Qutang & Xiling Gorges.
Admire the Three Gorges Dam Project, the largest hydroelectric dam in the world.
Participate in diversified cultural programs on board and feel totally relaxed.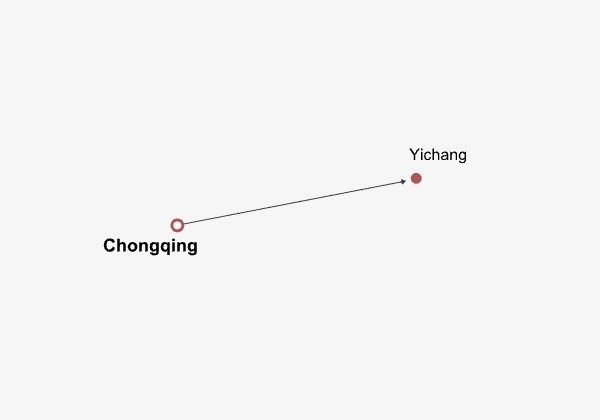 Day 1
Arrival in Chongqing
Pick up from Chongqing Airport or Station; Visit Hongya Cave and Daijiaxiang Alley; Board the 5-star New Century Cruise Ship to start your Yangtze River tour. (D)
Welcome to join our 4-day Yangtze River Cruise tour! Your guide will pick you up from Chongqing Airport or train station according to your arrival schedule.
You will be guided to visit
Hongya Cave
first, which is a famous landmark sight in Chongqing. It features a large group of stilted buildings built on a side of the hill. Here you can not only appreciate cool buildings from the Ming and Qing Dynasties (1368 - 1911), but also taste some delicious street snacks at food stalls and stroll around the bustling souvenir shops. Next, we will head to
Daijiaxiang Alley
, just near the Hongya Cave. The old alley is characterized by a cliff road lined with old houses, atmospheric shops and some artistic decorations. You will also visit a unique tunnel which is originally an air-raid shelter. It is called
Dongjian Shancheng
, literally meaning "an insight into the mountain city". Decorated with colorful lights, the tunnel will surprise you with its historical decorations, old photos recording the past Chongqing, and many interesting shops.
After that, we will transfer you to board the luxurious New Century Cruise Ship. After enjoying a buffet dinner on board, the river guide will give all guests a brief introduction to the cruise ship and daily activities. As the cruise sets sail at 21:30 tonight, your fantastic
Yangtze River Cruise
journey begins with a grand welcome wine party.
Meals: Buffet dinner on board
Accommodation: New Century Cruises





with balcony
Day 2
Yangtze River Cruise
Take an onshore excursion to Ghost City, then enjoy your leisure time on board or participate in some cultural activities. (B+L+D)
Yangtze River cruise
In the morning, pleasant soft music will awaken you. Opening the curtains and looking out from the balcony, the magnificent view of the Yangtze River will greet you. Before breakfast, you can also take part in a healthy morning exercise, Tai Chi, a kind of traditional Chinese martial art.

The included onshore excursion today will be in the morning at around 08:30. You will follow the local guide to visit the Ghost City at Fengdu. As a famous Netherworld sight in Chinese legend, the city is the home of a deceased's soul. Mixing Confucian, Buddhist and Taoist folk cultures, Fengdu features a complete judicial system and departments to judge the dead. Here you can deeply learn about the Chinese ghost culture. Afterward, get back to the cruise ship and you are free to enjoy your time to relax on the sundeck, use the facilities on the ship, and join the cultural activities.

Meals: Western buffet breakfast, Lunch, Dinner
Day 3
Yangtze River Cruise
Admire Yangtze Three Gorges and take an onshore excursion to Shennv Stream. (B+L+D)
Amazing scenery of Three Gorges
The cruise is going to sail through the Qutang Gorge, Wu Gorge and Xiling Gorge today, the most unmissable highlight on the tour. Qutang Gorge is the shortest one among the Three Gorges, but its grand and precipitous cliffs, narrow and sinuous river way, and impetuous and surgent torrents make it the most exciting and imposing part. Measuring about 40 kilometers long (25 mi), Wu Gorge is the most beautiful one of the three and you will see it at about 13:30. It is especially famous for its deep valley and elegant beauty. Passing through Wu Gorge is like entering a winding gallery of paintings. Xiling Gorge is the longest one. Once the most dangerous part of the river, with numerous reefs, riffles and rocks, Xiling Gorge is gentler and milder after years of rectification and improvement on the river way as well as the construction of the Gezhou Dam.

The onshore excursion arranged this afternoon features tributaries of the Yangtze River. You will disembark for a tour of Shennv Stream on a motorized ferry. Here you will take in picturesque natural scenery, distinctive Tujia minority culture and enjoy valued historical relics.

The cruise company will arrange some activities for you to entertain yourself for the rest of your time. Should you have any questions about their schedule, you may talk with your river guide or the staff at the reception desk.

Meals: Western buffet breakfast, Lunch, Dinner
Day 4
Departure from Yichang
Disembark from cruise ship and visit Three Gorges Dam; explore Yichang Museum and see off at the airport. (B)
Our clients visiting the Three Gorges Dam
After a whole night of sailing, the ship will stop at Maoping Pier of Yichang this morning. You will pack your luggage and check out from the cruise, and then disembark to visit the Three Gorges Dam, one of the grandest hydroelectric projects in the world. You will be amazed by its super large scale and magnificent views.

After that, the cruise company will drive you to the Three Gorges Tourist Center in Yichang City, where you will meet the local guide and driver. If time permits, you will pay a visit to Yichang Museum, which collects over 30,000 valuable historical exhibits. Here you can dive deep into local culture and trace back to the ancient past. After that, we will transfer you to the airport for your onward flight and bid farewell.

Meals: Western buffet breakfast

Friendly Tip:
The schedule of the Yangtze River cruise tour described here is the normal schedule. It may change because of the water level, weather condition, shipping lanes, government bans, etc. If there are any changes, we will inform you in time. However, some notices are given just before the trip or even not made at all. We recommend that you follow the final itinerary announced by the cruise company after boarding.
Alternative: Yangtze Cruise Upstream Tour 5 days / 4 nights
The above itinerary is 4 days
/ 3 nights Yangtze cruise tour downstream from Chongqing to Yichang. If you have more travel days, you may consider to take an upstream cruise from Yichang to Chongqing, which takes 5 days / 4 nights. The itinerary schedule is as below and the quotation keeps the same with downstream cruise.
Yichang to Chongqing Itinerary Schedule
Day 01
Yichang airport-port transfer
D
Day 02
Excursion to the Three Gorges Dam
B, L, D
Day 03
Excursion to Shennv Stream
B, L, D
Day 04
Excursion to Shibaozhai
B, L, D
Day 05
Visit Hongya Cave and Daijiaxiang Alley; Chongqing airport or train station see-off
B
B-- Breakfast
L-- Lunch
D-- Dinner
This trip can be customized to meet your individual needs!
Tour Prices
| 2-3 travelers | 4-5 travelers |
| --- | --- |
| USD759 | USD739 |
Prices are per person on twin sharing basis.
Why Travel With Us