Classic China with Yangtze Cruise
L-402: 15 Days Beijing - Xi'an - Guilin - Yangshuo - Guilin - Chongqing - Yangtze River Cruise - Yichang - Suzhou - Shanghai
Tour Type:
Private Tour, any part of the itinerary can be customized
Guide & Driver:
English-speaking guide, experienced driver with an air-conditioned vehicle
Highlights:
Must-see sights in China - Mutianyu Great Wall, Forbidden City, Terracotta Army.
Enjoy the breathtaking landscape along Li River & escape from the bustling city life.
Unwind with a Yangtze River cruise and see the Three Gorges.
Explore the charms of classical gardens and ancient Tongli Water Town in Suzhou.
Experience an exciting contrast of modern and traditional Shanghai.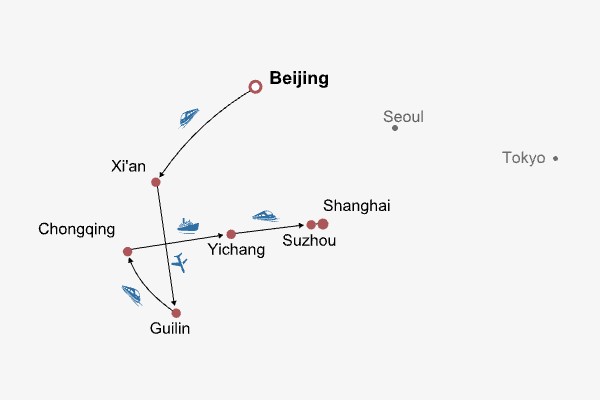 Welcome your arrival anytime at the airport and transfer to hotel.
Today your international flight will arrive in Beijing. After collecting your luggage and clearing customs, you will see your guide greeting you at the exit of the airport, holding a sign with your name. We will transfer you to the hotel and help you finish the check-in procedure. The remainder of the day is free for you to rest or explore.
Visit Tian'anmen Square and Forbidden City; enjoy a la carte welcome lunch with Peking Roast Duck; further explore royal culture at Yonghe Temple and Temple of Heaven. (B+L)
Temple of Heaven
Your two weeks China tour begins this morning and your guide will accompany you to first visit the grand
Tiananmen Square
and magnificent
Forbidden City
. It is always a nice choice to preview one of the world's largest city squares before starting your historical exploration in the 600-year imperial palace complex.
Housing over 70 large palaces and thousands of rooms, the Forbidden City offers not only intricate Chinese traditional wooden architecture but also numerous relics collected by the once royals, including porcelain, ancient paintings, and bronze ware. We have specially selected the best sightseeing route for you to cover most highlights within 2 hours and have a glimpse into the past royal life. You will see the Palace of Heavenly Purity where emperors once lived while empresses generally lived in the Palace of Earthly Tranquility. Princes and princesses also stayed in the palaces of the Forbidden City before getting married. However, after the marriage, they couldn't stay there anymore but emperors would grant large and luxurious mansions and countless treasures to them to maintain an extravagant life. Being able to marry a princess is generally the supreme honor, but the life of the emperor's sons-in-law is not as happy as you think. They were not permitted to be officials or generals and could only get a little income from the royal court. In the Qing Dynasty (1644 – 1911), their situation was worse. They couldn't share the bedroom with their wives and must give regards to the princesses every morning. If the princess passed away, the uninheritable mansion would be repossessed by the emperor. Following your guide, you will hear more interesting stories about the past royal life.
★
Taste Chinese Signature Food with Peking Roast Duck
At lunchtime, you will enjoy an a la carte lunch (valued at CNY 150 per person and included in our price) at a noted local restaurant to taste authentic Chinese food like Peking Roast Duck. Your guide would also like to introduce some local food according to your tastes.
This afternoon, we will visit the
Yonghe Temple
, once a royal mansion, but later it has become a very famous Tibetan Buddhist monastery. It enchants visitors with a series of beautiful pavilions and architecture combining the Chinese, Mongolian and Tibetan styles. Next, you will be guided to take a leisurely walk around the
Temple of Heaven
- the largest royal temple in China. It was a sacred place in ancient times for emperors to pray to heaven for the country prosperous and people at peace. You will be surprised by the predominant architectural and aesthetic achievement of this unique round-top structure. It also offers good people-watching opportunities to see local Chinese life going on.
Meals: Western buffet breakfast, A la carte welcome lunch
Visit Mutianyu Great Wall by round-way cable car; drive by Bird's Nest; then take a rickshaw ride through Hutong alleys and visit a local family in a traditional courtyard house. (B)
Our Clients at the Great Wall
Please wear a pair of lightweight sneakers, because we will hike on the majestic
Mutianyu Great Wall
today. This section was first built in the Northern Qi Dynasty (550 - 557) and rebuilt in the early Ming Dynasty (1368 - 1644) and is also one of the best-preserved Great Wall sections in China. This famous world wonder features the magnificent brick structure that winds along steep ridges surrounded by green scenery.
★
A Round-way Cable Car Ride Taking You Up to the Wall
To save your energy, we will arrange a round-trip cable car ride for you. However, you can also take a chairlift up and a toboggan down. Sliding down in a toboggan, you can adjust the speed by yourself and enjoy exciting riding on the 1,580-meter-long slideway within 6-7 minutes. If you are interested, your guide will arrange it for you.
Lunch is not included today due to limited choices near the Great Wall but your guide will show you some near restaurants for simple or fast food.
On driving back to the downtown area, you will take a look at the Bird's Nest, the main venue used for the 2008 Olympic Games and take some great pictures. After that, we will enjoy the local culture and old customs by visiting some narrow alleys, also called
Hutongs
in Beijing.
★
A Special Rickshaw Ride and a Local Family Visit in Hutongs
Take a special rickshaw ride wandering through various Hutongs, you will have a chance to enjoy the prosperous street views with dazzling goods on sale and observe ordinary people's life scenes. Your informative guide will also introduce the traditional quadrangle dwellings and Hutong for you. Through a visit to a local family, you will get a further understanding of the Beijing traditional culture.
Meals: Western buffet breakfast
Day 4
Beijing to Xi'an by High Speed Train
Visit Summer Palace; take a high speed train to Xi'an and transfer to hotel. (B)
For the last day in Beijing, we will go to visit the existing largest royal garden, the
Summer Palace
. Strolling through this exquisitely constructed garden, which was once the resort for the imperial family in summer, you will see how they enjoyed their summertime in ancient days. The famous UNESCO World Heritage Listed site boasts beautiful lake views, a super long corridor, many Chinese-style old buildings and impressive arch bridges.
Lunch is on your own today, and you may ask advice from your guide who knows well on how to choose a good place to eat.
In the afternoon, you will take a high speed train from Beijing to Xi'an, which takes about 4.5-6 hours. We will try to book the fastest train for you to save time. Upon arrival, the local guide and driver will pick you up from the station and then transfer you to a comfortable hotel in the downtown area.
Meals: Western buffet breakfast
Visit Terracotta Army and the discoverer's home; try your hand to make a mini terracotta figure; admire Giant Wild Goose Pagoda and get immersed in Tang Dynasty culture at Great Tang All Day Mall. (B)
City Wall, Xi'an
This morning, you will see the splendid Chinese army of 2,200 years ago at the
Terracotta Army Museum
. It is one of the unmissable highlights of your China tours. All of the life-size warriors and horses were made to protect the great Emperor Qin Shi Huang (259 - 210 BC) after his death.
★
Meet the First Clay Soldier's Discoverer
Do you want to know who first discovered the terracotta warriors? After being amazed by the magnificent underground terracotta soldiers and ancient weapons, we will pay a visit to the home of Mr. Yang Zhifa, the first finder of the Terracotta Army. Here you will listen to the story about the finding of this world wonder and witness the tools used to discover the first clay soldier.
★
DIY a Mini Clay Soldier and Bring It Home
After that, you will be guided to have a unique experience by enjoying the fun of making a small-size terracotta soldier by yourself. Under the guidance of local artisans, you will complete the sculpture making and even engrave your own symbol on it. You can also take your final masterpiece back home.
Later, we will accompany you to visit one of the most famous landmarks in Xi'an, the 1,300 years
Giant Wild Goose Pagoda
. The 7-story pagoda was built for preserving the Buddhist scriptures brought from India and today there are still some Buddhist relics well preserved. The ancient pagoda is also surrounded by a large pedestrian area for visitors to enjoy a relaxing stroll. Walk south for several minutes, you will reach Xi'an most atmospheric pedestrian street, the
Great Tang All Day Mall
. Stretching about 1,500 meters (4,921 ft.), it is full of various Tang Dynasty stylistic elements, like sculptures, themed shops, dazzling bright lights, red lanterns and Tang-style decorations. You may also see locals and many visitors in traditional dresses and make-up, very beautiful and impressive. Anyway, this is the best place to experience the Tang culture in Xi'an, where you can also enjoy the gorgeous night views and watch delightful street performances.
Meals: Western buffet breakfast
Day 6
Xi'an to Guilin by Flight
Connect with local people at City Wall Park; visit City Wall, Great Mosque, Muslim Quarter, and Hanyangling Museum; then fly to Guilin and transfer to hotel. (B)
This morning, you will first visit
Xi'an City Wall Park
, a well-equipped circular park constructed around the ancient city wall. It offers you a great chance to observe locals do morning exercise and you can even join them. After that, we will climb up to the time-honored
City Wall
, with a history of more than 600 years. Walking along the imposing 12-meter-high (39 ft.) structure, you will have a better understanding of the old city which combines modernity and tradition. It is also possible for you to cycle along the Wall and your guide will be glad to help you with bike rental.
Then we will head to the
Great Mosque
, located in the bustling Muslim Quarter. It features a perfect blend of Chinese traditional architectural and typical Islamic architectural styles. Here you can not only appreciate the stunning buildings but also taste local snacks in the nearby popular alleys. Our next stop is the
Han Yang Ling Museum
, which is less touristy than the Terracotta Army but no less interesting. It is the mausoleum of the Jingdi Emperor in the Han Dynasty, about 2,100 years ago. Accompanied by your informative guide, you can also witness terracotta soldiers here and explore the pits through a glass floor.
After finishing your visit, you will take a flight leaving for the picturesque Guilin for your onward journey. Your guide in Guilin will wait for you at the airport and transfer you to a comfortable hotel for check-in.
Meals: Western buffet breakfast
Enjoy a Li River cruise tour from Guilin to Yangshuo; cycle leisurely in Yangshuo countryside. (B+L)
Li River Cruise
Please enjoy your breakfast at hotel and then your guide will transfer you to take a cruise along the
Li River
downstream to Yangshuo. On the cruise, you could enjoy a series of charming sceneries and astonishing natural landscapes, viewing the beautiful mountains reflecting in the crystal green waters.
★
Cycle Leisurely in Yangshuo Countryside
Upon arrival at Yangshuo, you will check in at the hotel. After a short break, you will have a chance to take in the beautiful countryside scenery. Yangshuo boasts breathtakingly idyllic scenery and you can see elegant peaks scattered in the vast fields, offering the best natural vistas. 2 hours or more will be left for your countryside exploration by bike. However, if you feel tired, your driver would like to drive you around for any photo stop you like.
Friendly Reminder: The lunch served on the cruise today is simple Chinese box lunch. It might not be up to your taste and also fails to meet the serving standard of TravelChinaGuide, so we kindly suggest you have a hearty breakfast at the hotel this morning.
Meals: Western buffet breakfast, Lunch
Enjoy wonderful leisure time in Yangshuo. (B)
Still feel unsatisfied and want to see more about the graceful rural scenery? We remain the whole day free for you to walk or cycle in the surrounding area. A lot of sights are scattered along the Ten-mile Gallery, worth your careful exploration, like the Big Banyan Tree scenic area and Moon Hill, making your cycling even more interesting.

If you are through with the stunning countryside sceneries, it is also recommended to stroll around this small but charming township of Yangshuo. Visit the exotic and prosperous West Street to taste local tasty Beer Fish, and enjoy your time leisurely in a café. For new couples, having a leisurely honeymoon here would be a sweet experience. The night life in Yangshuo would be more luring as the streets are lined with quirky shops, interesting bars and nice street food stalls. You will definitely be amazed by its lively atmosphere.

Meals: Western buffet breakfast
Day 9
Yangshuo - Guilin - Chongqing
Drive back to Guilin and take a high speed train to Chongqing; board Yangtze River cruise ship. (B+D)
In the early morning, you will be driven back to Guilin and we will transfer you to the railway station to take a high speed train. After about 5 hours' train journey, you will arrive in the modern and cool urban sprawling Chongqing in the late afternoon. Upon arrival, your local guide and driver will pick you up and transfer you to board the Yangtze River Cruise. Two kinds of cruises are for your choice: Luxury type or Standard type. Please note that the Luxury cruise includes a buffet dinner and a Captain's Welcome Party tonight.

Meals: Western buffet breakfast, Buffet dinner on Luxury Cruise
Day 10
Yangtze River Cruise
Take an onshore excursion; enjoy your leisure time on board or participate in some cultural activities. (B+L+D)
Captain's Welcome Party
Before your Yangtze River tour officially starts, the guide will give you some information about the cruise and the schedule of daily activities. There are free and paid entertainment facilities and various cultural activities arranged by the cruise company. Check the daily schedule and make your own plan based on your interests.

For Luxury Cruise passengers, before breakfast, you will enjoy a relaxing morning exercise by doing Tai Chi. The included onshore trip today is arranged at around 08:30 – 11:00, you will visit the Ghost City of Fengdu. Wreathed with luxuriant trees and interspersed by a few temples and pavilions, the whole scenic area is more like a beautiful garden rather than the "Ghost City". In the afternoon, you can take part in some interesting cultural activities on board.

For customers who take the Standard Cruise, you will spend most of the day sightseeing on the cruise. And the onshore excursion is arranged in the afternoon, around 16:30-18:00, to Fengdu Mount Shuanggui Scenic Region. The Mount Shuanggui features some Chinese traditional architecture and a Confucius Temple, on which you can also have a panoramic view of the Yangtze River and the opposite Fengdu County. Then the Captain's Welcome Party will be held tonight.

Meals: Western buffet breakfast, Lunch, Dinner
Day 11
Yangtze River Cruise
Admire Yangtze Three Gorges and take an onshore excursion. (B+L+D)
Today is the highlight of your Yangtze River Cruise tour as you will pass the spectacular Three Gorges: the
Qutang Gorge
and the
Wu Gorge
in the morning, and the
Xiling Gorge
in the late evening. The cruise company will announce the time of passing and your river guide will explain the sites of both sides along the way. You can go up to the deck early to get a good viewing position. Among the three gorges, Wu Gorge is the most impressive section, boasting towering peaks, jagged rocks and steep cliffs, like a winding gallery stretching continuously. Hold your cameras ready as you don't want to miss out on these breathtaking views.
After the ship passes the steep Qutang Gorge and the zigzagging Wu Gorge, you are sailing to Wushan Mountain. This afternoon, you will take part in an onshore excursion here, boarding an eco-friendly ferry sailing into the remote section of the Three Little Gorges, Shennv Stream. Located on the south bank of Wu Gorge, it offers the most primitive beauty. After three to four hours' adventure, you will come back to the cruise ship.
Meals: Western buffet breakfast, Lunch, Dinner
Disembark from cruise ship and visit Three Gorges Dam; take a high-speed train to Suzhou and transfer to hotel. (B)
Three Gorges
Early in the morning, you should pack your luggage and it's time to check out. About 08:00-08:30, the cruise will disembark at Maoping pier of Yichang. Then we will head to an excursion to the
Three Gorges Dam
to witness the world's largest hydroelectric power project. A bus will drive you to the peak where you could overlook the incredible huge Three Gorges Dam, composed of the dam, the hydropower stations and the navigation facility.
When the visit is done, you will be transferred to the Three Gorges Tourist Center in Yichang city, where your local guide and driver will meet you and then escort you to Yichang railway station. You will take a bullet train there to Suzhou and the train journey takes around 6 hours. When you arrive, your Suzhou guide and driver will pick you up and transfer you to the hotel.
Meals: Western buffet breakfast
Visit Humble Administrator's Garden, Suzhou Museum, Tongli Water Town; drive to Shanghai. (B)
Suzhou is a charming and elegant city famous for its classical gardens and ancient water towns. Today's first stop is the
Humble Administrator's Garden
, the largest and also the most well-known classic garden in Suzhou. With a large area of water in the center, and surrounded by beautiful hills, terraces, exquisite pavilions, and chambers, it lives up to its reputation as one of the four most famous gardens in China. The delicate layout and beautiful garden scenery will surely leave you with a deep impression. Next to the garden is
Suzhou Museum
, which has rich collections of archaeological relics, paintings and calligraphy of the Ming and Qing dynasties, crafts and rare ancient books displayed.
Lunch is not included today, but the guide will be glad to introduce and recommend delicious local food for you.
Afterward, we will drive about one hour to
Tongli
to appreciate the charm of this millennium water town. The ancient town is interwoven with water lanes, ancient bridges, old houses and dwellings. Many original residents still live here, making it more like a "living" town. Taking a small boat down the canal, you will better experience the local vibe and explore the "Venice of China". After the visit, we will drive to Shanghai in a comfortable private car.
Meals: Western buffet breakfast
Visit Shanghai Museum, Yu Garden and adjacent Yuyuan Bazaar; enjoy a la carte farewell lunch; cruise on Huangpu River and have a leisurely stroll on the Bund; then explore old cultural block of Tianzifang. (B+L)
Tongli Water Town
Coming to China's most glamorous and modern city Shanghai, your first stop today is
Shanghai Museum
. As a fantastic art gallery, it mainly exhibits bronze, ceramics, paintings, jade and furniture from thousands of years ago, and you can completely soak up the ancient Chinese culture. Next, we will pay a visit to the famous
Yu Garden
, an elegant private garden built 400 years ago and visit the surrounding bustling Yuyuan Bazaar.
You will feast on an a la carte lunch (valued at CNY 150 per person and included in our price) at a fancy local restaurant, which offers authentic Shanghai and Cantonese cuisines.
In the afternoon, we will take a one-hour
cruise along the Huangpu River
to enjoy gorgeous colonial-era buildings on the west bank and towering skyscrapers on the east, taking the brilliant city views from a different angle. After that, we will leave you some free time to walk along the waterfront
Bund
at a leisurely step. The last stop is
Tianzifang Old Street
, which preserves Shanghai's old Shikumen architecture combining typical Chinese and Western architectural styles. Many local residents still live upstairs and the electric pole and drying rack are everywhere. In addition to the well-preserved old Shanghai residential cluster from several decades, the biggest highlight in Tianzifang is the various artistic and craft shops along the street. This is the place where you can not only experience Shanghai's old local atmosphere but also feel the cool and fashionable vibe of the city.
Meals: Western buffet breakfast, A la carte lunch
Day 15
Departure from Shanghai
Transfer to airport and see you off there; a pleasant trip home! (B)
Our guide will transfer you to the airport today. You will take the homebound flight with uncountable pleasant memories. Wish you a safe journey back home!
★
Our Friendly Tip
Covering the most classic travel destinations of China, this two-week-long China tour is a good choice for couples, families with kids or senior travelers. All arrangements of the tour can be customized to meet your specific interests.
Meals: Western buffet breakfast
B-- Breakfast
L-- Lunch
D-- Dinner
This trip can be customized to meet your individual needs!
Destinations
Luxury Hotels
Standard Hotels
Beijing
Hotel New Otani Chang Fu Gong
Beijing New World Centre Tongpai Hotel
Xian
Crowne Plaza Xi'an
Holiday Inn Xian Big Goose Pagoda
Guilin
Shangri-La Hotel
Guilin Bravo Hotel
Yangshuo
Amari Yangshuo Hotel
Green Lotus Hotel
Yangtze River
New Century Cruises

with balcony

President No.7/No.8

with balcony

Suzhou
Pan Pacific Suzhou
Mercure Hotel (Suzhou Railway Station)
Shanghai
Renaissance Shanghai Yu Garden Hotel
Ocean Hotel Shanghai
Tour Prices
Christmas & 2024 Special:
12% off
- Book before Dec 31, 2023
Tour Prices with Luxury Hotels
2-3 travelers
4-5 travelers

USD4179

USD3679

USD3819

USD3359
Tour Prices with Standard Hotels
2-3 travelers
4-5 travelers

USD3699

USD3259

USD3349

USD2949
Prices are per person on twin sharing basis.
The prices in red reflect 12% discount.
Any part of the itinerary e.g. tour length, activities & hotels can be tailored to your individual interests.
Price Includes
Domestic airfares & train fares
Hotel accommodation with breakfasts
A la carte lunches as itinerary specifies
Private English-speaking guides
Private drivers & air-conditioned vehicles
Entrance fees to tourist sites
Yangtze River cruise with full board
Price Excludes
International airfares
Entry Visa fees
Personal expenses
Tips or gratuities for guides and drivers
Why Travel With Us
Other levels available for this itinerary: