Han Yang Ling Museum - Yangling Mausoleum of Han Dynasty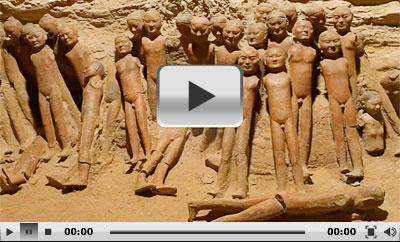 Pictures of Han Yang Ling Mausoleum
The Yangling Mausoleum of the Han Dynasty, in short Han Yang Ling, is located at Zhangjiawan Village, about 20 kilometers (12 miles) north of Xi'an City, Shaanxi Province. It is a joint tomb of Liu Qi, a notable emperor of the Western Han Dynasty (206 BC-24AD), and his empress Wang. It was built in the year 153 AD and covers an area of 20 square kilometers (4,942 acres). It is a magnificent and abundant cultural relic, comprising the emperor's tomb, empress' tomb, the south and north burial pits, ceremonial site, human sacrifice graveyard and criminals' cemetery. Neatly arranged and centered with the emperor's tomb, Han Yang Ling Mausoleum reveals the strict hierarchical social structure. The Outside Pits Exhibition Hall was opened in 2006 and is the first underground museum in China.

Emperor Liu Qi's Tomb
The emperor's tomb is at the center of Han Yang Ling Mausoleum. The subterranean chamber has passages on its four sides, thus the shape assembles the Chinese character 'ya (亚)'. This type of tomb was considered the best in ancient times. Around the tomb is a tall wall on each side, with four big gates at the middle of each wall. The south gate has been unearthed and opened for tourists.
| | |
| --- | --- |
| Mausoleum of Western Han Emperor Liu Qi | Map of Yangling Mausoleum of Han Dynasty |
There are 86 outside pits laid with burial objects. These pits vary in size and the length of these ranges from four meter (13 feet) to over 100 meters (328 feet). In the 1990s, archaeologists excavated ten outside pits and found that they were made to be enclosed space, like wooden cases. From the vestiges, those pits are believed to have original column frames, separating boards, doors and brick floor. Unearthed burial objects include naked pottery figurines, chariots and horses, weapons, articles of everyday use and a large number of pottery animals.

Empress Wang's Tomb
The empress' tomb is in the east of
Han Yang Ling
, 450 meters (1,476 feet) away from the emperor's tomb and is much smaller in comparison. It is also square, and is 350 meters (1,148 feet) in length. A wall made of pounded earth encircles the tomb, with four gates on each side. The underground chamber is also laid out like the Chinese character 'ya'. The earth on top of the tomb measures 24.49 meters (80 feet). Thirty-one outside pits have been found around it.
South and North Burial Pits
The south burial pits are located to the southeast of the emperor's tomb while the north burial pits are to the northwest of the emperor's tomb. Both of them have twenty-four small pits of varying sizes, and occupy an area of 96,000 square meters (24 acres) respectively. Fourteen pits in the south burial location were discovered in the 1990s. The excavated articles amount to over 3,000, the number of which surpasses the
Museum of Qin Terra Cotta Warriors and Horses
. Articles include the painted pottery figures, weapons and utensils, which fully represent the army life in the Han Dynasty.Compared with the Qin Terra Cotta Warriors and Horses, the pottery figures are one tenth of the actual objects and vary from the warrior to civilian, male to female. Some of them are sculptures of valiant female warriors, gentle and elegant servants, singers or dancers in traditional dress with their long sleeves waving. Naked and armless pottery figures are so vivid and lifelike, claiming to be the 'Oriental Apollo and Venus'. According to the archaeologists, the naked figures had clothes on and wooden arms which had decayed and fallen off over years.
Luojing Stone Site (Ancestral Temple Site)
To the southeast of the emperor's tomb is the Luojing Stone Site (Ancestral Temple Site). It is an important and the largest discovered ceremonial site of the royal cemetery. The site is surrounded by moats and is almost square, and is 260 meters (853 feet) in length. A platform made of pounded earth stands in the center. The Luojing Stone here is presumed to be used to demarcate and measure the height when the museum was built. It is the earliest markstone in the world, which is used in measuring. It has twelve doors evenly distributed on four sides.
Outside Pits Exhibition Hall
This underground Han Yang Ling Museum covers an area of about 7,850 square meters (2 acres). It has been modernized to exhibit ten outside pits surrounding the emperor's tomb but does not devalue the look of the mausoleum. To protect the culture relic, the pits are encased with toughened glass to create the similar environment as it was before. Suspended corridors made of glass make it more convenient for visitors to be able to take a closer look. Through the glass on the right, on the left or under foot, visitors can see pottery warriors, animals, chariots and horses, and the archaeologists excavating. A kind of imaging technique concerning with optical illusion has been applied in the museum. Through the illusive characters and scenes, the life of Liu Qi, the anecdote of Empress Wang and the archaeological discoveries in the mausoleum are presented.
Excavation work is going on
in the tomb.

Excavation areas are covered by glass
for visitors' convenience.
How to get to Yangling Mausoleum of Han Dynasty from Xi'an
Take metro line 14 to Qingong Station, then take a taxi there, taking about CNY40 and 25 minutes.
Xi'an Bus / Metro Search
Fee

Entrance Charge: (excluding admiring images created by optical illusion)
Mar. - Nov. : CNY 70;
Dec. - Feb. : CNY 55

Opening Hours

Mar. - Nov. : 08:30-18:30 (tickets available from 08:30 to 17:00);
Dec. - Feb. : 08:30 - 18:00 (tickets available from 08:30 to 16:30)
China's First Simulating Archaeological Base Launched in
Han Yang Ling
On May 17th, 2012, China launched its first simulated archaeological base in
Han Yang Ling M
ausoleum
. Shaanxi is a province rich with cultural relics. As of the end of 2011, the province had unearthed 23, 453 ancient ruins, 14, 367 ancient mausoleums, and 6,702 ancient buildings. In recent years, the Cultural Relics Department of Shaanxi has taken many heritage conservation measures, including setting up this mock archaeological base. The base is designed to unveil the mystery of archaeology and offer opportunities to personally participate in archaeological excavation. It also functions as a significant educational base of the museum, spreading heritage conservation knowledge and enhancing conservation awareness.
Covering an area of 1,200 square meters (0.3 acres), the base is divided into 8 excavation units, falling into three categories: the outside buried pits for funeral objects, architectural ruins, and tombs. In the excavation simulation, visitors are allowed to use professional archaeological tools to excavate under the guidance of archaeological experts. These tools include hand shovels, brushes, bamboo sticks, probing shovels (also named Luoyang shovels), etc. When a "ruin" or "relic" is discovered by visitors, experts share knowledge about artifacts, including identification, dating and usage on the spot. Visitors can experience the novelty and excitement of personally discovering relics and acquire interesting historical knowledge at the same time.

Read more:

Top 10 Things to Do in Xi'an

4 Sites of Terracotta Warriors besides Xi'an Terracotta Army
Print
- Last updated on Sep. 21, 2023 by Gabby Li -
Questions & Answers on Han Yang Ling Museum
Asked by Jo from THAILAND | Sep. 08, 2019 19:27

Reply
How long does the tourist bus take Yangling Mausoleum of Han Dynasty?
Answers (1)
Answered by Keira from DENMARK | Sep. 09, 2019 23:29

0

0

Reply
Generally speaking, it takes around an hour on the way.
Asked by Tereza from BELGIUM | Aug. 26, 2018 07:35

Reply
How to get to Yangling Mausoleum from Xi'an North Railway Station
Hello,
Is there any direct connection, for instance, a public bus? How long will this take? The Mausoleum looks quite close to the railway station. Or is it better by a taxi? What costs should we expect?
Many thanks.
Answers (2)
Answered by Julia from NEW ZEALAND | Aug. 28, 2018 20:08

0

0

Reply
It is better to take a taxi since there is no direct bus and the taxi fare is about CNY 40 in the day time.
Answered by Tereza from BELGIUM | Aug. 29, 2018 22:48

0

0

Reply
Hi, thanks for your reply. We did indeed took a taxi one way which ended up being 55CNY but, on the way back, we hopped on the tourist bus No. 4 which has one of the stops close to the Sports Complex metro station and we then took a metro from Sports Complex two stops back to the North Station. The tourist bus was only 1CNY (plus metro charge).