Qin Shi Huang Mausoleum (Mausoleum of the First Qin Emperor)
The Qin Terracotta Warriors and Horses are world famous, attracting a large number of tourists from home and abroad to visit each year. However, they are only a part of the yet unexcavated mausoleum of Emperor Qin Shi Huang located to its west. Inside it, greater things are yet to come.
| | |
| --- | --- |
| Qinshihuang's Mausoleum | Gravestone of Emperor Qin Shihuang |
Qin Shi Huangdi (259 BC - 210 BC), the first emperor of China, ascended the throne at the age of 13, when construction of his tomb began. On completion of his many conquests, he ordered 720,000 conscript laborers to hurry up on building his royal tomb. It was finished just-in-time in 210 BC for his use. His son, the second Qin Emperor,saw his entombment.

Read more:
Qin Shi Huang Facts: 10 Things to Know about the First Emperor of China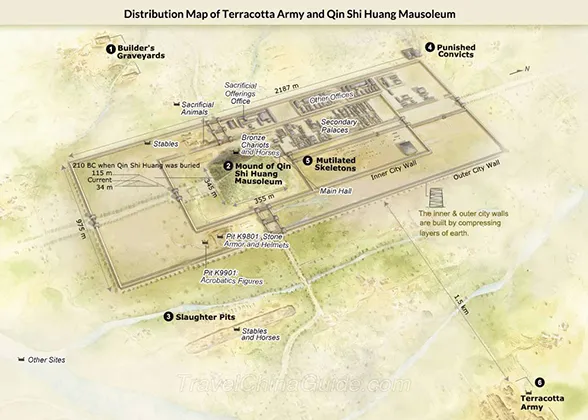 Map of Qin Shi Huang's Mausoleum

Maps
Location
The tomb of Qin Shi Huang is located in the eastern suburbs of Lintong County, 35 kilometers (22 miles) east of Xi'an: on the Lishan Mountain in the south and overlooking the Wei River towards north. The lay of the land from Lishan to Mount Hua is shaped dragon-like according to traditional Chinese geomancy. The imperial tomb is at the eye of the dragon. The emperor had chosen well.
Dimensions
In size, the mausoleum is larger than the Great pyramid in Egypt. Seen from afar, it is a hill overgrown with vegetation. It is believed that the tomb consists of an interior city and an exterior city. Its exterior is a low earth pyramid with a wide base. In 2000 years, the original 100-meter-high (328 feet) hillock has been weathered down to about 47 meters (154 feet) high, 515 meters (1,690 feet) long from south to north and 485 meters (1,591 feet) wide east to west. In an area of 2,180,000 square meters (less than one square miles), many large-scale alhambresque buildings housing precious treasures are said to be buried inside the tomb.
| | |
| --- | --- |
| Qin Caly Figure Soldiers | Site of the Mausoleum |
The labourers came from three groups of people. The first were the craftsmen. The second were the prisoners. The third were the people working to repay a debt. These people had violated the rules at that time and had to pay a fine. But with no money to pay fines, they were forced to build the mausoleum. According to historical records, the mausoleum was a notorious crime scene. Many laborers died of hardship during its construction, and all the workmen were entombed along with the emperor in order to keep their mouths shut.
Also all the barren royal concubines accompanied
Emperor Qin Shi Huang
on his last journey.
Sima Qian, a great historian who wrote in early Han dynasty, offered archeologists great insight on the mausoleum's construction. We learned from him that the tomb is huge. The coffin of Qin Shi Huang was cast in bronze. Underground Palace was gem-studded replica of imperial housing above ground. Moreover, booby traps with automatic-shooting arrows were installed to deter would-be tomb robbers. Heaven and earth were represented in the central chamber of the tomb. Ceiling shaped into sun, moon and stars by inlaying pearls and gems symbolizes the sky and the ground was an accumulation point of rivers, lakes and seas, like Yellow River and Yangtze River, which stands for the earth. It is said that the underground palace was brightly lit by whale oil lamps for eternity. Nowadays, the records in this book have been definitely proved right by archaeological findings and the underground palace of the tomb is presumably well preserved.

Remains of the Mausoleum
As a part of the mausoleum, the terracotta warriors have dazzled the world. But the materials unexcavated are also worth studying. Qin bricks and tiles, engraved with decorative patterns, are strew everywhere around the tomb. There are many satellite tombs built for accompanying Qin Shi Huang. Ministers, princesses and princes, the famous and the not so famous were inhumed there. The burial pits for horses, rare birds and pottery figures were ever regarded as the sacrificial objects to the emperor. Hence the remains from these tombs and pits are beneficial for archaeologists to make further research.

Hopefully one day, the entire mausoleum will be unearthed and displayed to the public.
| | |
| --- | --- |
| Specific Bricks of Qin Dynasty | Bronze Swan Goose |

Qinshihuang Mausoleum (Mausoleum of the First Qin Emperor)


9 Mysteries of Qin Shi Huang Tomb You May Want to Know

City Walls to Protect Qin Shi Huang Mausoleum

Underground Palace of Qin Shi Huang Mausoleum

Why Don't They Excavate the Qin Shi Huang Mausoleum?

Has Qin Shi Huang Tomb ever been robbed in the past?

Hot Topics on Qin Shi Huang Mausoleum

Where was Qin Shi Huang buried?

Pit K0006 - Civil Official Figures

Pit K0007 - Bronze Aquatic Birds

Pit K9801 - Stone Armor and Helmets

Pit K9901 - Acrobatics Figures
How to get to Qin Shi Huang Mausoleum
From Xi'an:
Take
metro line 1
to Fangzhicheng, then change to
line 9
to Huaqing Pool, and transfer to Lintong Bus 602 to the Qin Bing Ma Yong
(Terracotta Army Museum) stop. Or take tourism bus no. 5 (306) from Fangzhicheng Station to the Museum directly.
Take bus 307, which departs from Tangchengqiang Jiuqu Hub, and passes Tang Paradise and Big Wild Goose Pagoda. The whole line takes 2.5 hours and costs CNY 8.
From Lintong:
Take bus no.101 to Qinling Station.
Xi'an Bus Search
Getting Around:
Battery-powered motor vehicles and ancient-style carriage are available for visitors to tour around the mausoleum;
30 free shuttle buses are traveling between the Qin Shi Huang Mausoleum and the Museum of Qin Terracotta Warriors and Horses for tourists' convenience. One can take them by showing the entrance ticket.
Admission Fee:

CNY 120; free for children under 1.4 m (4.6 ft); children taller than 1.4m and under age 16 can enjoy half-price tickets; foreign students studying in China with valid student ID can enjoy half-price tickets.

The fare is for the Emperor Qinshihuang's Mausoleum Site Museum Through Ticket including the Museum of Qin Terracotta Warriors and Horses, Lishan Garden and shuttle buses inside the scenic area.

Note: Foreigners' passports will be required when booking tickets and entering the museum.

Opening Hours:
March 16 to November 15: sell ticket from 08:30 to 17:00, stop check-in at 18:00;
November 16 to March 15: sell ticket from 08:30 to 16:30, stop check-in at 17:30
Print
- Last updated on Apr. 15, 2022 -
Questions & Answers on Qin Shi Huang Mausoleum
Asked by Hsiang An Kiang from MALAYSIA | Nov. 19, 2019 01:22

Reply
How do l book tickets of Qin Shi Huang Mausoleum online for children below 16 years?
Thanks
Answers (1)
Answered by Marin from SINGAPORE | Nov. 20, 2019 21:58

0

0

Reply
Oh, you can ask help for TravelChinaGuide.com. They can provide this booking service for you. If interested, their contact information is booking

travelchinaguide.com.
Asked by Lili from USA | Nov. 09, 2018 04:10

Reply
You have to walk a lot to see the terracotta warriors?
Are there facilities for people who can not walk a lot?
Answers (1)
Answered by Bert from UNITED KINGDOM | Nov. 11, 2018 18:51

0

0

Reply
The visiting time is about 2 - 4 hours on foot, and if some one cannot walk for a long time, wheelchairs are provided.
Asked by Yeo May Lin from SINGAPORE | Aug. 19, 2018 20:36

Reply
Is Xi'an cold and crowded in December?
Will it be cold to visit Qin Shi Huang Mausoleum and the Museum of Qin Terracotta Warriors and Horses in December? Will free shuttle ride be available in December too? If I only want to visit the Museum of Qin Terracotta Warriors and Horses but not Qin Shi Huang Mausoleum, do I still have to pay the full price ticket of both?
Answers (1)
Answered by Nicole from ITALY | Aug. 19, 2018 22:51

0

0

Reply
Yes, it's cold and a little crowded. As I know, the temperature can down to 0C below zero, so you need to take your warm clothes. The free shuttle between the mausoleum and the museum is still available. As for the last question, sorry but the two places don't charge separately and you need to buy the ticket for both.