Types of Terracotta Statues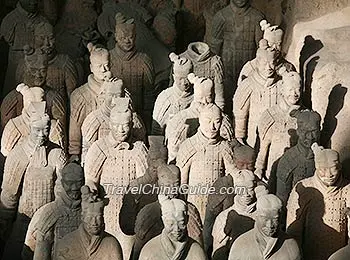 Infantry Warriors
By now, over 7,000 terracotta warriors have been unearthed in the three pits of Terracotta Army. Based on their postures, dressings, and positions in the army, these discovered terracotta warriors are divided into many different types by archaeologists, such as infantry warriors, cavalry warriors, chariot warriors, and kneeling and standing archers. Besides, the unearthed terracotta horses are mainly categorized into saddle horses and chariot horses because of the different applications.

Pit 2
. Each cavalry warrior stands in front of its horse. Both of the warriors and horses are life-sized. With 1.8 – 1.9 meters (5.9 – 6.2 feet) in height, the cavalrymen figures wear the Hu Dress with tight-cuffs coat, long pants, short boots and rounded hat, which is the regular dress for north nomadic people of the time. These vivid cavalry figures and horses are the real reflection of the cavalry image of the
Qin Dynasty
(221 BC – 207 BC). Besides, they can provide valuable reference materials for historians to have a better understanding of the development of the cavalry at that time.
| | |
| --- | --- |
| Cavalry Warrior | Chariot Warriors |
Qin Shi Huang Mausoleum
, accompanied by different numbers of chariot warriors. The chariots are divided into command chariots, common chariots, assistant chariots and superior chariots based on their different functions and decorations. The common chariots take the majority, so do their warriors. In general, the pottery figurines on the common chariots contain 3 categories covering charioteer figures, left-hand charioteer figures and right-hand charioteer figures, with the height of 1.82 - 1.89 meters (5.97 - 6.20 feet). Tourists can also see the commander, horseman and warrior on the command chariots, and assistant chariots. Wearing different armor and crowns, four terracotta chariot warriors on superior chariots can be enjoyed as well.
| | |
| --- | --- |
| Kneeling Archery Warrior | Standing Archery Warrior |
In addition to the terracotta warrior statues, other kinds of terracotta figures such as Civil Official Figures and Acrobatics Figures have been excavated from Emperor Qinshihuang's Mausoleum by archaeologists. If interested, you can go to the accessory pits or Exhibition Hall of Historical Relics of Emperor Qin Shihuang's Mausoleum not far from the Terracotta Army to have a look.

More than 600 terracotta horses unearthed from the terracotta pits have similar appearance and size with the real war horses of the Qin Dynasty (221 - 207 BC). They have broad chests, robust backs, and rounded horse rumps as well as muscular legs which are representative of the vividness and vigorousness of Qin war horses. These terracotta horses are roughly divided into the two categories of saddle horses and chariot horses; their manufacturing processes are different as well.
- Last updated on Aug. 01, 2022 -