Moustache of Terracotta Warriors
Almost all terracotta warriors have a moustache, as it was the custom to cherish facial hair during the Qin Dynasty. A total of seven types of moustache have been found on the unearthed terracotta warriors, including handlebar moustache, bushy whisker and long moustache.
Qin People Held the Moustache in High Regard
During
Qin Dynasty
(221 BC –207 BC), all the adult men had a moustache, while some criminals were shaved as a punishment. Terracotta warriors with their moustaches are a reflection of the custom back then. Made by the artisans based on what they saw in real life and in a kind of exaggerated way, the moustache also shows the aesthetic standards of the Qin people.
Seven Types of Moustache of Terracotta Warriors
Bushy Whisker
The bushy whisker has many different shapes. Some terracotta warriors have a circular beard covering their cheeks and chin, some have bearded cheeks, but with a clean jaw line. However, it is common to see a tilted handlebar moustache over their upper lip. The pottery figures made with this kind of facial hair generally have high cheekbones. They could be the minority nation people from the ancient northwest region for they had high cheekbones. However, this is an uncertain conjecture because the minority people in that region also have a high forehead and large nose, but these warriors do not.
| | | |
| --- | --- | --- |
| | Bushy Whisker | Long Moustache |
Waterdrop-like Moustache
This has two types as well. One is with a thick beard on the warrior's cheeks and a small bush on their chin; the other is three small round areas of beard scattered on the cheekbones and chin respectively. Both of these roughly form an isosceles triangle with a handlebar moustache on the warriors' upper lip.
Long Moustache
A handlebar moustache on the upper lip and long beard on the chin is the typical shape of the long moustache. Only 4 pottery figures have been found with long moustache, one excavated from
Pit 2
and three from
Pit 1
.
Upward Handlebar Moustache
The upward handlebar moustache has tilted ends on the upper lip, resembling a pair of buffalo horns. Some tilted ends are curved upward, while some are curved upwards first then downward at two ends. By observing the warriors' expressions, we can identify that some warriors with this sort of upward moustache are agile and brave, some are wary and active.
Downward Handlebar Moustache
A regular handlebar moustache with naturally falling ends and a bush of small beard on chin constitutes the downward handlebar moustache. This moustache is commonly seen on the terracotta warriors, having an attractive appearance and a variety of styles.
| | | |
| --- | --- | --- |
| | Upward Handlebar Moustache | Downward Handlebar Moustache |
Arrow-like Handlebar Moustache
As its name implies, two arrow-like handlebar moustaches looking like the Chinese character "八" are formed on the warrior's upper lip. Some warriors have a small beard on chin, some have not. The arrow-like handlebar moustache is sparse and short mostly. In general, some comely faces are matched with this facial hair to reveal the warriors' alertness and smartness.
Plate-like Handlebar Moustache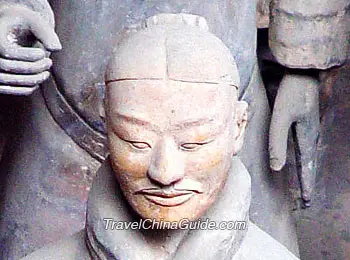 Plate-like Handlebar Moustache
Terracotta warriors with this type of moustache have a handlebar moustache with rectangular plate shape on their upper lip. The ends are square-cut. Many narrow and short faces are equipped with the plate like handlebar moustache to indicate alertness and vivaciousness.
The above-mentioned information is the basic outline of these seven types of moustache. By carefully observing the facial hair of the terracotta warriors, you can discover many subtle differences among them.
Terracotta Warriors without Moustache – Child Soldiers
Only a few terracotta warriors, no more than ten have been found without a moustache. Experts think they are the child soldiers. The small quantity shows they do not belong to the regular army, but are recruited as a special form of military service at certain special times.

Further Reading:


Face Shapes of Terracotta Warriors


Why do all the Terracotta Warriors have single eyelids?


Secret Revealed from the Ears of Terracotta Warriors



Recommended Tour Itinerary:
Terracotta Warriors Tour: One-day to visit Terracotta Warriors and Horses and more
More Xi'an Tours


Next: What Are the Terracotta Warriors Wearing?
- Last updated on Apr. 12, 2021 -