History of Terracotta Army
The history of Terracotta Army dates back over 2,200 years. It was built from 247BC or 246BC to 208BC for the purpose of protecting Emperor Qin Shi Huang in his afterlife. It has suffered a number of natural disasters and man-made destructions. In 1974 this man-made wonder was discovered by local farmers when digging a well, then excavated and put under protection. In 1979 it was opened to the public.
Construction from 247BC / 246 BC – 208 BC
When Was the Terracotta Army Built? – Over 2,200 Years Ago
The
Terracotta Army
was built from 247 BC or 246 BC to 208 BC over 2,200 years ago. According to a history book named Shih Chi, the 13-year-old Qin Shi Huangdi (259 BC - 210 BC) commanded his subjects to built his mausoleum soon after he was crowned as the king of Qin State. The time should be 247 BC or 246 BC. As a main part of the mausoleum, the terracotta warriors should be built at the same time. At that time, the Prime Minister, Li Si, was responsible for its layout and design, and the senior general Zhang Han supervised the task. The construction was finished in 208 BC, 2 years after Qin Shi Huang's death. It is the first large scale, and relatively well-preserved, imperial mausoleum with exquisite layout in Chinese history.
How Long Did It Take to Build the Terracotta Army?
Most historians conclude that it took nearly 40 years from 247 BC or 246 BC to 208 BC to construct, based on excavation work and historical records. There are also a few who think it took about 10 years starting in 221 BC after
Emperor Qin Shi Huang
defeated other states and unified China then stopping in 209 BC due to the peasants uprising.
Natural Disaster on Terracotta Army - Flood Damage
In the 2,200 year history of the Terracotta Warriors, they have suffered flooding. The proof is the setting walls inside Pit 1. After research and study, archaeologists found that the original 3.5-meter (138.8-inch) high wall has sunk a large amount, and is only now 1.7-meter (66.9-inch) height, so they hypothesize flood damage.
Man-made Destructions by Xiang Yu
Many of the warriors' weapons have been found missing during excavation work. Therefore, experts suppose that the terracotta soldiers might have suffered human disruption. They think that someone might have entered the pits to take those missing weapons. The overlord of Western Chu Xiang Yu (232 BC - 202 BC) and his subordinates are suspected to have taken the bronze swords and other weapon for warfare.
During excavations, archaeologists found extensive burnt soil and plenty of wooden charcoal traces of timber and hemp rope inside some terracotta warriors' pits, which can prove that the terracotta army had a tortured experience in fire. Most Chinese archaeologists regard Xiang Yu (232 BC - 202 BC) as the suspect who ordered soldiers to set fire to the terracotta army.
Based on records in Chinese historical documents, Qin Shi Huang destroyed the state of Chu and killed some families of Xiang Yu indirectly. Therefore, as a Chu citizen, Xiang Yu had sufficient reasons to destroy Qinshihuang's mausoleum with fire.

See more about
How did the Terracotta Army get burnt and destroyed?
When Was the Terracotta Army Found? - 1974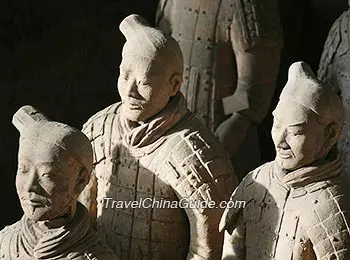 In March 1974, the terracotta army was discovered by local villagers when digging a well during a dry season. That was the Terracotta Warriors Pit 1. Then Pit 2, Pit 3 and many other accessory pits were discovered and excavated in succession.

See Discovery of Terracotta Army Who found the Terracotta Warriors?

Excavation & Protection on Terracotta Army
Archaeological teams began excavating the terracotta army in 1974 as soon as it was found. Up to now, many pottery warriors and horses have been unearthed from the pits. Many different types of terracotta warriors were found, including
cavalry warriors
,
infantry warriors
and
kneeling archers
in succession. In order to keep the
true colors of terracotta warriors
at their best, experts adopted modern technologies to preserve them during the unearthed process and after being excavated.
In order to protect the Terracotta Army preferably, in 1975,
Emperor Qinshihuang's Mausoleum Site Museum
was built on the site of the terracotta warriors to exhibit the terracotta warriors and horses as well as other historical relics unearthed from the mausoleum.

Recommended Tour Itinerary:
Terracotta Warriors Tour
: One-day to visit Terracotta Warriors and Horses and more
More
Xi'an Tours

You May Like:
Why was there little record about Terracotta Warriors in history?

Next:
Chronicle of Terracotta Army
- Last updated on Oct. 12, 2023 -
Questions & Answers on History
Asked by Elizabeth from USA | Oct. 12, 2023 15:46

Reply
How does the 8000 terracotta men found in Huang's tomb reflect his personality?
Answers (1)
Answered by Mia | Oct. 12, 2023 18:48

0

0

Reply
It reflects that he advocated power with strong sensitivity and suspicious. He was proud and conceited, and also afraid of criticism.
Asked by ruby from AUSTRALIA | May. 29, 2023 19:49

Reply
why was the terracotta warriors made?
Answers (1)
Answered by Jenny | May. 30, 2023 19:41

0

0

Reply
They are burial objects for the China's first emperor Qin Shi Huang to showcase his great achievements and supreme power. It is also said that the underground army was made to prove he could rule another world.

Asked by your mama from AUSTRALIA | May. 25, 2022 17:23

Reply
how many?
How many Terracotta wariors are there.
Answers (1)
Answered by Jesscia | May. 29, 2022 23:39

0

0

Reply
Nearly 8,000.
Asked by Jefory from AUSTRALIA | Aug. 25, 2019 20:20

Reply
When was the terricota army placed in the pits and buired
Answers (1)
Answered by Deb from USA | Aug. 28, 2019 20:31

0

0

Reply
After Qin Shihuang was in power (when he was 13 years old), he began to build his own mausoleum (including the Terracotta Warriors) in 246 BC or 247 BC. It took 39 years and was completed in 208 BC.