How to Visit Terracotta Army - A Comprehensive Visitor's Guide
A Xi'an trip is never complete without visiting Terracotta Army, the most reputed tourist attraction in the city. As it is a little far from downtown Xi'an, the best and most convenient way to visit Terracotta Army is to book a hassle-free tour from a trustworthy travel agency.
Well, if you determine to visit Terracotta Army by yourself, please read the comprehensive visitor's guide below. Generally, one day is enough and you don't need to stay overnight nearby.
One-day Self-guided Terracotta Army Visit Plan
Most visitors will travel to Xi'an first, stay a night at a hotel in downtown for a good rest, and then take a one-day tour to the Terracotta Army on the next day.

1. Learn some basic facts before visiting Terracotta Army
Location: in Lintong District of Xi'an, about 40 km (25 mi) from downtown
Area: 2.078 hectares (5.135 acres)
Built in: 247 or 246 BC – 208 BC
Number of Terracotta Warriors and Horses: Nearly 8,000
Opening Hours: Peak Season from March 16 to November 15: 8:30 - 18:00; off season from November 16 to March 15: 8:30 - 17:30
What to See: Pit 1, Pit 2, Pit 3, Bronze Chariots and Horses Exhibition Hall

Read more: 10 Amazing Terracotta Army Facts You May Not Know

2. Get the entrance ticket in advance
The entrance ticket for the Terracotta Army costs CNY 120, whether it is in the peak travel season or slack season. As only 65,000 entrance tickets are issued daily, it's advised you to get a ticket in advance.

How to Buy Terracotta Warriors Tickets?
The easiest way is to book a ticket from TravelChinaGuide. If you know Chinese and have a Chinese cell phone number, you can book it directly on the official website of the Terracotta Army. Some tourists may want to buy a ticket only after they arrive at the scenic spot, but this is not recommended, because you may spend a long time queuing before the ticket window and there is risk that tickets are sold out.

No matter you book ticket from TravelChinaGuide, official website, or on site, your passport or passport information will be required as the Terracotta Army Museum has introduced the real-name ticketing policy. In addition, you need to take your passport for inspection when entering the scenic area.

3. Set off early in the morning for your one day Terracotta Army trip.
It's strongly advised to get up and set out early in the morning to visit Terracotta Army, let's say 7:00 am, to miss the large tour groups which usually arrive at around 10:00 am. If you do not mind having lunch late, you can also visit at noon during lunch time.

More tips on how to avoid the crowds:
You can choose to travel in the slack season in winter. As the Terracotta Army is a sheltered attraction, weather will not affect your visit much. By the way, try to avoid visiting the Terracotta Army during public holidays, especially the National Day holiday of China from October 1 to 7 to stay far from throngs of tourists.

Read more: Best Time to Visit Terracotta Warriors Museum

4. Travel to the Terracotta Army.
From downtown area, you can take metro line 1 to Fangzhicheng Station and transfer to metro line 9 to Huaqing Pool Station. Then take Lintong Bus 602 to your destination.

At Fangzhicheng Metro Station, you can also take the direct tourist bus 5 (306) to the Terracotta Army outside the nearby Fangzhicheng City Bus Stop. The bus is available between 07:00 and 19:00, costing about CNY 5. The whole journey takes about 1.5 hours.

Read more: How to Get to Terracotta Warriors from Xi'an
Be careful to avoid traps:
1) When taking tourist 5 (306), make sure you are boarding on the right bus. There are often fake buses around the pick-up point, which claim to take you to the Terracotta Army. However, they may actually take you to the fake Terracotta Army, some rarely-known artificial attractions, or jade and souvenir shops to rip you off. The conductors on fake buses also wear uniforms, so it's not easy to tell them from appearance. If a conductor keeps canvassing customers, it's much likely to be a trap.

2) After you arrive at the parking lot outside the Terracotta Army, some local villagers may sell discounted entrance tickets and offer to lead you to the "real" Terracotta Army. Ignore them and follow the large group of tourists to walk about 500 meters (550 yards) to the entrance.

3) Near the entrance, there might be some vendors selling models of Terracotta Army. Do not buy them to avoid being overcharged.

Read more: Avoiding Traps - Stay Away from Fake Terracotta Army

5. Tour in the Terracotta Warriors and Horses Museum.
After you get to the entrance, you need to walk about 15 minutes or take a battery car to the pits at the cost of CNY 5. In peak travel season, you need to queue up for the battery car, so it's more advised to take a walk. Then your Terracotta Warriors tour formally starts.

Recommended Route to Visit Terracotta Army: Pit 1 – Pit 3 – Pit 2 – Bronze Chariot Exhibition Hall
Time Needed: 2- 4 hours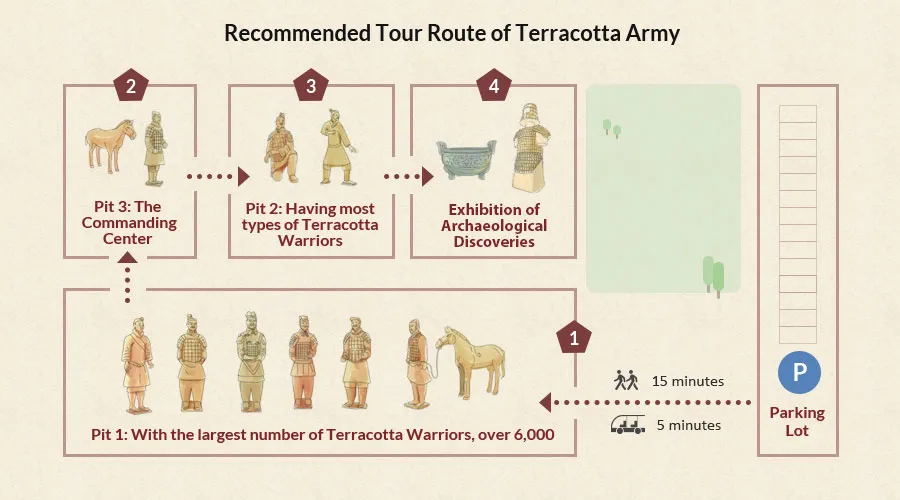 Recommended Route to Visit Terracotta Army

Tips:
1) Among all the sites, Pit 1 and Pit 2 are the highlights worth your attention. Pit 1 stands out for its large number of Terracotta Warriors and Horses and large scale. Pit 2 is important because it houses more types of Terracotta Warriors.
2) As there are few signs in English in the museum, hire a guide or rent an audio guide so that you will understand the exhibits better. Generally it costs CNY 150 or so to hire a guide and CNY 40 for renting an audio guide.

6. Attractions to Visit after Terracotta Army
1) Qin Shi Huang Mausoleum
If you have enough time and interest, you can explore further in the nearby Qin Shi Huang Mausoleum and accessory pits, the entrance fee of which is covered by Terracotta Army ticket. Besides, there are free buses shuttling between the Terracotta Army and Qin Shi Huang Mausoleum. A tour there takes about two hours.

2)Huaqing Pool and Mount Li
If you don't go to the Qin Shi Huang Mausoleum, your time will be enough for a visit to the nearby Huaqing Pool and Mount Li. You can conveniently take tourist bus 5 (306) or Lintong Bus 602 to the Huaqing Pool in about 40 minutes. Then you can appreciate various Tang Dynasty (618 - 907) style buildings inside the scenic area and have fun visiting the hot spring pools used by the Concubine Yang Yuhuan, one of the four most beautiful women in Chinese history. Mount Li is behind the Huaqing Pool Scenic Area, where you can have an easy climb to look over the structures below.

7. Have lunch.
Before setting out for other attractions after visiting Terracotta Army, it's time for lunch. If you visit the Qin Shi Huang Mausoleum after, you'd better prepare some food in advance for there is no restaurants inside the scenic area. If you plan to visit the Huaqing Pool and Mount Li in the afternoon, you can have lunch near the Terracotta Army. There are quite a lot of restaurants surrounding the scenic area offering authentic Xi'an food, like Terracotta Army Friendship Restaurant, Old Xi'an Restaurant and small food stores selling Crumbled Flatbread in Mutton Stew, steamed cold noodles, and Chinese style hamburgers. There are also western fast food restaurants like McDonald's, KFC and Starbuck for your choice. In addition, you can find local farmyards nearby selling home-cooked meals.

The food is a little expensive compared with that in the downtown area and the taste may not be very satisfying.

8. Return to the downtown area.
1) From Terracotta Army and Qin Shi Huang Mausoleum:
Outside the Terracotta Army Scenic Area, take Lintong Bus 602 to Huangqing Pool Metro Station. After getting off the bus, change to metro line 9 to Fangzhicheng Station, and then transfer to metro line 1 to the downtown area.

2) From Huaqing Pool Scenic Area and Mount Li:
Outside the Huaqing Pool Scenic Area at the foot of Mount Li, take metro line 9 to Fangzhicheng Station. Upon arrival, take metro line 1 to the downtown area.

If you are interested in the love story between Tang Emperor Xuanzong and his concubine Yang Yuhuan, it's advisable to enjoy the Song of Everlasting Sorrow show in the Huaqing Pool Scenic Area. You will be fully immersed in the grand Tang Dynasty palace dance and touched by the love story of them.

Show Timetable:
Thursday to Saturday: 8:10 – 9:20 pm; 9:40 – 10:50 pm
Sunday to Wednesday: 8:30 – 9:40 pm

Note: As it is put on an outdoor stage, the show is only available from April to October.
- Last updated on May. 25, 2023 by Catherine He -