Avoiding Traps - Stay Away from Fake Terracotta Army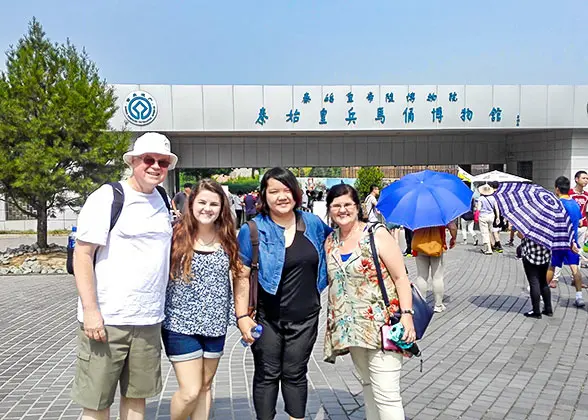 Entrance to Real Terracotta Army Museum
Near the authentic Terracotta Warriors Museum, there is a fake one made in recent years and operated by a local enterprise. Some of the travelers have been cheated and taken to tour this copied spot. To avoid being ripped off and see the real
Terracotta Army
, you are advised to visit Terracotta Army following a reliable travel agency. If you plan to go there on your own, taking public transportation like tourism bus line 5 (306) or an official taxi from Xi'an; upon arrival, ignore those "kind" guys hanging around the parking lot and claiming they can lead you to the entrance. Having a basic understanding of the appearance and scale of the real Terracotta Warriors and Horses beforehand is also necessary.
Trap 1: Fake Tourism Bus No.5 (306) or Illegal Taxi
The tourism bus no. 5 (306) used to run between
Xi'an Railway Station
and Terracotta Army. Bear in mind that it has been moved to Fangzhicheng Bus Station and does not stop at Xi'an Railway Station anymore.
However, around the Xi'an Railway Station, you may meet someone in uniform who greets you proactively and claims that she/he can take you to the Terracotta Army. Don't trust those people as they are swindlers. These fake tourism bus no.5 (306) may not only take you to the fake Terracotta Army, but also some other artificial sites such as "Eight Wonders of the World", "Underground Palace of Emperor Qin Shihuang's Mausoleum", as well as jade shops and other souvenir stores to milk you for money.
If you plan to go there by taxi, taking a taxi from downtown Xi'an will help avoid the traps occurring at the railway station. Remember to hail the regular taxi and ask for a receipt. It may cost CNY150 for a single trip and the duration is about 40 to 50 minutes.
Trap 2: Kind Persons around the Parking Lot of the Terracotta Army
Upon arrival at the parking lot outside the Terracotta Army, you might be interrupted by some local villages. They may give you a discount on the entrance ticket. Some people may tell you there are no terracotta figurines and horses in the museum, and you need to take their ride to real the authentic Terracotta Army. Just ignore those people. If there is a regular tour group next to you, you can follow them, and walk for around 500 meters (550 yards) to find the gate of the authentic Terracotta Army.
Trap 3: Horrible Fake Terracotta Army
There are three main pits and an exhibition hall opening to the public for the real Terracotta Warriors Museum at present. As the largest one, the
Pit 1
covers an area of 16,000 square meters (19,136 square yards). The only exhibition hall inside the fake museum is merely as large as three basketball courts. The fake one is about 2 kilometers (1.2 miles) to the west of the
Qin Shi Huang Mausoleum
, and it can be seen on the way from downtown to the real Terracotta Warriors and Horses Museum. The ticket fare of the authentic terracotta warriors and horses is CNY150 from March to November, and CNY120 from December to February. It is a comprehensive ticket enabling you to have a look at three main pits, the exhibition hall, the Qin Shi Huang Mausoleum and a few accessary pits. While the copied site's ticket is CNY128/person for one exhibition hall only. After being lured to this private tourist site, you will find copies of terracotta warriors with colorful faces, Qin Shi Huang's coffin and other fake gimmicks displayed within this place. The colors on most of the real terracotta figures have disappeared after being dug out.
| | |
| --- | --- |
| Exterior of Real Terracotta Warriors Pit 1 | Interior of Real Pit 1 |
Further Reading:
How to Visit Terracotta Army
- A Comprehensive Visitor's Guide
- Last updated on Apr. 12, 2021 -