Crumbled Flatbread in Mutton Stew (Yangrou Paomo)
Crumbled Flatbread (unleavened bread) in Mutton Stew, in Chinese, Yang Rou Pao Mo, is a local dish that is enjoyed throughout Shaanxi Province, particularly popular in Xian City as a traditional nourishing meal. Not only do the local people enjoy it on a regular basis, it is also often appreciated by visiting celebrities.
Crumbed, unleavened flatbread is soaked in highly seasoned mutton gravy, which makes the snack smell and taste great. When the weather is cold, this dish is a sure way to warm you up! Many restaurants in Xian serve Crumbled Flatbread in Mutton Stew, but the best known one is the Lao Sun Jia, established in 1898 and the Tong Sheng Xiang where they have been serving excellent food for almost a century. Both are recommended if you wish to try this special dish.

How the Crumbled Flatbread in Mutton Stew is served. The custom is unique and interesting. When you order the meal, you will be given a large bowl and a quantity of round, flat unleavened bread. The amount of bread depends entirely upon the size of your appetite!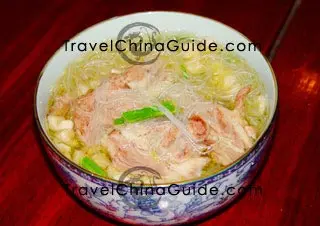 You have to break the bread into small pieces so that it can absorb the flavor of the liquid. Be warned that the bread is hard and it will prove something of a test of strength for your fingers, but the smaller you break the pieces, the better the result. Once you have prepared your bread, you pass your bowl to the chef who will stir it into a pot of hot mutton soup. After some five to ten minutes, he will ladle the soup and bread back into your bowl with a quantity of mutton. Adding chili paste, caraway and a specially salted sweet garlic enhances the dish. These acts help to reduce the greasiness so often associated with mutton.

Crumbled Flatbread in Mutton Stew might not sound as though it could become a favorite with you, but if you are seeking to experience something of the local food in western China, this is well worth a try. If you want to taste it at its best, remember to come to Xian. Apart from these noted restaurants, you can enjoy the Crumbled Flatbread in Mutton Stew at many restaurants in the Muslim Quarter. There are also some distributing in the streets and lanes of the city, which may bring you more surprises.

Best Restaurants to Eat Paomo
Laosunjia Restaurant
Lao Sun Jia should be the most famous Yangrou Paomo restaurant in Xian servicing the authentic beef/lamb stew of bread. Originally opened at the end of the Qing Dynasty (1644 - 1911), the long history has turned Lao Sun Jia a noted landmark of the ancient Xian City. Besides of the time-honored Pao Mo, the skillful cooks here also have created a series of tasty Moslem dishes. Additionally, the well-decorated restaurant is an ideal place for you to try the elaborate local snacks. However, nothing in the world in perfect, some customers also complain that the food's flavor is not as good as they imagine but at a little high price.
Average cost: CNY30-50 per person

Many branches of Lao Sun Jia have been established these years. Here are some for your reference:


Xiyangshi Branch
Location: No. 40, Xiyangshi, Muslim Quarter


Weisanshi Street Branch
Location: 1F, Yanchang Shiyou Community, South Fenghui Road, Yanta District


Baihualinju Branch
Location: 2F, No. 88, Dongmen Business Street, Baihualinju Community, North Fengcheng Road


Dongguan Branch
Location: 2F, No. 78, Dongguan Street, Beilin District


Duanlü Gate Branch
Location: 5F, BOX Fashion Shopping Center, crossing of Duanlv Gate, East Street, Beilin District

Tong Sheng Xiang Restaurant
Tong Sheng Xiang Xian Yangrou Pao has enjoyed the same fame with Laosunjia Restaurant for a long time. Its delicious Paomo has been listed in the Chinese Top Snacks in 1997. By the way, occupying the advantageous position in the city center, this two-storied building is always crowded by locals and travelers.
Other Specialities: various kinds of Moslem dishes, dumpling, and snack banquets
Average cost: CNY50-60 per person


Bell Tower Branch
Location: at the square of the Bell Tower and the Drum Tower, No. 5, West Street, Beilin District


Fengcheng 5th Road Branch
Location: No. 26, Fengcheng 5th Road


Xihe Branch
Location: northeast corner of Xihejiacun and Taibai Road

Fang Shang Ren Restaurant
Fang Shang Ren is also a time-honored Moslem restaurant focusing on the authentic Paomo. In fact, most of the locals prefer to visit here for its comfortable dining environment and delicious food at reasonable price.
Other Specialities: Moslem dishes, snacks
Average cost: CNY50 per person


Gaoxin Branch
Location: No. 1, the Pedestrian Street of the West Electronic City, Gaoxin District


Ziwei Branch
Location: No. 1, Commercial Corridor of Ziwei Pastoral City, Gaoxin District (in the north of Gaoxin International Kindergarten)


Wenjing Branch
Location: West Zone of Wenjing Community, Fengcheng 9th Road

Laomijia Restaurant
If you are a gourmet to find the budget delicious food, this restaurant should not be missed. In Xian, the tastiest snacks also hide in the inconspicuous streets and lanes, such as the Laomijia Yangrou Paomo Restaurant which attracts a great number of locals, but travelers always feel difficult to find it from the bustling Muslim Quarter. Compared with the above time-honored restaurants, this small restaurant only serves customers the unique flavor Paomo at very reasonable price.

Tips: if you are willing to have a try here, it is suggested to get there as early as possible. Usually, food will be sold out after 15:00. By the way, don't expect too high of its service and you have to help yourself sometimes.
Average cost: CNY40-60 per person


Guangji Street Branch
Location: No. 76, North Guangji Street, Lianhu District


Anban Street Branch
Location: No. 589, East Street, Beilin District


South Huancheng Road Branch
Location: No. 96, Middle Section of South Huancheng Road


Hanguang Road Branch
Location: 1F, Penghao Mansion, Hanguang Road
Laoliujia Restaurant
Not far from the above Lao Mi Jia, it also service economical Paomo all the year around.
Average cost: about CNY30 per person


Da Che Jia Xiang Street Branch
Location: No.39, Dachejiaxiang Street, Beilin District


Miaohou Street Branch
Location: No. 82, Xiaoxuexixiang Road, Lianhu District


Lixin Street Branch
Location: No. 27, Lixin Street, Qingnian Road, Lianhu District

Laowujia Restaurant
Xiao Chao Paomo, known as Xiao Chao by locals, is a little different from Yangrou Paomo. The bread pieces are fried with mutton/beef, adding some vegetables, vinegar, and hot pepper sauce. Lao Wu Jia is no wonder the most popular Moslem restaurant service Xiao Chao in Xian.
Average cost: about CNY30 per person
Location: No.91, Da Pi Yuan, the Muslim Quarter, Lianhu District

Lao'anjia Diyiwan Restaurant
It is located near Laomijia Pao Mo in the famous Muslim Quarter. It is suggested that you arrive there as early as possible.
Average cost: CNY35 per person
Location: middle section of Xi Yang Shi, Beilin District (in Muslim Quarter)

Lao'anjia Restaurant
It is one of the most popular Crumbled Flatbread in Mutton Stew brands in Xian. By now, there have been several branches in the city.
Average cost: over CNY20 per person


South Taoyuan Road Branch
Location: No. 58, South Taoyuan Road, Lianhu District


Yongsong Road Branch
Location: Yongsong Road, Yanta District

Xian Dining:
- Last modified on Aug. 31, 2018 -