Xi'an Shopping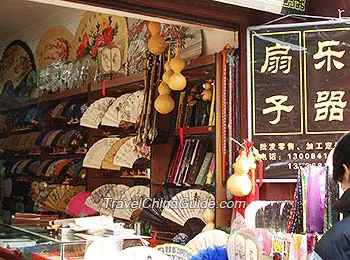 Souvenirs at Shuyuanmen Cultural Street
While marveling at the numerous historical sites and cultural relics in and around Xi'an, more and more tourists are also interested in shopping here. The most popular and favorite things for travelers are local products and souvenirs, such as Calligraphy Rubbings, Tang Tri-color Porcelain Replicas, Terracotta Warriors Replicas, Paper Cuts, Dry-cured Beef, Dried Persimmon & Walnut & Shaanxi Jujube and Xifeng Liquor.

Note: Prior to purshasing food products to take home check to see if your country restricts the import of such items.

Where to Buy Souvenirs in Xi'an
Apart from the featured streets of Shuyuanmen Ancient Cultural Street and Muslim Quarter, you can also find several nice souvenir markets in Xi'an to buy the unique artworks as souvenirs, such as Tang West Market, surrounding area of Giant Wild Goose Pagoda. In big supermarkets, there is always an area for local specialties for tourists' convenience.

Where to Go Daily Shopping in Xi'an
There are several commercial centers in Xi'an including Bell & Drum Tower Commercial Centre, Xiaozhai, Gaoxin Business Area, Giant Wild Pagoda and its surrounding area and Kangfu Road commercial areas. Bell & Drum Tower Commercial Centre is the most important and popular shopping area in Xi'an, permeated with strong traditional atmosphere. Xiaozhai is a thriving commercial area in Xi'an which mainly attracts young people with its trendy fashions. Gaoxin Business Area is a location where there is a preponderance of white-collar groups and prices tend to be high there. Giant Wild Pagoda and its surrounding area is a great place to buy local artworks. While, Kangfu Road commercial area is great destination for wholesale shopping; you can bargain there for the goods you desire at surprisingly low prices.
| | |
| --- | --- |
| West Street | Kai Yuan Shopping Mall |
There are many shopping malls in Xi'an, such as Century Ginwa Shopping Mall, Kai Yuan Shopping Mall, Saga Shopping Mall, Minsheng Department Store, Golden Eagle Shopping Market and Wanda Plazas. They provide a wide variety of good quality products including food, clothing, electronics, jewelry and they also try to meet the demands of different classes of customers.

If you wish to buy clothes, there are several clothes markets worth a visit. Whether you want to buy international big brands or relatively cheaper clothes, these clothing markets will invariably meet your requirements.

Supermarkets are numerous in Xi'an and in the main can be found around universities and residential areas. Also, there are some that are easily acceaaible in the city center. The famous ones include Vanguard, Ren Ren Le, Yonghui Superstores, Wal-Mart. You can go daily shopping for almost anything you need there.

Reading book is a great way to spend free time when you are staying in Xi'an. There are many bookstores in the city providing all kinds of books in different languages.

Xi'an Shopping Tips
1. International bank cards are not widely accepted in Xi'an. Therefore, bringing some RMB cash is always necessary. Or you can choose WeChat or Alipay to pay; they are recognized widely from big shopping malls to roadside convenience stores.
2. As the shopping centers are always very crowded, especially during weekends and holidays, you should be aware of pickpockets.
3. It is recommended that you negotiate to lower prices when buying things from wholesale markets, street vendors or some small stores. However, bargaining is not acceptable at shopping malls and supermarkets.
- Last modified on Apr. 24, 2019 -
Questions & Answers on Shopping in Xi'an
Asked by noor from MALAYSIA | Jun. 09, 2019 20:56

Reply
Where can i find textiles (such as silk) and patchwork quilts markets in xi'an?
Answers (1)
Answered by Amber from ROMANIA | Jun. 09, 2019 23:32

0

0

Reply
You can buy the silk products in KFL China Silk Store at No. 22, South Avenue, Beilin District.
Asked by Giovanni from ITALY | May. 18, 2019 23:53

Reply
Do you know where I can buy harem pants for man in Xi'an?
Answers (1)
Answered by Betty from NEW ZEALAND | May. 20, 2019 02:57

0

0

Reply
I'm not clear but maybe you can have a try in the large shopping malls around Bell Tower.
Asked by Lorraine Parry from AUSTRALIA | Apr. 21, 2019 18:40

Reply
I will be looking to buy women's gold chain but want good quality in Xi'an.
Is there anywhere in the city to purchase true gold?
Answers (1)
Answered by Christopher from DENMARK | Apr. 24, 2019 20:08

0

0

Reply
You can go to the Bell Tower area, where you can find several gold stores. For example, the Kaiyuan Shopping Mall is a nice place to go. :)
Asked by John from UNITED KINGDOM | Dec. 15, 2018 12:06

Reply
Where's the best place to go to get tailored suits and LED lights in Xi'an?
Answers (2)
Answered by Matthew from USA | Dec. 16, 2018 23:44

0

0

Reply
For tailored suits: You can go to the clothes markets at Kangfu Road. There are many stores that can provide tailored suits.
For LED Lights: Guangcai LED Lights Market: No.621, Xiying Road, Yanta District
Hope helpful!
Answered by John from UK | Dec. 17, 2018 02:09

0

0

Reply
Thank you!
Asked by Selena from MALAYSIA | Oct. 04, 2018 04:55

Reply
Where can I find cheap and nice clothes for women/teenager in Xi'an?
Answers (1)
Answered by Michael from CANADA | Oct. 07, 2018 23:41

0

0

Reply
There are many clothes wholesale market located at Kangfu Road in the city, such as Shidanda Wholesale Market and Chang'an Wholesale Market.