Xian Shopping

Xian Local Products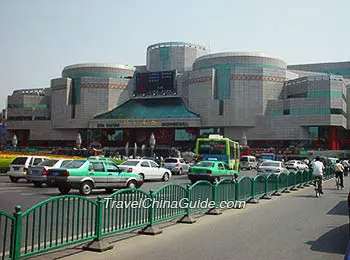 Kai Yuan Shopping Mall, near Bell Tower
While marveling at the numerous historical sites and cultural relics in and around the city, tourists are also interested in shopping in Xian. Apart from the daily goods, there are a number of local products, including food, wine, Chinese calligraphy and pictures as well as vivid handicrafts.

Commercial Centers


Bell & Drum Tower Commercial Centre: There are four famous streets in Xian -- East Street, South Street, North Street and West Street. They belong to the Bell Tower Commercial Area which is the most important in the city, permeated with strong modern atmosphere. You can find several big department stores and supermarkets there.

Xiaozhai is a flowering commercial area in Xian which mainly attracts young people. You can find Parkson Department Store, Feixuan Underground Shopping Plaza, Haobang Shopping Plaza and Baihui market at Xiaozhai. You can bargain the price of the goods in most stores here.

Gaoxin Business Area is a place filled with white-collar groups. There are some famous huge malls here including Century Ginwa Shopping Mall and Golden Eagle which are at the intersection of Gaoxin Lu and Keji Lu.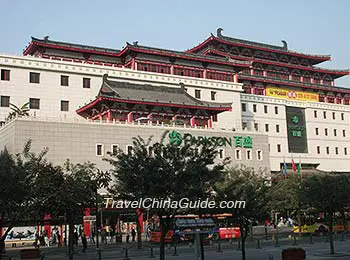 Parkson on West Street

Thousands of tourists go to visit the Giant Wild Pagoda everyday, therefore the Giant Wild Pagoda and its surrounding area became an important shopping centre. At the Giant Wild Pagoda, you can find all kinds of featured local artworks. Besides the Giant Wild Pagoda there is the famous Great Tang All Day Mall which is mainly a cultural commercial street. Near to the pagoda, the two biggest electronic shopping malls, Seg Computer Plaza and Buynow Plaza are along Yanta Lu. If you want to buy a lap top computer, camera, mobile phone or other electronic items, it is your first choice.

Kangfu Lu and Northwest Light Industry commercial areas are places for wholesale shopping. You can find all kinds of commodities there, such as costumes, shoes, electronics, bags and some other daily things. The goods there are much cheaper than in the malls. You can bargain there for the goods you desire at surprisingly cheap prices.

Souvenir Markets:
Apart from the featured streets of Shuyuan Gate and Moslem Street, you can also find several nice souvenir markets in Xian to buy the unique artworks as souvenirs, including Tang West Market, Antique Market, Wenbaozhai Tour Shopping Center and Peasant Painting Gallery.

Department Stores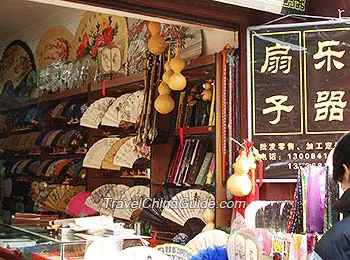 Shuyuan Gate
There are plenty of departmental stores in the city, offering products ranging from fashions, cosmetics, jewelries to household electrical equipments. World famous brands with high quality products are available in most of those department stores. They mainly centralize at Bell Tower area, Gaoxin area and Jiefang Lu area.

Supermarkets
Supermarkets are numerous in Xian and are primarily distributed around universities and communities. However, there are some in the city center and the suburbs that are also easily accessible.

Bookstores
Reading book is a nice way to spend free time when you are staying in Xian. There are many bookstores in the city providing all kinds of books in different languages.

Tips: 1. Credit cards (including Visa, MasterCard, AE, Dinersclub and JCB) are acceptable in most big shopping malls, but it can not be used in some wholesale markets or small shops. Therefore, bringing some RMB cash is always necessary.
2. As the shopping centers are always very crowded all day long, you should beware of pickpockets.
3. When buying jade, silk, porcelain, pearls, tea, special Chinese seals called 'chops', Terracotta Warrior statues, you should beware of being cheated by fake ones.
4. You can try to bargain the price down when buying things from wholesale markets, street vendors or some small stores.

Related Link: Peasant Painting, Huxian County
- Last modified on Sep. 20, 2018 -