Top 10 Souvenirs to Bring Home from Xi'an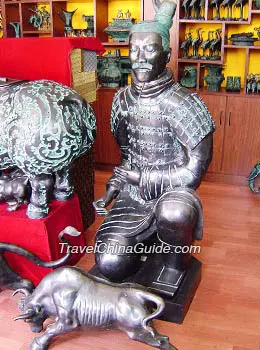 A Terracotta Warrior Replica
Terracotta Warriors Replicas
Vivid terracotta warrior replicas are one of the best souvenirs to buy in Xi'an. Various ones are available, from a few inches tall to life-size. Each warrior or horse has its own character. According to different ranks and armed services, the uniform, cap, facial features, beard, hair and buckle also vary. You can also find them with different appearances, such as handsome, ugly, fat, slim, young and old. Additionally, they have all kinds of facial expressions: happy, angry, sad, proud, foxy or humorous.

Calligraphy Rubbings
Xi'an has more than 300 stone steles with calligraphies dating from the Han (202 BC - 220 AD), Wei (220 - 265 AD), Tang, Song (960 - 1279 AD), Yuan (1271 - 1368 AD), Ming (1368 - 1644 AD) and Qing (1644 - 1911 AD) Dynasties collected in the Forest of Stone Steles Museum. Books of rubbings from some of the most famous Chinese calligraphers can be purchased in the Painting and Calligraphy Street near the Forest of Stone Steles Museum.

Tang Tri-color Porcelain Replicas
Xi'an was the capital city of the Tang Dynasty (618 - 907 AD), thus its historical prosperity left Xi'an with many cultural relics, especially Tang Tri-color Porcelain Replicas which is the generic name for the color-glazed pottery of the Tang Dynasty. Its colors include yellow, green, brown, blue, black and white, among which yellow, green and brown are the major tones. Common themes include figurines, ceramic camels and horses. Most of the tri-color human figures are female.
| | |
| --- | --- |
| Tang Tri-colored Glazed Horse Replica | Paper-cut |
Paper-cut
Paper-cut is a widely popular folk art in North China, especially in Shaanxi Province. On days of grand ceremonies, such as the Chinese New Year and weddings, local people like to decorate the doors and windows of their homes with red paper cuttings. The paper cuts are mainly of three kinds: figures, customs and animals. They are usually bold and comical to carry the good wishes of the people. The main tools for making a paper-cut are just scissors or a knife and pieces of paper. The hand skills in the paper cutting are very important and the cutting process is very worth watching.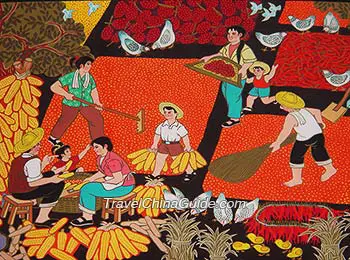 A Local Peasant Painting
Peasant Painting
Those peasant paintings mainly reflect the local people's daily life, including the festival, parade, harvest, music, village traditions, animals, kitchen work, and the life of children. You can discover a primitive style with child-like figures and bright colors through those paintings. You may be affected by the optimistic life altitudes reflected on these colorful and attractive paintings.

Shadow Puppetry
Shadow puppetry is one of the oldest traditional handicrafts and performing arts in Shaanxi. Watching a shadow puppet play and buying a shadow puppet crafts for a private collection or as a gift is extremely great.

Dry-cured Beef
Dry-cured beef is popular among locals and tourists often come home with a few pounds of vacuum-packed dry-cured beef. The top five restaurants selling dry-cured beef is Mafeng, Tiezhiming, Liujixiao, Laosun and Xihulan. However, please be note that the quality guarantee period of the vacuum-packed dry-cured beef is relatively short, about 2-3 days at room temperature.

Dried Persimmon & Walnut & Shaanxi Jujube
Dried persimmon & Walnut & Shaanxi Jujube usually grow and then produced in the mountainous areas in Shaanxi. They are all original ecological products good for health.
| | |
| --- | --- |
| Dried Persimmon | Shaanxi Jujube |
Chili Oil
Chili oil is a seasoning made from vegetable oil that has been infused with chili peppers. It is commonly used in Shaanxi cuisine. For those who like spicy food, it must be on your list of "What souvenirs to buy in Xi'an".

Xifeng Liquor
Xifeng Liquor is an alcoholic drink made from barley. It boasts a long history that dates to the Tang Dynasty (618 - 907 AD) and a rich cultural influence. Xifeng Liquor has various series of products with unique taste and different levels, which is very popular both locally and abroad.

Kind Reminder: Please check your country's customs policy to see if the foods mentioned above can be brought in.

What Souvenirs Not to Buy in Xi'an
1. Some shabby Terracotta Warriors Replica, Tang Tri-color Porcelain Replica or other crafts are not should not be purchased as the quality is poor.
2. Jade articles sold on roadside small stalls or surrounding scenic spots are also not recommended for they are most likely fake.
3. Vacuum-packed Crumbled Flatbread in Mutton Stew or Liangpi is not recommend because they are not the original taste and not delicious at all.

Where to Buy Souvenirs in Xi'an
It is the hottest place for tourists from home and abroad to buy handicrafts as there is a rich variety and good quality. Remember, you can bargain and buy at a relatively cheaper price.

Muslim Quarter and its surrounding Huajue Lane are also popular places for buying souvenirs. The quality and categories of handicrafts here is not as good and rich. But there is a great variety of snacks available.
| | |
| --- | --- |
| Muslim Quarter | Tang West Market |
To meet the demands of tourists to Giant Wild Goose Pagoda, the surrounding area has gradually become a souvenir market, selling some local products and souvenirs.

Three kilometers (1.9 miles) to the west of Bell Tower, Tang West Market is a modern international shopping zone. A Silk Road shopping street and an antique market lie here, selling Terracotta Warriors Replicas, Tang Tri-color Porcelain Replicas and so on.

Nearly all large supermarkets in Xi'an, such as Vanguard, Yonghui Superstores and Wal-Mart, have specialty area and visitors can also buy local specialties there.
- Last modified on Jan. 29, 2019 -