Top Xi'an Shopping Malls
Century Ginwa Shopping Mall
Chinese name: 世纪金花购物中心 (shì jì jīn huā gòu wù zhōng xīn)
Located between the ancient Bell tower and Drum Tower, it is a landscaped square with profound cultural connotations as well as a high quality, exclusive shopping center. The mall opened in 1998 and now houses over sixty world-famous brands for discriminating customers, including Bally, Burberry, Dior, Givenchy, Lancome, and Estee Lauder, making Ginwa a fashion center in Xi'an.
Opening Hours: 09:30 to 22:00 (Summer), 09:30 to 21:00 (Winter)


Bell Tower Branch: No. 1, West Street, Bell and Drum Square, Beilin District


Gaoxin Branch: No. 33, Keji Road, Yanta District

Kai Yuan Shopping Mall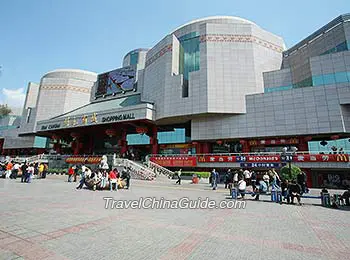 Kai Yuan
Chinese name: 开元商城 (kāi yuán shāng chéng)
This is one of the most popular shopping places in Xi'an with reasonable prices, good quality, good location and good service. There are two basement floors and seven above ground floors. The merchandise is arranged as follows:
-2/F: home appliance / digital item / computer / camera equipment / health care product / alcoholic drinks, tobacco and tea / local product / Kaiyuan supermarket
-1/F: dress shoes / casual shoes / leather goods /hand bags and luggage
1/F: jewelry / watches and glasses / skincare / beauty centre / Kaiyuan peak satellite communications square
2/F: men's wear including suits / shirts / casual wear / jacket / pants / T-shirts / wool sweaters
3/F: Women's Fashions/ uniforms / women's pants / beauty centre
4/F: young ladies wear/ lingerie / cotton underwear / home clothing / swimwear / socks
5/F: sports plaza / denim casual wear / fitness equipment / massage equipment / children's world
6/F: down jackets/ bedding / office supplies/ gifts / glass ceramics / stainless steel / Chinese and western musical instruments
7/F: food plaza
Opening Hours: 10:00 to 21:30


Bell Tower Branch: No. 6, Jiefang Markey, East Street, Beilin District (near the Bell Tower)


Xiwang Branch: No. 57, Xiwang Street

SAGA Shopping Mall
Chinese name: 赛格国际购物中心 (sài gé guó jì gòu wù zhōng xīn)
There are two basement floors and seven above ground floors. The merchandise is arranged as follows:
-2/F: Fashion Bags / Restaurants / Accessories / Jewelry / Manicure
-1/F: Youth Casual Clothes / International Sports Brands / Blt Supermarket
1/F: International Brands / Cosmetics / Watches & Glasses / Digital Products / Gold & Jewelry
2/F: Shoes / Bags / Accessories / Suitcases
3/F: Ladies Dress / Women's Apparel / Men's Clothing / Men's Business Suit / Designers
4/F: Ladies Fashion / Girl's Dress / Lingerie / Accessories / Manicure
5/F: Children's Apparel / Sports & Outdoor / Men's Business Suit / Men's Underwear / Beauty Salon / Children's Park
6/F: Gourmet Street
7/F: Dinner Town
Opening Hours: 10:00 to 22:00 from Monday to Tuesday; 10:00 to 22:30 from Friday to Sunday
Location: Northeast Corner of the Xiaozhai Flyover, Chang'an Road, Yanta District

Minsheng Department Store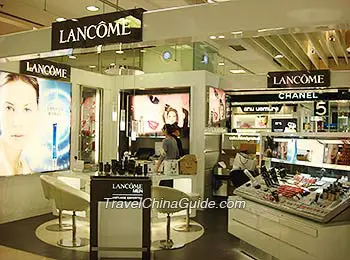 A Lancome Store
Chinese name: 民生百货 (mín shēng bǎi huò)
It is the oldest department store in Xi'an. It is known in northwestern China for its excellent, new, special and comprehensive commodities. It offers a great variety of things for you to buy including food, clothing, and commodities. It has many branches in Xi'an, the biggest of which is the Jiefang Lu branch near to Xi'an Railway Station.
Opening Hours: 10:00 to 21:30


Jiefang Lu Branch: No. 103, Jiefang Road, Xincheng Ditrict


Luomashi Branch: No. 1, Luomashi, East Street, Beilin District


Dianzi Zhengjie Branch: No. 125, Dianzi Zhengjie, Yanta District


Chang'an Branch: No. 138, Chang'an Street, Yanta District


Longsheng Square Branch: 1F, Longsheng Square, Weiyang Road, Weiyang District


Longshou Branch: No. 80, Weiyang Road, Weiyang District

Parkson Shopping Center
Chinese name: 百盛购物中心 (bǎi shèng gòu wù zhōng xīn)
Parkson is one of a famous foreign shopping centers with strong brand recognition focusing on fashion and lifestyle for middle and upper middle class consumers. It is one of the premier retail operators in China with an extensive network of department stores in 30 major cities. There are several branches of Parkson in Xi'an among which the one at East Street has a good merchandise distribution. On the first floor, you can find various brands of cosmetics, leather shoes and handbags. The second floor is the main commercial area for women's suits and dresses. Men's clothing and home accessories are on the third floor. It also has a supermarket providing all kinds of food and commodities.
Opening Hours: 09:30 to 21:00


West Street Branch: No. 6, West Street, Lianhu District


Chang'an Branch: No. 38, Middle Chang'an Road, Yanta District


Dong'erhuan Branch: 2F, Lifeng Shopping Mall, No. 6, South Jinhua Road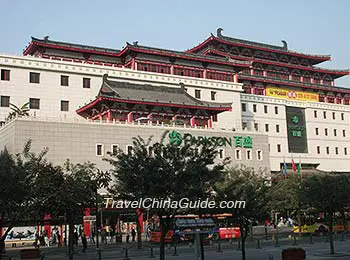 Parkson Shopping Mall
on West Street
Golden Eagle Shopping Market
Chinese name: 金鹰国际购物中心 (jīn yīng guó jì gòu wù zhōng xīn)
Located in the flourishing Gaoxin District, Golden Eagle is one of the biggest shopping malls in Xi'an with a total floor area of 27,287 square meters. It has a good reputation and provides a wide variety of good quality brand name clothes, electronics and jewelry. Golden Eagle Xi'an Gaoxin Store has 4 floors in the Sea Star City Plaza as follows:
1/F: IT communication / watches / shoes / cosmetics / jewelry / glasses
2/F: women's fashion / handbags and their accessories / casual women's wear / ladies lingerie / good quality cashmere / nail cosmetology
3/F: brand name men's wear / men's shoes and bags / single-product accessories / casual menswear / theme restaurants
4/F: household digital electronics / exercise area / tobacco / Golden Eagle supermarket / children's world / theme restaurants
Opening Hours: 10:00 to 22:00


Gaoxin Branch: No. 37, Keji Road, Yanta District


Qujiang Branch: Building No. 1, Furong Xintiandi, Yanta District

Gemdale Plaza
Chinese name: 金地广场 (jīn dì guǎng chǎng)
It is a composite shopping square providing top grade, branded and fashion goods. It tries to meet the demands of different classes of customers. You can find cosmetics, jewelry, costume, shoes, handbags and many other things in Gemdale Plaza. Women's clothes are the mainstay of this mall.
Opening Hours: 10:00 to 22:00
Location: No. 999, East Qujiangchi Road, Yanta District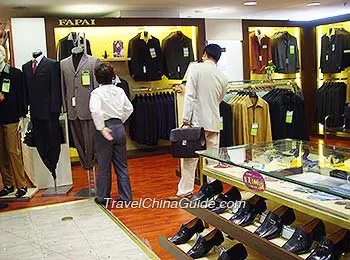 A Men's Clothing Store
Zhongda International Mansion
Chinese name: 中大国际 (zhōng dà guó jì)
Zhongda International Mansion is a comprehensive fashion center on South Street, a flourishing business zone. The modern shopping mall sells internationally famous brands, such as HUGO BOSS, Aquascutum, Burberry, Prada, Versace, Louise Vuiton, etc. Zhongda International Mansion creates a comfortable and modern atmosphere inside for its customers integrating a deluxe and cozy office environment into the shopping experience. You can find a coffee bar, French Decleor beauty saloon, multi-function hall, and other supporting facilities in it.
Opening Hours: 10:00 to 22:00


South Street Branch: No. 30, South Street, Beilin District


Gaoxin Branch: No. 72, Gaoxin Road, Yanta District

Central Intime Square
Chinese name: 中环银泰广场 (zhōng huán yín tài guǎng chǎng)
Central Intime Square is a new department store in Xi'an. It has a prime location at the West Street, Bell & Drum Tower Commercial Centre. Central Intime has quickly become one of the landmark shopping malls at Bell & Drum Tower Commercial Centre.
Opening Hours: 10:00 to 22:00
Location: No. 48, West Street, Beilin District

Hanshen Shopping Mall
Chinese name: 汉神广场 (hàn shén guǎng chǎng)
It is also a luxury shopping mall for people with an elite life style. It sells famous world fashion brands, such as BALLY, Chloe, Gucci, Fendi and Ermenegildo Zegna.
Opening Hours: 10:30 to 21:30 from Monday to Tuesday; 10:30 to 22:00 from Friday to Sunday
Location: No. 168, Fengcheng 8th Road
- Last modified on Sep. 11, 2019 -
Questions & Answers on Top Xi\an Shopping Malls
Asked by Janus from SINGAPORE | Sep. 10, 2019 07:41

Reply
I will be visiting Xi'an in November.
Where can I buy cheap/average priced (max 800cny) ski jackets?

Regards,
Janus
Answers (1)
Answered by Kate from AUSTRALIA | Sep. 11, 2019 19:47

0

0

Reply
To be honest, I'm not sure. Maybe you can go to some outdoor sports wear shop, like Shehe outdoor products store, which is located at No.132, Zhuque street.
Asked by Lisa from AUS | May. 15, 2019 06:21

Reply
Where is a good place to get hair washed and dried for ladies in Xi'an please?
Answers (1)
Answered by Jim from USA | May. 15, 2019 20:36

0

0

Reply
There are many barbershops around Xiaozhai area. The YESIDO is not bad and there are several branches around the city.
Asked by Nik from MALAYSIA | Oct. 04, 2018 06:26

Reply
Where to buy wholesale stationeries in xi''an? Cute n unique stationeries.
Answers (1)
Answered by Jason from USA | Oct. 10, 2018 23:17

0

0

Reply
The biggest one is recommended to you: Mingyu stationery wholesale market, located at No.12 Dongzhan Road, Xincheng District.
Asked by Salman from PAKISTAN | Jan. 04, 2016 03:34

Reply
Does Xi'An have an official Apple Store or a place that would sell original Apple products?
Answers (2)
Answered by Joe from UNITED KINGDOM | Jan. 04, 2016 18:38

1

2

Reply
Sure! I happen to know one Apple Store at no. 414, East Avenue, Beilin District.
Answered by Jo from INDIA | Oct. 04, 2018 06:31

0

0

Reply
Is apple product cheaper in china?
Asked by Lesley from CANADA | Jul. 12, 2014 11:23

Reply
Products for curly hair in Xi'an?
Hello! I will be living in this city for 3 months. I want to know if products for curly hair are easy to buy ? (Things like styling cream/mousse, anti-frizz serum, or anti-frizz shampoo & conditioner). And if so, where I can buy them.

I'd rather not have to pack all my stuff from home.
Answers (1)
Answered by Adele from CHINA | Jul. 12, 2014 21:41

2

2

Reply
Yes, it is easy to get these things in the city and you are find them in local supermarkets. Just relax! I am a native girl by the way. Welcome!