Xi'an Travel Tips
Travel with reliable tour agencies.
There are a lot of self-employed guides, illegal travel agencies and low-priced tours in Xi'an. They take tourists to a lot of souvenir stores, leaving shorter time for sightseeing. Also, their travel itineraries are not arranged professionally and visitors cannot fully enjoy themselves.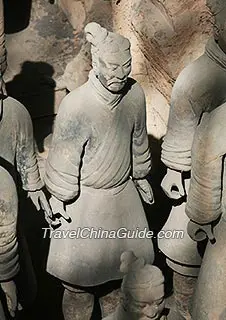 Terracotta Army
Must-go Attractions in Xi'an
Xi'an boasts a lot of historic relics, such as Terra Cotta Army, City Wall, Giant Wild Goose Pagoda, Bell Tower and Drum Tower. Except Terracotta Army, which is 40 km (25 mi) northeast of downtown, almost all the sites can be reached by metro.
See more about How Many Days in Xi'an Needed?


Be Aware of Fake Bus Tourism No.5 (306) to Terracotta Army
The fake one takes visitors to a lot of souvenir stores and overcharges. Remember that the real one is parking on the east square of Xi'an Railway Station and there is usually a line of visitors getting onboard one after another; and its conductors don't leave the bus to cry out for passengers.

It's not easy to hail a taxi.
The driver can reject passengers sometimes, especially during peak hours from 07:00-09:00 and 17:00-19:00 on work days.

Where to stay
The hotels near Bell Tower, the very city center are your first choice, because of the convenient transportation, abundant dining choices, colorful night life, and various shopping malls and souvenir stores. Other recommended areas include Giant Big Wild Goose Pagoda for amazing night scenery and night life and metro line neighborhood for convenient transportation.

Read more: Where to Stay in Xi'an China – 8 Best Areas

You can enjoy Crumbled Flatbread in Mutton Stew (Yangrou Paomo), Rou Jia Mo and Liangpi and Biang Biang Noodles here. Plus, respect Muslim customs in Muslim Quarter.

Passport holders of 53 countries and regions can enjoy a visa-free stay up to 72 hours when taking an international transfer via Xi'an Xianyang International Airport. Read details about 72-Hour Visa-Free Transit.

Note: The 72-hour visa-free transit will be replaced by the 144-hour visa-free transit in Xi'an since Dec. 1, 2019.

Is western toilet or squat toilet used in Xi'an?
The vast majority of public toilets here are squat toilets, like in shopping malls, scenic spots, railway stations and airport; but usually one or two western toilets can be found in a large wash room. Remember to bring some toilet paper with you; not all public toilets provide it. The toilets in hotels mainly are western toilets.

Is Xi'an safe?
It is safe here. However, as a popular tourist city, more and more domestic and foreign tourists come here and some scenic spots and transportation hubs are crowded. If you come with children, be sure to look after your children to prevent them going lost. Besides, please take care of your phone and wallets since pick-pockets are plentiful in tourist areas.

Free WiFi is widely available.
You can find it in your hotel room, most restaurants, cafés, shopping malls and even attraction sites.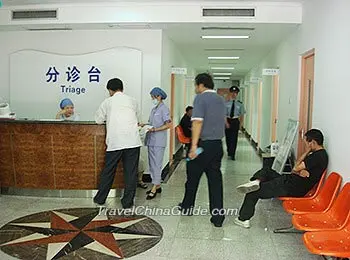 Hospital in Xi'an
Which hospital to go to if I feel sick?

Shaanxi Provincial People's Hospital
Address: No. 256, West Youyi Road
Tel: (029) 85251331



The Second Affiliated Hospital of Xi'an Jiaotong University
Address: No. 157, Xi Wu Road
Tel: 029-87679000, 029-87679323



Xi'an Children's Hospital
Address: No.69, Xijuyuan lane, Xinmen
Tel: 029-87311818

Post office you may need

Bell Tower Post Office
Address: Northeast corner of Bell Tower Square



Xiao Zhai Branch
Address: No.3, West Xiao Zhai Road

Bank of China in Xi'an: Offer Money Exchange Service

Bell Tower Branch
Address: No. 29, South Street, Beilin District



Drum Tower Branch
Address: No. 133, South Guangji Street, Beilin District

Giant Wild Goose Pagoda Branch
Address: No. 1, Middle Section of Yanta Road, Beilin District

Emergency Numbers:
Fire: 119
Traffic: 122
Ambulance: 120
Police: 110

Useful Numbers:
Zip code Inquiry: 11185
Taxi Complain: 96716
Mayor's Hotline: 87295170
Tourists Complain: 12301
Shaanxi Tourists Complain: 118114
Consumption Complain: 12315
Telephone Number Inquiry: 114
Public Buses Complain: 16801315
China Mobile Customer Hotline: 10086
China Unicom Customer Hotline: 10010
China Telecom Customer Hotline: 10000

Recommended Tour Itineraries:
Heritages of Ancient City: 2 Days Luxury Tour in the city
Historical Xi'an: 3 Days Luxury Visit of the city
Golden Triangle: 8 Days visit extended to Beijing and Shanghai


More Xi'an Tours
- Last updated on May. 26, 2020 -
Questions & Answers on Xi'an Travel Tips
Asked by Robert Lim from MALAYSIA | Dec. 08, 2019 18:59

Reply
Is it too expensive to pay RM450 for a round trip from Xi'an Remin Square to Terrocota Warrior Site ?
Answers (1)
Answered by Mary from USA | Dec. 11, 2019 17:51

0

0

Reply
The distance between them is around 85km and the single trip fare of taxi could be around CNY200-CNY250. So I think it is not that expensive.
Asked by David Teoh from MALAYSIA | Dec. 04, 2019 21:20

Reply
We will be arriving at Xi'an airport in December at midnight...is it hard to find a taxi to our hotel
Answers (1)
Answered by Zhang yue from CHINA | Dec. 06, 2019 09:39

0

0

Reply
I am a local guy in xi an. By midnight it will be less taxi. So it's better book a car for transfer.
Asked by Layne from USA | Sep. 21, 2019 22:48

Reply
What are the 2020 dates of the Lantern Fair?
I am planning to be in China March 30th to April 7th. Is there any chance of seeing the lantern fair?
Answers (1)
Answered by Kira from CANADA | Sep. 23, 2019 20:28

0

0

Reply
The Lantern Festival in 2020 is on February 8. So you are unable to watch lantern fair during your visit.
Asked by kanitth from THAILAND | Aug. 03, 2019 20:55

Reply
How can I go to Daming Palace from Yongxingfang food street?
Answers (1)
Answered by Ellison from CANADA | Aug. 07, 2019 01:55

0

0

Reply
Take bus no.309 to Dahua 1935 Bus Stop. Then walk north around 250 meters to find the destination.
Asked by Winston from MYANMAR | Dec. 10, 2018 04:12

Reply
What's the best time of the year to visit Xián?
Answers (1)
Answered by Abbott from SINGAPORE | Dec. 10, 2018 23:44

0

0

Reply
The best time to visit is from March to May or September and October.