Xi'an Dining
Xi'an Dining, also known as Shaanxi Cuisine or Qin Cuisine, is the representative culinary achievement in northwest China. Because of the abundant use of salt, vinegar, capsicum and garlic, Xi'an dining is in general sour and spicy. On Average, it costs CNY 100-150 per person for a meal in a nice restaurant, CNY 50-80 per person in a middle-level restaurant, and CNY 20-30 for a simple meal at a roadside small restaurant.

If you ask a local to recommmend Xi'an food, the first one they recommend most of the time is Crumbled Flatbread in Mutton Stew, which is also known as Yangrou Paomo. It is a soup dish that involves torn wheat flour flat bread, mutton and bean vermicelli. The interesting part is that customers can take participate in making the dish by tearing the flatbread into small pieces and usually, the smaller, the better. If some sugared garlic and thick chili sauce added, the taste of Yangrou Paomo will be more delicious.
Best Restaurants to East Paomo
| | |
| --- | --- |
| | Liangpi |
Rou Jia Mo & Liangpi & Ice Peak
Rou Jia Mo , Liangpi and Ice Peak, the Xi'an style Coca Cola is a classic meal for locals, which are worth a try for tourists. Rou Jia Mo is a kind of Chinese-style sandwich made of flatbread and chopped stewed meat. Liangpi is a kind of noodle-like cold dish made of wheat or rice flour. It has various seasonings including special red pepper oil, salt, vinegar, mashed garlic cucumber chips, and bean sprouts. Tourists can get this meal in alomost all the food streets and roadside restaurants in Xi'an.
Top Rou Jia Mo Restaurants in Xi'an
Top 10 Restaurants to Eat Liang Pi in Xi'an

In addition to eating some classic snacks, tourists cannot miss Shaanxi cuisine. Gourd-shaped Chicken, Zi Yang Zheng Pen, Braised White Fungus with Medlar, Spicy Pig Kidney, Quick-boiled Pig Tripe with Duck, Fish with White Soup and Stewed Squid Slices are the top dishes of Shaanxi Food.
Best Local Restaurants in Xi'an to Eat Shaanxi Food
| | |
| --- | --- |
| Gourd-shaped Chicken, a Famous Shaanxi Dish | Zi Yang Zheng Pen |
Noodles
Noodles have been the staple food of Xi'an People for a long time. It is said that there are more than 60 kinds of noodles and dozens of methods used by local chefs to make delicious noodles. Among a variety of noodles, the first recommended is Biang Biang Noodles, which got its name for the sound of "biang biang" during the cooking process. The noodle is about 3cm (1.2 in) wide and can reach a length of 1 meter ( 1 yard).
10 Famous Xi'an Noodles
Top 10 Xi'an Noodle Restaurants



See more
Best Xi'an Street Food: Dumpling Stuffed with Hot Gravy (Guan Tang Bao Zi), Cooked Beef/Mutton (La Niu / Yang Rou), Vegetable Stew with Lamb/Beef Ball (Rou Wan Zi Hu La Tang), Honey Glutinous Rice (Feng Mi Zong Zi)…
Dumpling Dinner: Also well-known as Jiaozi Banquet, it features abundant stuffing, colorful shapes and various cooking methods.
Where to Eat in Xi'an
Popular Snack Streets among Tourists: Muslim Quarter & Yong Xing Fang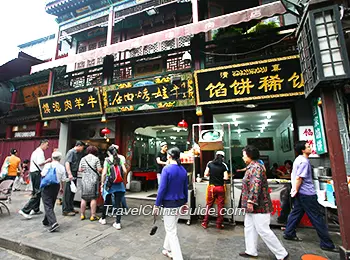 Muslim Quarter
Moslem Quarter, also known as Huimin Jie, is located in Xi'an City Center, next to Drum Tower. Because Muslims like to eat beef and mutton, the most popular foods in Moslem Street are the snacks related to beef and mutton, such as Crumbled Flatbread in Mutton Stew, mutton kebabs, beef kebabs and so on. In addition, Osmanthus Persimmon Cakes, Rou Jia Mo, Glutinous Rice with Jujube, dumpling stuffed with hot gravy and Vegetable Stew with Lamb/Beef Ball are also popular among visitors in Moslem Street.

Yong Xing Fang, another paradise for foodies, is located in Shuncheng Lane, north of the Zhongshan Gate of Xi'an City Wall. As one of 9 Best Xi'an Night Markets, it brings togther lots of specialty foods of Shaanxi. The most recommended are: Chengcheng Crumbled Flatbread in Mutton Stew, Qishan Minced Noodles, Laotongguan Rou Jia Mo, Biangbiang Noodles, Hanzhong Rice Noodles, Zichang Pancake and more.

Best Local Restaurants
For tourists who would like to eat authentic Shaanxi dishes, there are plenty of restaurants popular among both locals and visitors, such as Xi'an Restaurant, the Food Gallery of Xi'an, Real Love Chinese Restaurant, Lao Wan, Zui Chnag An, etc.



See more restaurants in Xi'an:
- Last updated on Nov. 15, 2023 by Brenda Lian -
Questions & Answers on Xi'an Dining
Asked by Joyce from CANADA | Nov. 09, 2018 15:47

Reply
Hi there, can you recommend a traditional hot pot place in xi'an?
Answers (2)
Answered by Rita from USA | Nov. 11, 2018 19:33

0

0

Reply
Here are several popular hot pot restaurants in the city. Hope helpful!
Dalongyi Hot Pot, located at Fenxiang, Beilin District.
Mala Shangxi Hot Pot, located at No.99 West Furong Road, Yanta District
Hai Di Lao, located at No.101, south section of South Yanta Road, Yanta District.
Answered by Hary from USA | Oct. 27, 2019 23:03

0

0

Reply
What does "Best Restaurants to East Paomo" mean?

Asked by Hussaini from INDIA. | Nov. 04, 2013 12:00

Reply
Hi, I would like to know about Turkish/Arabian retaurants in Xi'an. Also how could I reach there?
Answers (1)
Answered by Harry from USA | Nov. 04, 2013 20:39

1

0

Reply
I know a turkish restaurant in that city and it is called Turkish Kebap Restaurant, locating at Yanta Culture Plaza, No. 2, Changan South Road.
Would you mind tell me your position, so that I may tell you how to reach there in detail.
Generally speaking, you can take a taxi to reach there from Xiaozhai.
Asked by sandeep | Oct. 24, 2013 00:31

Reply
can u prefer me some indian veg. restaurant in Xi'an please
Answers (1)
Answered by Juno from USA | Oct. 24, 2013 01:57

3

0

Reply
I went to a New Delhi Indian Restautant at local Yanta District and the location is No. 3, east end of Datang Tongyifang, Yanta West Road. You may have a try there.