Xian Dining -- Dumpling Dinner
Whether you are traveling in the north or the south of China, one delicacy you are sure to find on the menu is dumplings. A universal favorite, the Chinese dumpling has a long history and is an essential part of celebratory meals such as those prepared for the Chinese lunar Spring Festival. The dumpling can be anything from a quick snack to a delicacy to entertain family and friends.
A well-loved story tells how long ago during the Eastern Han Dynasty (25-220 AD) a doctor named Zhang Zhongjing travelled back to his hometown in the county of Nanyang. He found the people were suffering from an outbreak of typhoid and dying from hunger and cold. In fact the weather was so cold that many had frostbitten ears to add to their troubles. The kindly doctor set about concocting a mixture of mutton, cayenne and a special medicine that he wrapped in a piece of ear-shaped dough. The dumplings he created were fed to the starving people and by New Year's Eve, not only were they saved from the typhoid epidemic, but also their frost bitten ears were healed. The doctor's fame became legendary and thus the dumpling became a favorite addition to the Chinese diet.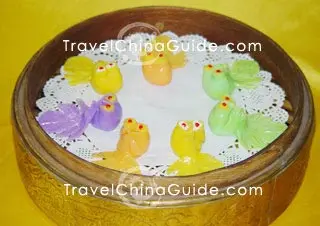 Xian, an ancient city that was the nation's capital for no less than eleven dynasties spanning more than a thousand years, is regarded as the home, if not the birthplace, of the great dumpling tradition. It was here that the art of creating the most tasty and delicate of dumplings was refined. No visit to the city is complete unless you have a Dumpling Dinner.

This is an experience for the dumpling connoisseur, the flavors, shapes and colors will tempt the palette, while the elegant names and stories attached to each variety are truly amazing. It is no less amazing that a simple way of preparing food has become so popular and sophisticated that it is now considered to be as much a work of art as a tasty morsel.

It is said that to visit Xian without seeing the fantastic Terracotta Army as well as having a Dumpling Dinner means that you have not really been here at all!

Well-Known Dumpling Restaurants

De Fa Chang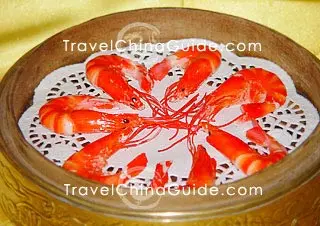 Having several branches in Xian, the time-honored De Fa Chang Restaurant is the first choice for visitors to enjoy traditional Shaanxi dumplings. The well-known Dumpling Banquets can be enjoyed at the Bell Tower and Drum Tower branch in the city center. There you can not only experience dumplings' various flavors; the banquet is also a feast for the eyes both in color and in variety. Alterenatively, family style dumplings are also served at reasonable price.
Average cost: CNY20-120 per person
Bell Tower and Drum Tower branch: No. 3, West Street, the square of Drum Tower, Lianhu District
Bus routes: Nos.4, 7, 15, 32, 43, 45, 201, 205, 206, 218, 221, Tourism Line 8 (get off at Bell Tower)
Subway: line 2 (get off at Bell Tower)
Anban Street branch: No. 28, Ping'an Market, Anban Street, Beilin District
Bus routes: Nos. 6, 7, 11, 16, 32, 118, 215, K600, K630 (get off at Bell Tower)
Subway: line 2 (get off at Bell Tower)
Small Wild Goose Pagoda branch: No. 74, West Youyi Road, Beilin District, in the east of the North Gate of Small Wild Goose Pagoda
Bus routes: Nos. 21, 32, 40, 46, 203, 204, 218, 258, 410, 521, K618, Tourism Line 7 and Tourism Line 8 (get off at Small Wild Goose Pagoda)
Economic Development Zone branch: No. 122, Weiyang Road, Weiyang District
Bus routes: Nos. 37, 39, 117, 202, 238, 266, 318, 336, 619, 719, K600, K609, K618 (get off at Yahe Garden)

Jie Fang Lu Jing He Jiao Zi Guan
Located in the Longhai Hotel, this restaurant is very clean and has a great dining environment. The dumplings here are favored by the locals for many years, enjoying equal fame as De Fa Chang for its delicious family style dumplings. If you would like to try the flavors brought by as many different stuffings as possible, it is suggested to order a small amount each of all kinds of dumplings. Here, a series of unique Dumpling Banquets is also available.
Average cost: CNY30 per person
Location: No. 306, Jiefang Road, Beilin District
Bus routes: Nos. 10, 11, 14, 16, 20, 105, 201, 216, 231, 240 (get off at Wulukou)

Da Qing Hua Jiao Zi Guan
There are different flavors of dumplings at the restaurant as well as distinctive northeastern cuisine. Sometimes, when you order dumplings, they also provide one or two small complimentary dishes.
Average cost: CNY30-50 per person
Location: No. 56, east section of South 2nd Ring (Nan Er Huan Dong Duan), Beilin District
Bus routes: Nos. 25, 31, 33, 44, 48, 118, 237, 252, 307, 308, 408, 411, 525, Tourism Line 9 (get off at Sha Po)

Wang Jia Jiao Zi
This restaurant mainly serves two kinds of boiled dumplings. One is stuffed with beef and hotbed chives, and the other is stuffed with mutton and shallot. It is worth tasting the sour but fresh soup, too.
Average cost: CNY10-15 per person
Location: Da Pi Yuan, Lianhu District
Bus routes: Nos. 702 (get off at Bei Yuan Men)

Pi Bo Li Jiao Zi Guan
Just as its name says, the dumplings served here are characterized by their thin wrapper. Located nearby Xidian University, it is often crowded with students at dinner time although its service is just so-so.
Average cost: CNY10-15 per person
Location: No. 1, Guanghua Road, Yanta District
Bus routes: Nos.16, 35, 106, 205, 311, 411 (get off the Fifth Public Bus Company)

Da Niang Shui Jiao
This chain restaurant operates a series of Chinese food in the fast-food mode. Therefore, the price is a little higher but the flavor and service both are good.
Average cost: CNY10-20 per person
Location: 1F, Darunfa Supermarket, Grand Tang Western Market, No. 1, South Laodong Road, Beilin District (opposite KFC)
Bus routes: Nos. 24, 43, 106, 107, 201, 322, 502, 503, 916 (get off at Grand Tang Western Market)

Dong Yi Lu Jiao Zi Guan
Near Xian Shiyou University, it is very popular among students. There are several flavors of dumplings for you to choose. It also provides some delicious cold dishes.
Average cost: CNY10-20 per person
Location: No. 39, Dongyi Road, Yanta District
Bus routes: 204, 605, 905, K709 (get off at Dong Yi Fu Li Qu)