Dumpling Dinner, Jiaozi Banquet
Xi'an Dumpling Dinner, aka Jiaozi Banquet, together with the Liang Pi and
Crumbled Flatbread in Mutton Stew
, is famed as one of the top three dishes in the city. Xi'an was the place that the art of creating the most tasty and delicate of dumplings was refined. It is said that to visit Xi'an without seeing the fantastic
Terracotta Army
as well as having a Dumpling Dinner means that you have not really been here at all. This is an experience for the dumplings, the flavors, shapes and colors will tempt the palette, while the elegant names and stories attached to each variety are truly amazing. It is no less amazing that a simple way of preparing food has become so popular and sophisticated that it is now considered to be as much a work of art as a tasty morsel. Xi'an Dumpling Dinner has three main features: abundant stuffing, colorful shapes and various cooking methods.
According to the different stuffing, Xi'an Dumpling Dinner includes 5 levels: Gongting Dinner, Bazhen Dinner, Mudan Dinner, Longfeng Dinner and Baihua Dinner. The dumplings in each dinner are made of 108 stuffing and in different shapes. Gongting Dinner, literally meaning Imperial Dinner, is made of the dumplings with precious stuffing like bird's nest, bears paw and turtle. The dumplings in Bazhen Dinner are made of the eight delicacies like shark fin, abalone, and antlers. Longfeng Dinner (Dragon & Phoenix Dinner) and Mudan Dinner (Peony Dinner) are nearly the same with dumplings of monkey brain, squid and sea cucumbers. Compared to the former four dinners, Baihua Dinner, meaning Flowers Dinner, is more ordinary, whose dumplings are mainly made of pork, beef and some vegetables. The dumplings are made in various colors and shapes. Each of them is small and exquisite. To enjoy the dinner, visitors can also get a perfect visual enjoyment.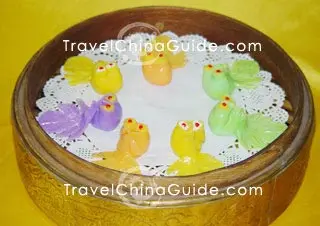 Xi'an Dumpling Dinner is also famous for the various cooking methods. Basically, the dumplings are cooked by boiling, steaming or frying. However, considering of the different stuffing, those dumplings in Xi'an Dumpling Dinner are cooked by several cooking methods together with some other skills like quick-fry, and stewing. There are some typical kinds of dumplings with some interesting stories. One is Guifei Dumpling. Guifei refers to a concubine of Tang Emperor Xuanzong, Yang Yuhuan, who is considered as one of the four beauties in ancient China. One day, Yang Yuhuan was hungry for a steamed food with stuffing. Considering of her favor on chicken wing, the cook made steamed dumplings stuffed with chicken wings, which is known as Guifei Dumpling and it can still be tasted today. Another story is about
Empress Dowager Cixi
. The cooks made some small dumplings and put it in the chicken-soup hot pot. The dumpling is called Taihou Hot Pot Dumpling ever since.
The dumplings of Xi'an Jiaozi Banquet are served in order: fried dumplings go first, and then the steamed & braised ones. After tens of kinds of dumplings, they usually serve a bowl of snow fungus soup to make you have a better taste of the following dumplings.
Top Restaurants for Dumpling Dinners
De Fa Chang
Chinese Name: 德发长 (Dé Fā Cháng)
Having several branches in Xi'an, the time-honored De Fa Chang Restaurant is the first choice for visitors to enjoy traditional dumpling banquets. The well-known Dumpling Banquets can be enjoyed at the Bell Tower branch in the city center. There you can enjoy not only the dumplings' various flavors but also their colorful shapes. Alternatively, family style dumplings are also served at reasonable price.
Average Cost per Person: CNY 100-120
Bell Tower Branch: No.3, West Street, Zhonggulou Square, Lianhu District
Small Wilde Goose Pagoda Branch: 1F & 2F, No.74, West Youyi Road, Beilin District
Yongning Lane Branch: B2 Floor, Yongning Art Hall, No.2, South Street, Beilin District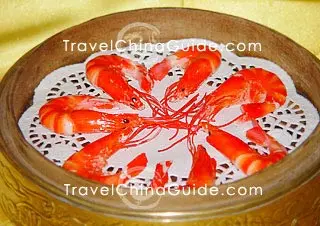 Dumpling Dinner in Xi'an is an important name card of Shaanxi Grand Opera House. When having the dumplings, visitors can also enjoy the Tang Dynasty Music and Dance Show like Huaqing Pool, White Ramie Cloth Costume Dance, Battling Dance of the King of Qin and Oriole Singing in Spring. The dumplings offered here are made in different shapes, like monkeys, pigs, fishes and cabbages.
Average Cost per Person: CNY150-200
Location: No.165, North Wenyi Road, Beilin District
As the name shows, the Tang Dynasty Palace is decorated like a palace. To enjoy the Xi'an Dumpling Dinner here, visitors feel like being imperial members of Tang Dynasty. The show presented in the palace is the recreation of a traditional entertainment.
Average Cost per Person: CNY300-400
Location: No.75, North Chang'an Road, Beilin District

Xi'an Dining:
- Last modified on Sep. 29, 2018 -