The Tang Dynasty Palace (Tang Yue Gong)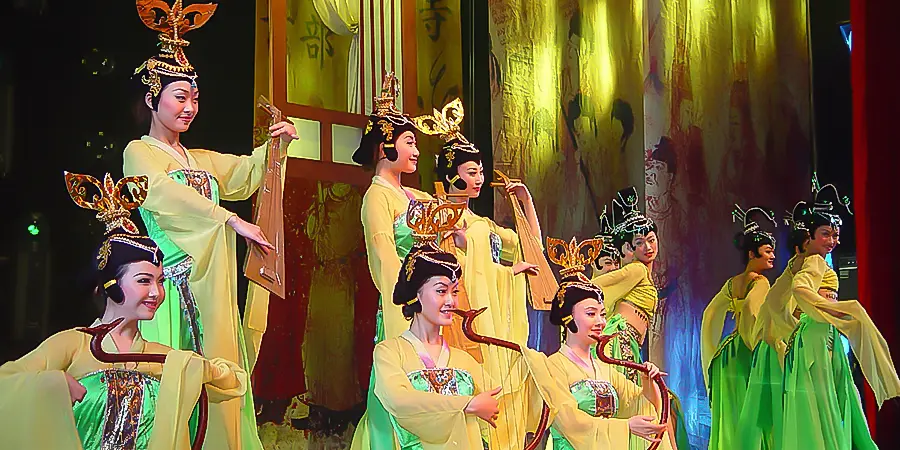 Situated along the north-south axis of Xi'an and adjacent to the city center, the Tang Dynasty Palace, also Tang Yue Gong, boasts that it is China's premier cultural entertainment theatre restaurant, offering the only cultural show in Xi'an completed by a totally live classical Chinese orchestra. Established in 1988, the Tang Dynasty Palace has cooperated with the Shaanxi Provincial Song & Dance Troupe and has staged the Tang Dynasty Music and Dance Show, which has proved to be a great success and is welcomed by numerous audiences, especially foreign visitors.

In addition to appreciating the wonderful performance, you can also enjoy the delicious meals provided at the Tang Dynasty Palace. With its large auditorium of 3,230 square yards (2,700 square meters), it can comfortably hold about 650 diners at a time. The various savory dishes together with the exciting show will be sure to give satisfaction to your appetite, your eyes and your mind.
Tang Dynasty Music and Dance Show
The Tang Dynasty Music and Dance Show, a wonderful performance of the ancient music and dance, is a must when you visit Xi'an. The city, which was formerly known as Chang'an has a very long history, and was the imperial capital during 13 dynastic periods. Of these, the
Tang Dynasty
(618 - 907) was the most prosperous and glorious of all. The Tang Dynasty Music and Dance Show is an outstanding exponent of this ancient stable and prosperous society, keeping alive its splendid culture and providing an insight into the peaceful life style of the period.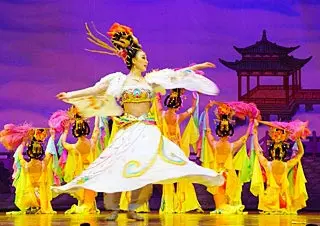 As an art form, the show has its roots in folk fetes, when dances were first performed by people as part of rituals of prayer for a good harvest or a better life. Over thousands of years, the dances developed from a few simple postures or gestures to become delicate and artistic reaching a peak during the Tang Dynasty. Unlike some other regimes, the Tang was open to outside influences and was willing to take in the best of various art forms of not only the past dynasties but also the ethnic groups in the northwestern China as well as central and western Asia. Thus a wide range of unusual oriental musical instruments, many techniques such as painting, sculpting, pattern and costume design, cuisine and dining etiquette, singing and dancing was accepted by the Chinese, paving the way for the kind of entertainment that is now the Tang Dynasty Music and Dance Show. By combining poetry with the skilled playing of musical instruments, singing, dancing and also stunning costumes, the modern presentation is certain to give you an impressive view of ancient China including its splendid history, brilliant arts, distinct traditions and customs.
Creation of Modern Tang Music and Dance
The show presented today is a recreation of a traditional entertainment attributable to a great variety of historical records and relics. In 1981, the artists of Shaanxi Provincial Song & Dance Troupe, inspired by the thriving tourist industry, conceived a series of programs to illustrate on stage the history, culture and artistic heritage of Xi'an. At that time, the Tang Dynasty Music and Dance Show, as a comprehensive form of art being lost in admiration, promptly came into the sight of the artists.
In order to embody the characteristics of the music and the dance of Tang accurately, the artists spent much time reading the relevant books, historical records and monographs on the entertainments enjoyed by the royal court. They also set about learning traditional arts from folk artists and consulted experts on certain issues. With the written materials as a basis, they then visited many historical sites such as Dunhuang, Yungang and Longmen as these were a great source of contemporary visual information due to the presence of frescoes, carvings and sculptures.
Over a year was spent on preparation and using a visualization of the imperial court as its setting, the production was an integration of a series of successive programs of music, singing and dancing, manifesting a unique classical style and features typical of Xi'an. The specific work of composing and choreographing had been started in June of 1982 and through the joint efforts of many artists, the debut of the Tang Dynasty Music and Dance Show on October 1st in that year proved to be a great success and was highly praised by a delegation from UNESCO.
The Tang Dynasty Music and Dance Show has now become a classic entertainment that has been warmly appreciated by audiences running into hundreds of thousands for more than twenty years. The production has toured many cities in China as well as numerous foreign countries such as Japan, Russia, Korea, Singapore, Norway, Denmark, etc.
Classical Programs
The show includes eight classical programs, namely the Melody of Longevity of the Emperor, White Ramie Cloth Costume Dance, Da Nuo Dance, Rainbow Skirt and the Feathered Coat Dance, Battling Dance of the King of Qin, Song of Spring Outing, Oriole Singing in Spring, and Ta Ge Dance. Among them, the Oriole Singing in Spring performed by the famous panpipe master Gao Ming is the highlight.
How to get to the Tang Dynasty Palace

By Bus:
Take Bus 12, 14, 26, 31, 215, 216, 224, 521, 603, 605, 709, Tourism Bus Line 8, and get off at Caochangpo Stop.

By Metro:
Take
metro line 2
to Nanshaomen station, get out from Exit B and walk 500 meters (550 yards) southwards to the Tang Dynasty Palace; or you can get off at the Tiyuchang (Shaanxi Stadium) station, get out from Exit D and walk 480 meters (530 yards) northwards.
Xi'an Bus / Metro Search
Address
No.75, North Chang'an Road (on the east side of the road and opposite to Xi'an Hotel)
Performance

The Empress of the Giant Tang:
Ticket Price: CNY268
Show Time: 19:30 - 20:30

Performance + Dinner Package
Feast of Dumplings +

The Empress of the Giant Tang

: CNY350
Luxury Imperial Court Dinner +

The Empress of the Giant Tang

: CNY550
Dinner Time: 18:00
Print

There are several other places that present similar shows, such as
Shaanxi Grand Opera House
, Sunshine Lido Theater,
Tang Paradise
located in the southeast Qujiang Resort, and the
Huaqing Pool
in northeast suburb of Xi'an.

Top 10 Things to Do in Xi'an
- Last updated on Sep. 20, 2023 by Gabby Li -
Questions & Answers on The Tang Dynasty Palace
Asked by Ong from MALAYSIA | Nov. 12, 2019 22:51

Reply
Which to go- Tang Paradise or Tang Dynasty Palace
Hi, I am planning to visit Xi'an end of the month. I notice that some of the place looks similar.
Here I would like to enquire which one to choose : Tang Paradise or Tang Dynasty Palace.
Thank you. Your answer is much appreciated.
Answers (1)
Answered by Liliana from GERMANY | Nov. 15, 2019 00:29

0

0

Reply
Tang Dynasty Palace is place for tourists to taste traditional foods and enjoy Modern Tang Music and Dance like the pictures on this web page.

Tang Paradise is a cultural theme park.
Asked by Martine from BELGIUM | Aug. 30, 2019 02:39

Reply
Dinner time of Tang Dynasty Palace?
Above is mentioned : dinner time 18:50-20:10. Does it mean one can choose to start at 18:50 or 20:10 ? Or does it mean that dinner takes from 18:50 to 20:10 ?
Answers (1)
Answered by Lisa from SINGAPORE | Sep. 02, 2019 00:35

0

0

Reply
It takes from 18:50 to 20:10.
Asked by M Shukla from UK | Jul. 07, 2019 04:15

Reply
Is there a vegetarian option for the dinner in The Tang Dynasty Palace dinner and show?
Answers (1)
Answered by Madison from USA | Jul. 08, 2019 19:08

0

0

Reply
Don't worry. They can provide vegetarian dishes for you.
Asked by Kristina from SLOVAKIA | Jun. 24, 2019 19:59

Reply
I need to reserve tickets in advance or it is just enough to come before show in Tang Yue Gong?
Answers (2)
Answered by Samuel from USA | Jun. 25, 2019 19:14

0

0

Reply
Hi, you can buy the ticket on the spot if you have Chinese friends. If not, you are suggested to contact the local agency and book the tickets in advance. As I know, TravelChinaGuide.com can provide such service. Their contact information is travel

travelchinaguide.com.
Answered by Kristina from SLOVAKIA | Jun. 26, 2019 02:25

0

0

Reply
Thank you very much :-)