Qianling Mausoleum (Qian Ling)
The Qianling Mausoleum, the tomb of Emperor Gaozong and his Empress
Wu Zetian,
occupies a prominent site on the summit of Liangshan Hill some 80 kilometers (50 miles) northwest of the Tang capital, Chang'an (today's Xi'an).
The
Tang Dynasty
(618-907) is a truly fascinating period of Chinese history, not only for its high culture but also the personalities that left their mark on the epoch. It is not surprising that they should have had impressive burials and that in view of her powerful and dominating character that the Empress should have shared her late husband's tomb. This is the only instance of a mausoleum shared in this way and of course, Wu Zetian was the only woman to have ruled China.
The design of Qianling replicates the city of Chang'an and in accordance with tradition is on a north-south axis. The southern approach is set between two smaller hills and the way to the Emperor's tomb is lined with stone animals as well as human figures. These include horses and ostriches, winged horses and a pair of stone lions. In all there are 124 stone sculptures and these are reminders of the fact that the Tang was very much involved with trade and diplomatic exchange with the world far beyond China's borders as there are distinct Western Asian and Greek influences in these sculptures.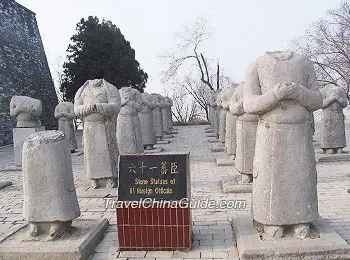 The tomb is of a very strong and secure construction and is notable as the only mausoleum to escape the unwelcome attention of tomb robbers.
In total the site covers an area of 2.3 square kilometers (0.88 square miles) and within this area stood 378 buildings that included the Sacrifice Hall, a Pavilion, a Hall of Ministers and numerous corridors. Unfortunately, the above ground structures have not survived unlike the stone sculptures that still delight visitors.
Two ornamented octagonal columns mark the south entrance and the mythical winged horses are the first of the sculptures. The pair of ostriches was a gift from Afghanistan; of the five pairs of horses that are next along the route only three still have their attendant grooms. Ten pairs of military figures bearing swords stand guard along the path. Further life-sized sculptures of men represent the sixty one foreign emissaries that attended the Emperor's funeral and were created on the instructions of Empress Wu Zetian, who wanted a permanent reminder of their visit. Each figure is depicted in a long robe with a wide belt and wearing boots. The name of each individual and the country he represented is carved on the back of the statue. It is not known how or why but regrettably each statue has been decapitated at some time in the distant past.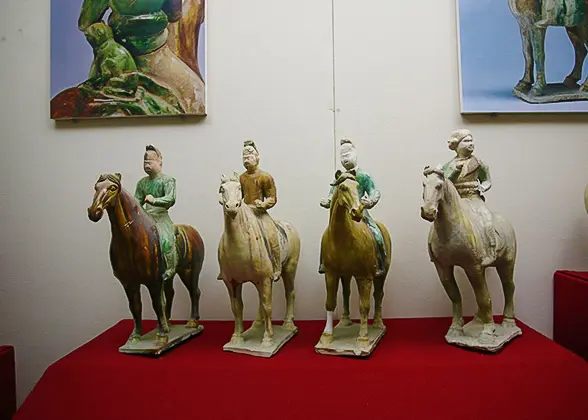 Tang Three-color pottery figurines
The Qijie Bei (Tablet of Seven Elements), so called because it symbolizes the Sun, Moon, Metal, Wood, Water, Earth and Fire, carries an inscription composed by the Empress Wu Zetian that describes the achievements of her late husband. The calligraphy is that of Emperor Zhongzong whom the Empress deposed but later returned to the throne following her own eventual retirement from office. An unusual feature is the Blank Tablet that has carved dragons and oysters upon it but no inscription, there is nothing like this at any other royal tomb site. It is thought that this tablet was erected upon the orders of the Empress and that it would eventually bear a description of her achievements, to be recorded by some future generation. Maybe she thought that in this way only her good deeds would be remembered and recorded for posterity!
How to get to Qianling Mausoleum
1. Take a high speed train from
Xi'an North Railway Station
to Qianxian first. Upon arrival, take a taxi to the south gate of Qianling Mausoleum in 20 minutes, costing about CNY 20, or take the local bus line 1 or 2 to Qianling station, which takes 40 minutes and costs CNY 1.
2. Take a long distance bus from West Xi'an Bus Station to Qianxian, and then take a taxi or the local bus line 2 to the scenic area.
Xi'an Bus / Metro Search
Entrance Fee

March to November

: CNY 100

December to the next February

: CNY 80

The ticket fare includes the main mausoleum, the Tomb of Prince Yide, the Tomb of Princess Yongtai, Qianling Museum, and the

Tomb of Crown Prince Zhanghuai

.

Children below 1.2 meters and seniors above 65 years old can enter for free.

Sightseeing Car
CNY 30

March to November

: 8:00-18:00

December to the next February

: 8:30-17:30

Recommended Time for a Visit
half day

Qianling Mausoleum

Top 10 Things to Do in Xi'an
Print
- Last updated on Sep. 20, 2023 by Gabby Li -
Questions & Answers on Qianling Mausoleum (Qian Ling)
Asked by Gita Wiranata Utama Putra from INDONESIA | Dec. 22, 2019 23:36

Reply
How to go to Qian Ling from Famen temple and How much...? Then How we go back to Xi'an ?
From QianLing ..
Answers (1)
Answered by Phil from NEW ZEALAND | Dec. 25, 2019 18:20

0

0

Reply
There is no direct bus between these two attractions. Usually, peopel will take taxi or hire a car to reach. The fare might be CNY180-CNY200/car.
Asked by Brian from USA | Dec. 12, 2019 18:03

Reply
entree limitation of Qianling Mausoleum
I heard from a travel agency that that there are limitation of number of people who can get into the Qianling Mausoleum during spring seasons. So they don't promote any service during that time. But I cannot find any news about that. Is it any chance that we can't go into the Qianling Mausoleum during spring seasons?(2020.1.25)
Answers (1)
Answered by Lisa from THAILAND | Dec. 15, 2019 23:58

0

0

Reply
I didn't find related news either. I suggest you buying the ticket in advance so there will be no problem.
Asked by biran from USA | Dec. 10, 2019 06:42

Reply
Does Bus from Xi'an to Qianling works during spring festival in China?
Answers (1)
Answered by Henry from GERMANY | Dec. 11, 2019 01:47

0

0

Reply
Generally speaking, it will operate at that time. But the bus schedule will be changed. You are suggested to pay attention to the latest news before going there.
Asked by HO Döringer from GERMANY | Sep. 24, 2018 08:28

Reply
How much CNY cost a taxi drive from Xi´an to Qianling?
Answers (1)
Answered by Mike from CANADA | Sep. 24, 2018 20:33

0

0

Reply
Generally speaking, it costs CNY 300 to CNY 350.