Tomb of Prince Yide
The Tomb of Prince Yide is located in Xianyang, about 88 km (55 miles) away from downtown Xi'an. It is the nearest one among the 17 attendant tombs of Qianling Mausoleum, the resting place of Emperor Gaozong and Empress Wu Zetian of the Tang Dynasty (618 – 907AD). The tomb we are discussing is that of Prince Yide, also known as Li Chongrun (682 - 701), the grandson of Wu Zetian.

Officially known as Prince Yide, Li Chongrun is the eldest son of the Tang Emperor Zhongzong and the grandson of Emperor Gaozong and Wu Zetian. He was one of victims of his formidable and self-seeking grandmother Empress Wu. In 701, Prince Yide, together with his younger sister and her husband, were sentenced to death in Luoyang in Henan Province at the tender age of just 19 for discussing something opposing Empress Wu's autocracy. In 705, he was conferred the title of Crown Prince Yide posthumously when his father ascended to the throne. Then he was laid to rest in the present decent tomb, which was decorated with stone lions, stone figures and ornamental columns. Although the columns are badly disintegrated, the edifice is a tribute to his importance at that time.
| | |
| --- | --- |
| | |
A museum with an underground palace and four exhibition halls has now been erected in memory of Prince Yide. The cemetery extends 256 meters (840 feet) in a north-south direction and is 215 meters (700 feet) in width. Walking along a long paved way with trees on both sides, you will arrive at the entrance to the underground main tomb. There is a tomb aisle as long as 100 m (110 yards), six arches and seven skylights together with eight niches that probably would have accommodated artifacts. The aisle is decorated with colorful mural paintings and about every 9 m (ten yards) there is a niche. At the rear part lie two chambers, one behind the other; the whole being interlinked by corridors. In the main chamber, there is an outer coffin made of 34 blue stones with elaborate line carvings on it.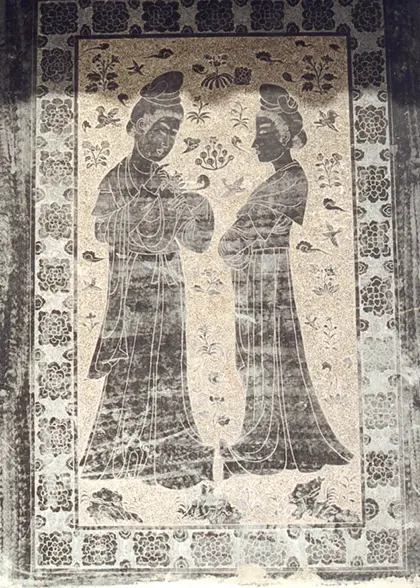 The Tomb of Crown Prince Yide was richly endowed with a large number of fine artifacts, which are now displayed in the exhibition halls. Over 1,000 items such as ceramic figures, tri-color figurines and pottery as well as items of gold, copper and iron have been found here.

The Tomb of Prince Tide has a remarkable array of murals throughout, and 40 pieces illustrate the day to day life in the Tang court. Those bright and colorful murals span an area of 400 square meters (480 square yards) and cover rich subjects including parades, tame leopards, eagles, maidservants and eunuchs. Auspicious symbols the Black Dragon and White Tiger are featured and the mural of the 'Parade of the Crown Prince' is of great historical interest because this 3-meter-high (nine-feet-high) picture shows towers, city walls and other important buildings of the ancient capital city. You can see about two hundred guards of honor riding in chariots, on horseback or on foot as they prepare to march out from Chang'an, today's Xi'an, in a colorful royal procession. The roof of the tomb is painted with patterns of sky diagrams. Other murals illustrate the hunting habits of the imperial household. Members of the Tang royalties were keen hunters and they used specially trained cheetahs to bring down their prey. The cheetahs were presented to the royal family as tributes from client states. This again gives an insight into the strategic influence and importance of the Tang regime. At the sight of those paintings, visitors are impressed by the glory of the Tang Dynasty and excellent artistic attainments Chinese painters possessed 1,300 years ago.
How to get to Prince Yide
Take a train from
Xi'an Railway Station
to Qianxian, and then take local Bus 1 to Qianling; or take a long distance bus from Xi'an West Bus Station to Qian County. After arrival, local bus 2 will take you to Qianling Mausoleum.
It takes 30 minutes to walk south from Qianling Mausoleum to the Tomb of Prince Yide; or you can take the sightseeing bus with a cost of CNY 30 per person.
Entrance Fee
* It is included in the entrance ticket of Qianling Mausoleum that costs:
Mar. - Nov.: CNY 100
Dec. - Feb.: CNY 80
Children below 1.2 m (3.9 feet) can enter for free.

Opening Hours
Mar. - Nov.: 08:00-18:00
Dec. - Feb.: 08:30-17:30

Qianling Mausoleum
- Last modified on Nov. 18, 2019 -