Tomb of Princess Yongtai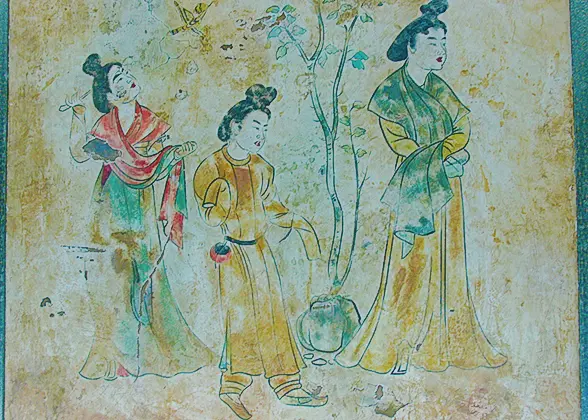 Li Xianhui, the Princess Yongtai was the seventh daughter of Emperor Zhongzong and grand daughter of Emperor Gaozong and
Empress Wu Zetian
of the Tang Dynasty (618 - 907). This maiden was considered so beautiful that it was said that even the plum blossom lost its brilliance in her presence. Adored by her imperial father for her beauty and wisdom she was married to Wu Yanji in 700 AD. Her newly wed husband's father was a nephew of the Empress but her family ties gave her no protection from her grandmother. A year after her marriage and only seventeen years of age the princess was put to death in the same fashion as her brother Li Chongrun, the Crown Prince Yide. The young, ill-fated bride was recognized posthumously as Princess Yongtai in 706.
This tomb is situated 2.5 kilometers (1.5 miles) south east of the Qianling Mausoleum and was built to the same specifications as those of an empress' tomb. Once again, this tomb is renowned for the quality of the many items found in it as well as the extremely fine wall paintings. Although the paintings depict famous buildings and towers, the rich trappings of courtly life and magnificent ceremonial parades, it is the painting of sixteen maids of honor that catch the attention of visitors.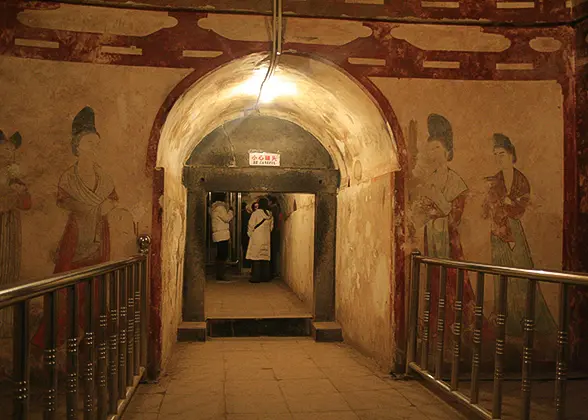 One of these elegant young women is known as the 'First Oriental Beauty'. Her round face with her well shaped eyebrows, enticing lips and graceful figure has evoked admiration from all who have looked upon her. These images are a wonderful reflection of the glories of the Tang court in its heyday. Despite the intrigue and perils that surrounded members of the aristocracy the court enjoyed wealth, culture and a degree of elegance that made it a source of wonder.
The murals have been removed to the
Shaanxi Provincial Museum
for safekeeping and replaced with replicas. This tomb had been subject to raids and many grave goods have been stolen. However, some 1046 pieces have survived intact. Ceramic figures, tri-color figures and wooden figurines represent 878 of these pieces. Among them, 700 ceramic figures include heavenly kings, male, female and ethnic equestrians, musicians complete with their musical instruments and animals. The tri-color figurines are of many subjects in a variety of poses. By contrast there are thirty carved wooden figures that are all male.
| | |
| --- | --- |
| Admission Fee: | It is included in the Qianling Mausoleum entrance ticket (CNY 122 from March 1 to November 30 and CNY 82 from December 1 to end of next February). |

Qianling Mausoleum