Shaanxi History Museum
The Shaanxi History Museum in Xi'an, regarded as 'the pearl of ancient dynasties and house of Chinese treasures', gives a miniature overview of the thousands of years of Chinese history and the splendid ancient cultures of olden times.
Situated on Xiaozhai East Road on the northwest side of
Giant Wild Goose Pagoda
, the Shaanxi History Museum is the first modern national museum. It was built in 1983 and opened to the public in 1991. Shaanxi History Museum covers 65,000 square meters (16 acres), of which 11,000 square meters (207 acres) belong to the exhibition halls and 8,000 square meters (about 2 acres) are used as warehouses for storing relics. Now 370,000 exhibits in the museum vividly show the history of over a million years from prehistoric times (1,150,000 years ago - 21st Century BC) to about 1840 AD.
The grand buildings of Shaanxi History Museum imitate the architectural style of the
Tang Dynasty
(618 - 907) with a two-storied central hall and four worship halls around it. The predominant colors of the halls are black, white and grey, which give the halls an atmosphere of solemnity and rustic charm.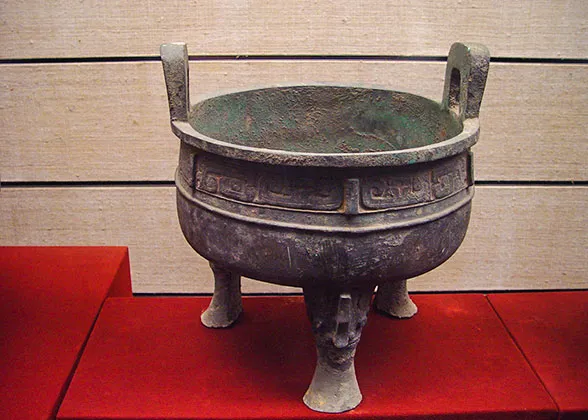 Bronze Mirror of Tang Dynasty
The exhibition halls of
Shaanxi History Museum
are generally divided into four main groups; the Preface Hall, the permanent exhibition halls, the temporary exhibition halls, and an exhibition hall for Tang Mural Paintings. Once you enter the central hall, you will be in the Preface Hall, where stands a replica of a stone lion from the Shunling Tomb of the Tang Dynasty and a huge picture of a loess plateau and the Yellow River. Behind the picture you will find the permanent exhibition halls.
Permanent Exhibition Halls in Shaanxi History Museum shows the Shaanxi's culture in the timeline in three exhibition halls seperately.
It shows
the history of Prehistoric Times (1,150,000 years ago - 21st Century BC), Western Zhou (1046 - 771 BC) and Qin Dynasty (221 BC-206 BC). Different original cultures are mainly shown in prehistoric times. In the Western Zhou and Qin Dynasty areas, the origin and arising of these two dynasties are covered.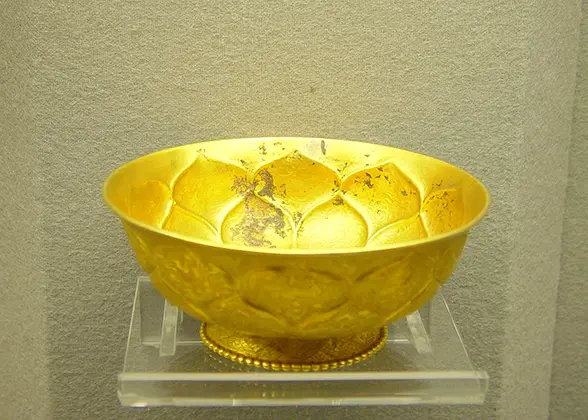 Golden Bowl with Lotus Patterns
It shows the history from the
Han Dynasty
to the
Northern and Southern Dynasties
(386-589). In the Han Dynasty, grand architecture and the cultural exchange with other countries are interesting. Everlasting wars and cultural integration are the main themes of the North and Southern Dynasties.
It covers the history of the Tang Dynasty and later years. The Tang Dynasty was the heyday of China and Shaanxi Province; so many different kinds of relics covering almost all aspects are shown in this section. You can see splendid gold and silver articles, tri-color glazed pottery, and articles related to the Silk Road in this hall. After the Tang Dynasty, although Xi'an lost its position as the capital city of China, it was still an important place. There are many relics that show its continuing importance.
These treasures, being shown in one of the temporary hall, were unearthed from Hejia Village, Xi'an, Shaanxi Province. Besides, there is the other hall which is usually features a variety of theme exhibitions.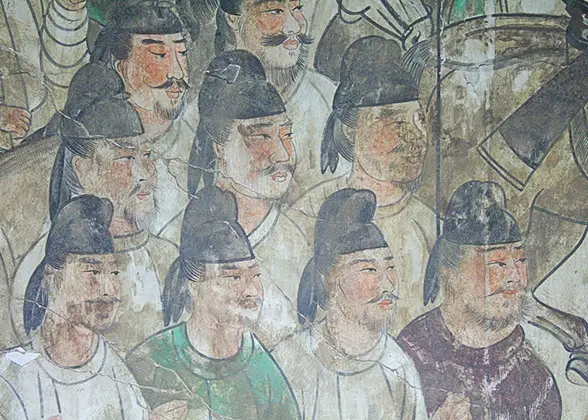 Mural of Tang Dynasty
It is the most distinctive collection in the museum. The hall, lying on the first floor below ground, occupies 1,000 square meters and stores 600 mural paintings from more than 20 noble tombs of the Tang Dynasty. These painting describe different aspects of the noble classes in the Tang Dynasty, depicting how people lived during that time. Other related relics and painting in other dynasties are also shown as companions for the paintings so that visitors can understand the development of the murals. For additional information there is an inquiry system and electronic explanation system provided enabling you to not only enjoy the fantastic murals but also get some background knowledge. This hall is open to the public on an occasional basis per week.
Exhibition Hall of Tang Murals & Stone Coffins
Besides, another exhibition hall, focusing on 5 pieces of Tang Murals and stone coffins from Jingling Mausoleum, was open to the public in 2013 in Shaanxi History Museum. Jingling Mausoleum is the tomb of Zhenshun Empress of Emperor Xuanzong during the Tang Dynasty (618-907), Lilongji. The coffin from her tomb, formed by 31 pieces of beautifully carved stones, weighs 27 tons and is about 2.5 meters long. It looks like a small stone palace. It is currently the biggest and best preserved coffin among the more than 20 unearthed coffins from the Tang Dynasty.
How to get to Shaanxi History Museum
By Bus:
Take Bus No. 5, 19, 24, 30, 34, 271, 400, 401, 521, 527, or You 8 (610) and get off at Cuihua Lu (Cuihua Road) bus stop.
By Metro
Take Metro
Line 2
or
Line 3
to Xiaozhai Station, and exit from Exit D. Then, walk east along East Xiaozhai Road around 800 meters (0.5 miles) to get there.
Take Metro Line 3 to Dayanta Station. And then walk west along East Xiaozhai Road for about 800 meters to reach.
Xi'an Bus / Metro Search
Entrance Fee
The museum issues 6,000 free ticket a day. (3,000 tickets in the morning and 3,000 tickets in the afternoon).
1. An individual tourist can get only one ticket for himself / herself at the ticket office by the valid certification (such as ID card or passport). Group tours should be booked 24 hours in advance between 09:00 and 17:00.
Reservation Tel: 029-85269547
2. CNY 30 for the Exhibition Hall for Treasures of Great Tang Dynasty
3. CNY 300 for the Exhibition Hall for Mural Paintings of Tang Dynasty

Opening Hours
Tuesday-Sunday:


Mar.15 to Nov.14: 08:30 to 18:00 (tickets available before 16:30);


Nov.15 to Mar.14: 09:00 to 17:30 (tickets available before 16:00);
Closed on Mondays except during hoildays
Recommended
Time for a Visit
2-3 hours
Tip: Tourists are suggested to avoid visiting the museum in July and August because of the crowdedness. Chinese summer vacation is from July to August so that many parents bring their children to travel during this period.
Audio Guide Device
Deposit: CNY 100; Rent: CNY 30
Print

Note: A branch of Shaanxi History Museum will be constructed on the site of Xi'an Int'l Horticultural 2011 in recent years.



Further Reading: Xi'an History



Recommended Nearby Attractions:


Giant Wild Goose Pagoda & Da Ci'en Temple


Tang Paradise


Qujiang Ocean Park


Qujiang Pool Park


Cool Cave Heritage Park


Great Tang All Day Mall



Recommended Tour including the visit to Shaanxi History Museum:
Historical Xi'an Tour: 3 Days Luxury Visit of Xi'an More Xi'an Tours



Top 10 Things to Do in Xi'an


Top 10 China Tourist Places for Culture Lovers
- Last modified on Apr. 12, 2021 -
Questions & Answers on Shaanxi History Museum
Asked by VK from SINGAPORE | Jan. 04, 2020 02:20

Reply
Do we need both free tickets & paid tickets of Shaanxi History Museum?
Hi there, from what I understand, the free ticket only covers Exhibition halls 01 to 03. So if we want to visit Treasures of Great Tang Dynasty or the Exhibition Hall for Mural Paintings of Tang Dynasty, we still need to pay. Does that mean I have to reserve both a free ticket and a paid ticket through the Shaanxi online ticketing system?
Answers (1)
Answered by Tracy from CANADA | Jan. 06, 2020 01:33

0

0

Reply
You can reserve both in advance or buy the ticket on the spot after you going into museum.
Asked by Chan Yew Siang from SINGAPORE | Feb. 14, 2019 06:02

Reply
Is there other way to get the free tickets for Shaanxi History Museum?
Answers (1)
Answered by Clara from NEW ZEALAND | Feb. 14, 2019 19:39

0

0

Reply
As I know, you can only get the free tickets when you arriving at the scenic area.
Asked by Donna Dowell from CANADA | Sep. 26, 2018 20:08

Reply
What time should we queue for the afternoon distribution of free tickets for Shaanxi History Museum?
Answers (1)
Answered by Quinn from USA | Sep. 27, 2018 19:52

0

0

Reply
Hi, Donna, you'd better queue up in the early morning. 4,000 free tickets will be given out to visitors every day from Tuesday to Sunday (2,500 in the morning and 1,500 in the afternoon). It will be suspended from 12:00 to 13:00 and then until all tickets are handed out.