Exhibition Hall for Treasures of Great Tang Dynasty
All Treasures of the Great Tang Dynasty found in Hejia Village are arranged in a separate hall underground in Shaanxi History Museum. Hejia Village is a small village in Xi'an, Shaanxi Province, where more than a thousand relics were discovered in two urns in October 1970. They are famous for their large quantity, high quality, large scale of categories, and good protection. Although there still remain many puzzles concerning these relics, they are definitely treasures of China.



Photos of Relics of Sui & Tang Dynasties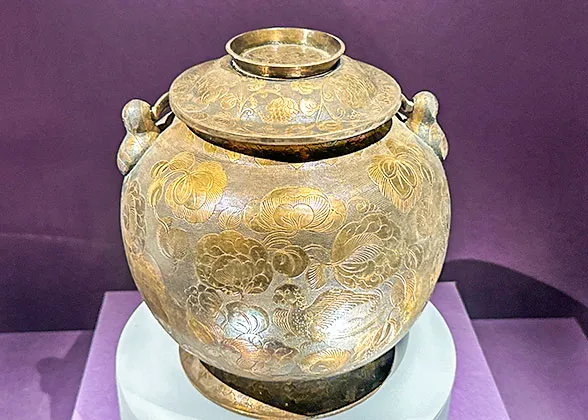 Silver Wine Pot
Selected from a thousand relics, the Shaanxi History Museum shows three hundred as representative relics of the excellent techniques and wonderful designs of Tang Dynasty. All these articles are generally divided into three categories, golden and silver articles, jade articles and coins.
The first category contains gold and silver articles, which include all kinds of vessels and daily utensils with exquisite workmanship. 720 silver and golden articles and 466 pieces of coins are unearthed in Heijia Village. Various complex techniques and patterns can be found on these relics. All these articles from the Tang Dynasty reflect that techniques like polishing, and plating had developed into a high level. A gilt silver bowl with parrots and mandarin ducks is not only a container but also a reflection of the culture of that time. Mandarin duck represented romantic love between couples, while parrots were favorite animals for the royal families. Thus, the pattern of them often appeared on the articles at that time. Besides, many silver boxes were unearthed in the village. People in Tang Dynasty usually used silver boxes, because they were tight and things in them could be persevered for a long time. Many of these boxes were containers of medicine. Twelve Golden Dragons in Running Position were discovered in the village. The twelve small dragons have different characteristics respectively.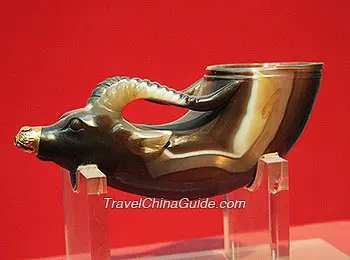 Agate Cup
The second category is
jade articles
, which includes jade belts, wine glasses, and gems. From jade belts and wine glasses, you can feel the cultural integration in Tang Dynasty. Fifteen belts in a group with patterns of lions are very beautiful. In this group, there exist 12 belts with the same lion pattern on them, but the lions' expressions are totally different. Some of the lions are lying, while some are running, and the skill of carving is peculiar to Tang Dynasty. Lions are not native animals in China and they were from Africa and West Asia, so they can be regarded as the symbols of cultural integration. A crystal wine glass in this hall is unique and the only unearthed crystal vessel of Tang Dynasty in China. Besides, the most valuable article is an agate cup inlaid with gold on one side. One side of the cup was carved into a head of an ox inlaid with gold on the mouth. This cup was not carved from separate pieces of agate, it was carved based on the texture of one piece of agate. It is so precious that it cannot be shown overseas according to Chinese rules.
Coins in Different Dynasties and Different Countries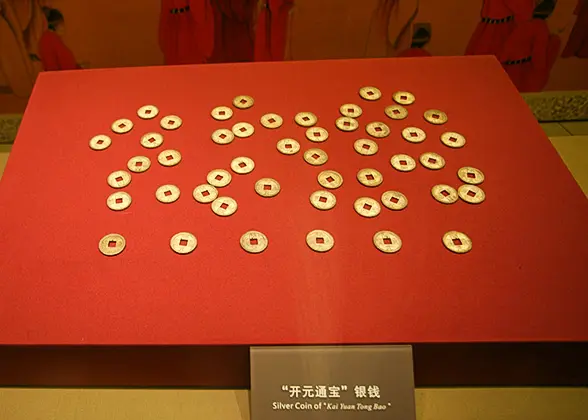 Coins with Characters "Kai Yuan Tong Bao"
The last category is about coins from the Spring and Autumn Period to the Tang Dynasty. Every period had its unique coins in this exhibition. Among these coins, coins from the Tang Dynasty with two sides are very precious. Starting from the Tang Dynasty, Chinese measuring system of coin began to change, which influenced later dynasties deeply. On some silver sycees, there exist some words that are very useful for people to study the
ancient currency system
. Besides these Chinese coins, foreign currency is also on display such as, Eastern Roman golden coins, and Wadōkaichin. Wadōkaichin are the oldest official Japanese coinage, having been minted since in 708 AD on order of Empress Gemmei and there are very few left in Japan.

Tips about the Price:
Shaanxi History museum is open to the public for free, but if you want to see these treasures, you need to buy tickets for CNY30 per person. These treasures are the most representative and exquisite, so it is worth seeing them.
Go to the Exhibition Hall for Mural Paintings of Tang Dynasty
- Last modified on Jul. 23, 2019 -
Questions & Answers on Exhibition Hall for Treasures of Great Tang Dynasty
Asked by KAREN from USAKMF
AOL.COM | Aug. 17, 2012 17:34

Reply
Price of the silver wine pot in Shaanxi History Museum
WHAT IS THE VALUE OF THE SILVER WINE POT

Answers (1)
Answered by Ruby | Aug. 20, 2012 04:42

0

1

Reply
Hi, it is one of the treasures of Shaanxi History Museum, so it is countless. Do you mean that you want a replica of the pot? Well, if so, you can refer to the website to get the price.
http://e.sxhm.com/