Pictures of Relics of Sui & Tang Dynasties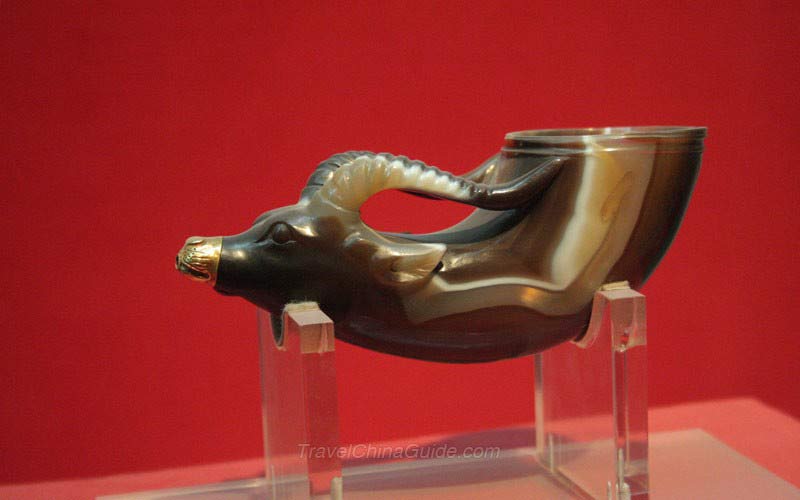 Agate Cup with Animal Head of the Tang Dynasty, one of the most precious treasures in Shaanxi Provincial History Museum.
Tang Dynasty was the golden time in Chinese history, when Chinese civilization developed to the highest level than before. It was the first time three colors appeared on pottery in Chinese history. Silk at that time also enjoyed a reputation at home and abroad. Besides, perfect silver and golden utensils in Tang Dynasty are very impressive, which you can appreciate in Shaanxi History Museum. Techniques of making copper mirrors improved a lot than that in Han Dynasty. Various patterns on them made the mirrors practical and beautiful. Detailed Information about
Relics of Tang Dynasty
- Last modified on Apr. 27, 2017 -
Questions & Answers on Pictures of Relics of Sui & Tang Dynasties
Asked by Mr.Anthony | Apr. 01, 2009 09:16

Reply
Hi!

My 2 friends and I are visting Xi'an from Shanghai via train. We will leave Shanghai on the night of April 17 (friday) and will leave Xi'an on the following night - we only have the whole day of April 18 to tour the city.

Is there any agency offering day-tour for a group of 3?
We plan to visit the terra cotta warriors museum, city wall, big wild goose pagoda, bell tower and other places of interests if time permits.

Also, would you know if we can buy round trip tickets (Shanghai-Xi'an-Shanghai) in the Shanghai ticketing office? If no, how can we buy in advance at the Xi'an ticketing office just to make sure we will be able to go back to Shanghai at night.

thanks and looking forward to your recommendations!


Answers (1)
Answered by Mr.Heather Lee | Apr. 02, 2009 23:00

19

0

Reply
As for the tour, I think you could go to these places you metioned with the help of a travel agency. I found some good one or two-day's itinerary on this website, you may ask them for help.

As for the ticket, not sure whether you could book a return ticket in Shanghai. But an idea, once you found a reliable travel agency, you may ask them to book tickets for you, just a little sum of service charge is required. Good luck!
Asked by Mr.mathias from UK | Mar. 12, 2009 06:02

Reply
I wish to fly from Xi'an to Beijing in three weeks time.How long will it take to get from the city centre to the airport? a)By taxi or b) by bus.
Thanks
Answers (1)
Answered by Ms.Wee Zh from SINGAPORE | Mar. 16, 2009 06:48

13

0

Reply
By bus, within an hour. Don't know about by taxi, never use them.