Shaanxi History Museum: Relics of Eastern Zhou and Qin Dynasties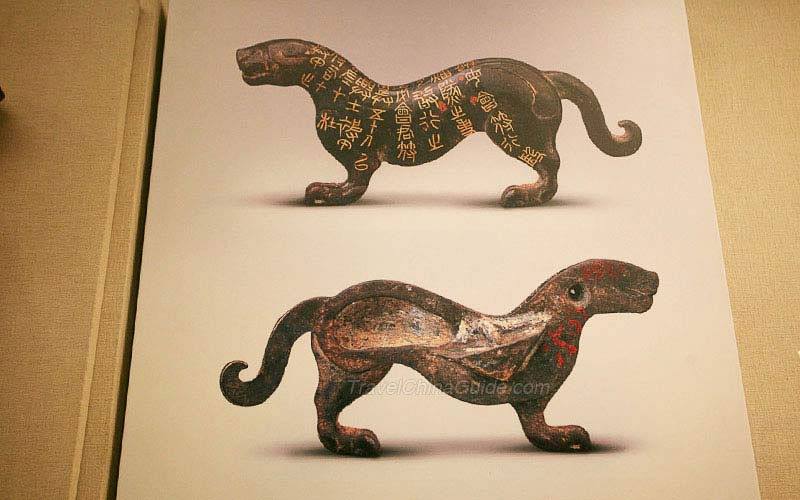 Because of the gradual development of iron-making, the bronze-making techniques declined in Eastern Zhou Dynasty (770BC-256BC). Iron tools are widely used instead of bronze ones in Qin Dynasty (221BC-206BC). The
Emperor Qin Shi Huang
unified the currency, army, weights and measures after he founded the first centralized country. In the museum, currency of Qin Dynasty and currency of different states during the Spring and Autumn Period (770 BC-476BC) and Warring States Period (475BC-221BC) are on display. Different kinds of terra-cotta warriors and bronze chariot and horses are also displayed in the museum. Detailed Information about
Relics of Qin Dynasty
- Last modified on Dec. 06, 2017 -
Questions & Answers on Shaanxi History Museum: Relics of Eastern Zhou and Qin Dynasties
Asked by Mr.Lundgren from CANADA | Sep. 19, 2009 15:19

Reply
I'll be arriving at Xi'an airport at about 11:00PM. What would be the best way to get to the Xianyang Irico Hotel in Xiangyang? If by taxi, what price should I expect to pay? Or insist on using the meter? Or is there also a shuttle bus which might stop at that hotel?
Any advise would be appreciated. Thank you.
Answers (1)
Answered by Ms.ANDY2008 | Sep. 19, 2009 21:13

4

0

Reply
Hi Mr.Lundgren, There is a direct shuttle bus from the airport to Irico Hotel, but I am afraid whether there will be when you arrive at the air port at 11pm. If you can catch the bus, the ticket will cost you 27 RMB. however, if you take a taxi, your juorney to the hotle will be as far as 19 km, so you are expect to pay about 35~40 RMB for your taxi fee.