Qin Dynasty
Qin Dynasty was the first unified, multi-national and power-centralized state in the Chinese history. It lasted from 221 BC to 207 BC. Although surviving only 15 years, the dynasty held an important role in Chinese history and it exerted great influence on the following dynasties. Only two emperors, Yingzheng -
Emperor Qin Shi Huang
, the first emperor in the Chinese history, and his son Hu Hai ever ruled the state, which was finally overthrown by the people's uprising.
Political History
During the late Warring States Period (476 BC - 221 BC), the state of Qin was in its full development. When Yingzheng was in his reign, he defeated the other six states (Han, Zhao, Wei, Yan, Chu and Qi), from 230 BC to 221 BC. So ending the chaos caused by wars among vassals that had lasted over 500 years. He established a unified and centralized country and declared Xianyang, in Shaanxi Province, the capital city of the Qin.
A series of effective measures has been taken during the reign of Yingzheng. He contributed much to the development of his country. However, during the late period of his reign, he was cruel and oppressive to his people, and caused dissatisfaction. After he died, Hu Hai succeeded him. However, he was so fatuous that caused the uprising led by peasants, Chen Sheng and Wu Guang. Later the insurgency was led by Xiang Yu and Liu Bang. In 207 BC, Xiang Yu's army defeated the Army of Qin and Liu Bang swept into the capital which finally ended the Qin Dynasty.
At the end of the Qin Dynasty in 207 BC, war broke out between Liu bang and Xiang Yu. It was known as the Chu-Han war, and it lasted for four years, ending with the victory of Liu Bang, who later established the Western Han Dynasty.
Measures Taken by Emperor Qin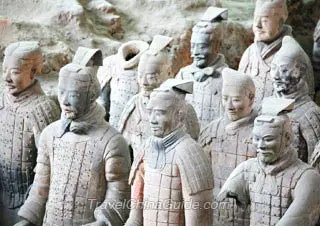 Terra Cotta Army
To strengthen the unity of the nation to perpetuate the Qin Dynasty, Emperor Qin carried out many reforms in politics, economy, military affairs, and culture.
In politics, he declared himself the Emperor of the state. All major powers including politics, economy, military affairs were in his hand. Executive organizations both in the central and local places were systematically reorganized and local counties were restructured.
In his economy, he standardized weights and measures and he stipulated that the round coin with square hole (
Ban Liang Coin
) should be the coin used in the country.
In Addition, he standardized the written character, making the Qinzhuan the standard font. He also placed great importance on infrastructure: irrigation works and road building projects. The miracle of the world, the
Great Wall
of China, was built under his order. All that he achieved had promoted the development of Qin's economy.
Emperor Qin Shi Huang was a tyrant despite his contributions to the country. To prevent his people to think freely, he burnt many books which he feared would affect people's thinking. Worse, in his second year, after he learnt some scholars' discussions about his arrogance, he buried 460 of them alive. In history, these two events are called 'To Burn the Books and Bury the Scholars Alive'. And yet, at the same time, he ordered to build luxurious palaces, the Great Wall, the famous
Terra-Cotta Warriors and Horses
, together with his own
mausoleum
, by imposing on the masses, through hard labor, heavy taxes, and rigorous law and military service, giving the community a difficult and arduous existence.
| | |
| --- | --- |
| Pit 1 of Terracotta Army | Bronze Chariot and Horses |
| | |
| --- | --- |
| Banliang Coins of Qin Dynasty | Zhenbeitai, Yulin, Shaanxi |
- Last modified on Mar. 09, 2020 -
Questions & Answers on Qin Dynasty
Asked by Vladimir From the USSR from BOB | Oct. 19, 2020 21:10

Reply
hi
bob is goat
Asked by Vladimir From the USSR from BOB | Oct. 19, 2020 21:10

Reply
hi
bob is goat
Asked by Jack from AUSTRALIA | Mar. 07, 2020 00:00

Reply
What is the significance of the Qin Dynasty, excluding unifying the country & regulating the langaug
Answers (4)
Answered by Ray from USA | Mar. 09, 2020 11:27

0

0

Reply
Qin Shi Huangdi also unified the measuring units(weight, length etc), established the standard road width, and flow production army weapons
Answered by bob | Oct. 19, 2020 21:07

0

0

Reply
you suck
Answered by bob | Oct. 19, 2020 21:07

0

0

Reply
you suck
Answered by bob | Oct. 19, 2020 21:07

0

0

Reply
you suck
Asked by Kylee from USA | Mar. 26, 2019 14:17

Reply
Why was the Qin Dynasty significant?
Answers (3)
Answered by Bowen from USA | Mar. 27, 2019 19:03

0

0

Reply
Because it is the first dynasty that the rulers unified the whole country. They regulated the same language and start a new political system, which had laid a solid ground for the next generations' govern.
Answered by Fiona from AUSTRALIA | Aug. 31, 2019 00:51

0

0

Reply
It was the start of a unified China. Qin Shi Huangdi (or King Zheng) burnt lots of books and everyone spoke the same language, making the country have one idea, and one history.
Answered by Vladimir | Oct. 19, 2020 21:08

0

0

Reply
you suck
Asked by Alexa from UNITED STATES | Mar. 06, 2019 05:30

Reply
What are some other interesting facts or stories from the Qin Dynasty?
Answers (2)
Answered by Sofia from AUSTRALIA | Mar. 06, 2019 18:22

0

0

Reply
There is a story about pointing to a deer, call it a horse in Chinese. The interesting story comes from Qin Dynasty and it means calling white black.

In Qin dynasty, there was a powerful and evil counselor named Zhao Gao. Zhao Gao wanted to rebel, but he didn't know how many people in the court would stand by his side. So he worked out a way to test the people. He presented a deer as a tribute to the emperor in front of the court, and said that it was a swift horse. The emperor not accepting his statement said, "This is obviously a deer." Then, Zhao Gao took this opportunity to ask the court, "Is this a deer or a horse?" In the court, those who didn't dare to go against Zhao Gao agreed with him and said that it was a horse, those who dared to go against Zhao Gao said that it was a deer. Later, Zhao Gao remembered the counselors who didn't agree with him and persecuted them to solidify his power.
Answered by Vladimir From the USSR | Oct. 19, 2020 21:09

0

0

Reply
sssss i am snake