Great Wall of China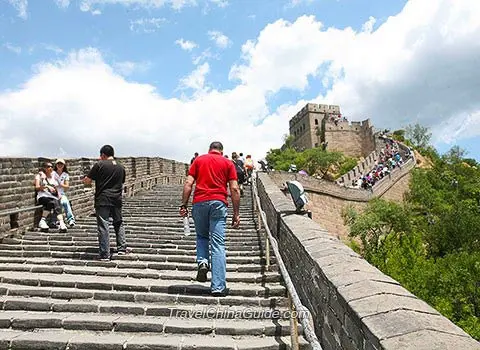 Great Wall in Beijing


Pictures

Video
The Great Wall of China, one of the greatest wonders of the world, was listed as a World Heritage by UNESCO in 1987. Just like a gigantic dragon, it winds up and down across deserts, grasslands, mountains and plateaus, stretching approximately 21,196 kilometers from east to west of China.
With a history of about 2,700 years, some of the Great Wall sections are now in ruins or have disappeared. However, the Great Wall of China is still one of the most appealing attractions all around the world owing to its architectural grandeur and historical significance.

Great Wall FAQ

How long is the Great Wall of China?

How tall is the Great Wall of China?

Can it be Seen from the Space?
Chinese Name: 长城/万里长城
Chinese Pinyin: Cháng Chéng/Wàn Lǐ Cháng Chéng
Length: 21,196.18 kilometers
(13,170.70 miles)
Construction Period: 2,500 years from the
Spring and Autumn Period (770 – 476 BC)
to 1878 in late Qing Dynasty (1644 - 1911)
Having a wonderful Great Wall tour is a must for one's China trip. Along this super long wall, Beijing ranks the top destination for its proper maintenance of the abundant wall relics of the Ming Dynasty. Badaling and Mutianyu are best sections to see neat and complete walls and beacon towers; while Jinshanling and Simatai offer challenging Great Wall hiking routes with open and wild scenery. Want to discover the charm of the wall with TravelChinaGuide? Let's get started!

​ See
10 Insider Tips for Great Wall Travel
, including 5 dos and 5 don'ts for making a practical travel plan.
The Wall we see today was mostly built during the Ming Dynasty (1368 - 1644). It starts from Hushan in the east to Jiayuguan Pass in the west traversing Liaoning, Hebei, Beijing, Tianjin, Shanxi, Inner Mongolia, Ningxia, Shaanxi, Gansu and Qinghai. Here lists the famous sections for you to know the incredible diversity of scenery along the wall and practical travel tips.

See
which section to visit
Excitement abounds regarding the vicissitude of the Wall of the Qin, Han, and Ming Dynasties.

The Great Wall was originally built in the Spring and Autumn, and Warring States Periods as a defensive fortification by the three states: Yan, Zhao and Qin. It went through constant extensions and repairs in later dynasties. It began as independent walls for different states when it was first built, and did not become the "Great" wall until the Qin Dynasty.

Emperor Qin Shi Huang succeeded in his effort to have the walls joined together to fend off the invasions from the Huns in the north. Since then, the Wall has served as a monument of the Chinese nation throughout history.
The mystery of the construction of the wall is amazing. The construction, which drew heavily on the local resources for construction materials, was carried out in-line with the local conditions under the management of contract and responsibility system. A great army of manpower, composed of soldiers, prisoners and local people, built the wall. The construction result demonstrates the wisdom and tenacity of the Chinese people.
Great Wall carries a considerable part of Chinese culture. It has long been incorporated into Chinese mythology and symbolism. The most well-known legend is about the collapse of a section of the Wall caused by Meng Jiangnu, who cried bitterly over the death of her husband after he died while building the wall. This legend has been spread widely through textbooks, folk songs and traditional operas.
Following a 45-day long survey of 101 sections of the Wall in different provinces, the China Great Wall Academy reported on December 12, 2002 that the forces of nature and destruction by mankind are bringing about gradual reduction of extent of the Wall with the result that less than 30% remains in good condition. The Academy has called for greater protection of this important relic.

As a reputable China travel agency, we are recommended by many former clients. You may read our customers'
China Tours Reviews
on Tripadvisor.
- Last modified on Jan. 21, 2020 -
Questions & Answers on China Great Wall
Asked by Melissa from CANADA | Jan. 07, 2020 12:00

Reply
Great wall end of January
We'd like to see the Great Wall while staying over in Beijing. Can we do this in 3/4 of a day? It will be the end of January and we ideally would like to catch a train to Shanghai that night. So I am thinking Badaling will be the closest. Any suggestions for easy travel for a family of 4 is appreciated. Thanks
Answers (1)
Answered by Cecilia from USA | Jan. 13, 2020 22:32

0

0

Reply
Yes, you can. In order to save time, you are suggested to hire a private car from/to downtown Beijing. Have a nice trip!
Asked by Yunni from INDONESIA | Jan. 05, 2020 09:25

Reply
From badaling greatwall to longqing ice festival
Hi.is it possible if i want to go to badaling greatwall and longqing ice fest in one day? How to get to longqing ice festival from badaling greatwall?and how to comeback from longqing ice festival to temple of heaven? Thank you
Answers (1)
Answered by April from FINLAND | Jan. 06, 2020 23:27

0

0

Reply
Well, I am afraid that the time is a little bit tight to tour around these two scenic areas in one day. In order to save time, you are suggested to hire a private car to travel from the great wall to Longqing Ice Festival.
Asked by hadar from ISRAEL | Jan. 05, 2020 06:15

Reply
hi im interesting in the MuTianYu Great wall for 2 im landing in 11:55
And my connecting flight is at 22:00 will it be enough time for this tour?...if so how much will it cost?
Answers (3)
Answered by Arlene from POLAND | Jan. 06, 2020 23:01

0

0

Reply
Yes, you can make full use of the time to tour around Mutianyu Great Wall. You are suggested to hire a private car in order to save time. For the cost, where is your starting place?
Answered by hadar from ISRAEL | Jan. 07, 2020 01:19

0

0

Reply
Beijing airport
Answered by Arlene | Jan. 07, 2020 22:03

0

0

Reply
Generally speaking, the fare is CNY200 to 300 for the single trip.
Asked by Linda from USA | Dec. 09, 2019 22:38

Reply
How long is a half day tour to Badaling on the Great Wall?
I would like to know how many hours would I be spending on the Great Wall to Badaling if I chose this option? I am only in town for the day so I would like to just spend a few hours at the Great Wall before heading back. I understand it is 2 hours travel time = 4-5 hours traveling time. But how many hours actually at the Great Wall? Thank you!
Answers (1)
Answered by Jennifer from POLAND | Dec. 16, 2019 21:56

0

0

Reply
Generally speaking, you are suggested to spend 4-5 hours to tour around Badaling Great Wall. :)