Chinese Names:
长城cháng chéng / 万里长城wàn lǐ cháng chéng
Literal Meaning:
The Long Wall
Location:
North China
Length:
21,196.18 kilometers (13,170.70 miles)
History:
2,700 years old
Construction Time:
2,500 years, from the Spring and Autumn Period (770 – 476BC) to 1878 in late Qing Dynasty (1644 – 1911)

Read More:
25 Fun Facts about Great Wall
Where is the Great Wall of China?
How long is the Great Wall of China?
How tall is it?
How wide is it?
Can it be seen from the space?
Great Wall FAQs

The Great Wall of China, the largest man-made project in the world, is a series of ancient fortifications built in northern China. Although named the 'wall', it is an integrated defense system including not only lofty and solid walls, but also massive signal towers, barriers, barracks, garrison stations, and fortresses along the walls, together forming an insurmountable line, for thousands of years, to protect the territories of ancient Chinese states against the nomadic tribes from the northern steppe. This long wall, just like a gigantic dragon, winds up and down across deserts, grasslands, mountains and plateaus, stretching approximately 21,196 kilometers from west to east of China.
Renowned as a UNESCO World Heritage site since 1987 and one of the Seven Wonders of the Medieval World, the Great Wall of China is not just 'medieval'. Early in the 7th century BC, several ancient states built their own boundary walls, which were later connected by Qin Shi Huang (259 – 210BC), the First Emperor of China, and known as the '10,000-li Long Wall'. In the following 2,000 years, many dynasties continued to consolidate and extend the Great Wall, for not only defense, but also border trade management, imposing tariffs, and immigration control.
The Great Wall's military use faded away, but now as an unparalleled architectural feat with historical significance, it is certainly the No. 1 iconic attraction in China. There are wall remains found in 15 provinces of China. The well-preserved sections we see today were mainly built during the Ming Dynasty (1368 – 1644), among which the most popular are around Beijing, including Badaling, Mutianyu, Juyongguan, and Simatai. A day tour or a long hike along the Great Wall allows you to travel back in time to feel the thousands of years' vicissitudes and the ethos of the ancient Kingdom of China.
Where is the Great Wall of China located?
Location: north China, East Asia
Total Length: 21,196.18 kilometers (13,170.70 miles), half of the length of the equator
Length of Ming Great Wall: 8,851.8 kilometers (5,500.3 miles)
West End: the First Fire Tower of the Great Wall, in Jiayuguan of Gansu
East End: Hushan Great Wall, in Dandong of Liaoning
Course & Coverage: 15 provinces and regions, roughly from east to west – Heilongjiang, Jilin, Liaoning, Hebei, Beijing, Tianjin, Shandong, Henan, Shanxi, Shaanxi, Inner Mongolia, Ningxia, Gansu, Qinghai, Xinjiang.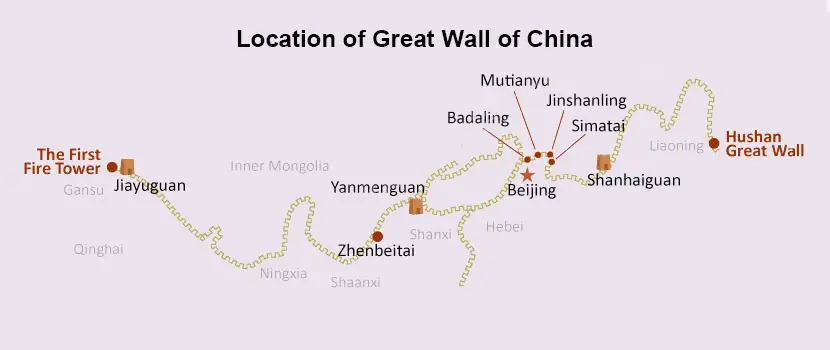 See More
Great Wall Maps
Which Section of Great Wall to Visit
The official survey by the National Cultural Heritage Administration of China reveals that Inner Mongolia, Hebei, and Shanxi are the top three regions boasting the most Great Wall relics. The walls, crossing 26 degrees of longitude, and not machine-made, appear in totally diversified status and sceneries. Generally the walls in east China are kept in good condition, while those in the wild northwest have been heavily weathered or damaged.
Beijing, owning only 5.38% of all the wall relics throughout China, has the quintessence of the Ming Great Wall. The best-preserved and most-visited sections are generally within 130 km north of downtown Beijing.
First-time visitors to Beijing: Badaling, or Mutianyu
Return visitors: Juyongguan, or Simatai (with Gubei Water Town)
Experienced hikers: Jiankou (wild and dangerous)
Best sections out of Beijing: Shanhaiguan in Hebei, Jiayuguan in Gansu, Zhenbeitai in Shaanxi
Read more:
Top 10 Great Wall Sections to Visit
List of All Great Wall Sections
Great Wall in History: Who, When, and Why Built it?
The rulers of more than 20 ancient dynasties and states had built on a large scale their sections of the Great Wall. The soldiers, common people and prisoners constituted the major labor force.

1. Initiator: Kings of Western Zhou Dynasty (1046 – 771BC)
There is not enough proof to confirm who was the first king to start to build the Great Wall, but at least there were some walls and beacon towers before the end of the Western Zhou. The earliest record regarding the walls is the story of King You of Zhou (795 – 771BC) who abused the war beacons and fooled the vassals, just to amuse his favorite queen.
2. King Wen of Chu (689 – 675BC in reign)
From 688 to 678BC, the King Wen ordered the building of the Fangcheng Wall to protect Chu State. Later on, a number of states built their own walls.
3. Qin Shi Huang (259 – 210BC): the First Emperor of China
This is the most well-known historical figure to be widely considered the initiator of the Great Wall. He's not the real initiator, but he did make a remarkable contribution in joining the seperated walls built by different states of the previous dynasties after he unified central China, and thus a continuous Great Wall was formed.
4. Liu Che (156 – 87BC): Emperor Wu of Han Dynasty
The emperor ordered renovaion of the Qin Great Wall and he built outer walls in further northwest China, completing the Great Wall at its longest in history – an amazing 10,000 kilometers!
5. Zhu Yuanzhang (1328 – 1398): Emperor Hongwu of Ming Dynasty
He started the last climax of Great Wall constrction in ancient Chinese history, and his descendants continued the construction for 130 years, generally giving the wall its present appearance.


Read more:

Who built the Great Wall of China?
How to Tour the Great Wall of China
--
• Best Sections – Badaling & Mutianyu in Beijing
For first-time visitors to China, Badaling with the most representative Great Wall and the highest popularity is your first choice. Climb up to find the 'Ture Hero' tablet inscribed by Chairman Mao, and do not miss the museum at the foot of the mountain, which specializes in Great Wall's history, construction, military use, and conservation status.
Badaling's popularity leads to overcrowding at peak holiday times, so you are recommended to visit Mutianyu during weekends or big holidays, as this allows a more comfortable travel experience for you to enjoy the magnificent beauty of the Great Wall. Try the exciting toboggan down the Great Wall if you like.
People who have been to these two sections can choose from Juyongguan, Jinshanling, Gubeikou, and Simatai around Beijing.
• Clothing & Backpack
Breathable and sun-proof clothes in summer; warm and wind-proof clothes in winter; comfortable walking shoes; food and water supply; camera, mobile phone, power bank; tissues; other personal necessities.
• How to Plan a Day Tour to the Great Wall
8:00 – 10:00
Bus 877 from Deshengmen to Badaling takes 1 to 1.5 hours; tourist bus line from Dongzhimen Wai Station to Mutianyu takes 1.5 to 2 hours.
10:00 – 13:00
2 to 3 hours' hiking on the Great Wall; cable car is available.
13:00 – 14:00
Have lunch in a local fast food restaurant at the foot of the wall.
14:00 – 16:00
Return trip: bus 877 from Badaling; bus h23 from Mutianyu, and transfer to bus 916 Express.
* You can add another attraction in this day according to your own pace. The Forbidden City and Temple of Heaven in downtown Beijing, and Ming Tombs near Badaling are good choices.
Read more:
How to Visit the Great Wall - Plan a Perfect Day Trip
How to Get to the Great Wall from Beijing
How much does it cost to visit the Great Wall?
10 Insider Tips for Great Wall Travel - Dos and Don'ts
Great Wall Hiking: Adventure for the Brave
The Great Wall of China has long been the dream of hikers all over the world. What would it feel to walk the whole length of the Great Wall? William Edgar Geil, an American traveler and geographer and the first to hike the entire Great Wall in 1908, answered this question in his books and pictures. Dong Yaohui, a famous Great Wall expert, together with his two friends, hiked 7,400 km west from Shanhaiguan to Jiayuguan in 508 days from 1984 to 1985, becoming the first Chinese to finish walking the entire length of the Great Wall. "It was like a non-stop challenge of uphill and downhill, summer heat and winter chill, and exhausting long-distance walking," Dong recalled, "The Great Wall is alive, not cold and dull. When you put your palm on the wall, you are shaking hands with Chinese ancestors." This long hike greatly enhanced Great Wall's international visibility, and the wall was listed as a World Heritage site two years later in 1987. Since then, several Chinese and foreign hikers and explorers succeeded in walking the full length of the wall, leaving many fascinating stories.
Read more:
How Long to Walk the Great Wall of China
How to Hike the Full Length of the Great Wall of China? 8,851.8 km!
Has anyone walked the Great Wall of China?
– William Edgar Geil in 1908, Dong Yaohui in 1985, Liu Yutian in 1986, William Lindsay in 1987, Stephen Robert Loken in 2011…
Hikers prefer the ruins of dilapidated walls to the restored Great Wall. Walking the entire Great Wall is not an easy thing, but short hikes along some wild sections are popular. The Great Wall in Beijing totals 573 km (356 mi), including only 40 km being well repaired, while more than 500 km in wild and primitive condition. Jiankou, Simatai, Huanghuacheng, Jinshanling, Hefangkou, and Gubeikou are popular sections full of wild fun but dangerous and physically demanding. For people without hiking experience, the wild walls are not recommended. Choose an average route and join a hiking group with a professional leader if you are interested. For experienced hikers, make sure to find partners, choose the right season and best time, study the route carefully in advance, and make full preparations. Always tell relatives or friends where you intend to go and say when you expect to complete your journey.
Read more:
Best Great Wall Hike: Top 5 Wild Hiking Routes
Great Wall Hiking Checklist: 15 Things that Expert Hikers Always Take
How to Camp on the Great Wall
Condition and Protection: Great Wall is in Danger!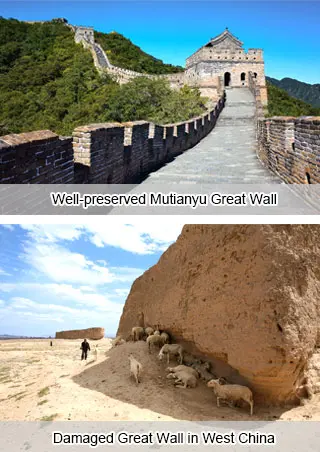 The Great Wall of China is on the list of 100 endangerd sites issued by the World Monuments Fund. The renovated walls open as tourist sites can not stand for the whole wall. In fact, less than 10% of the wall is visible to ordinary tourists. The real majority, more than 90%, are crumbling walls snaking between the mountains, undeveloped and poorly protected.
The length of the walls built by different dynasties totaled 50,000 km, while the existing Great Wall is 21,196 km, according to the National Cultural Heritage Administration of China. That means, half of the walls has disappeared in the course of history.
What's more serious is that the current number of 21,196 km is not constant. Instead, it keeps reducing! 30% of the Great Wall is disappearing at an alarming rate, mainly for two reasons. One is natural weathering. For thousands of years, the Great Wall has endured the ravages of the gobi desert. Plants growing into some walls accelerate its decay. Some walls and watchtowers are tumbledown, likely to be destroyed by just a storm. Another is reckless human behavior. Before 2000, people in remote areas, lacking the awareness to protect the Great Wall, knocked down bricks to sell, stole them to build houses, or even dug holes in the walls to raise livestock.
Substantial measures to protect the Great Wall began in the 1980s, and until 2006, the State Council of China promulgated the Regulation on the Protection of Great Wall, effectively strengthening the conservation of the walls, forts, passes, and beacon towers, and standardizing the development and utilization of the Great Wall. However, are you aware now? Regulations can only regulate human activities, but weathering is inevitable for walls exposed to the vast natural environment. We can and will do our best to make it stand longer, but hurry up to go and see it before it disappears!
Read more:
Current Situation of Great Wall
Regulation on the Protection of Great Wall
Great Wall Protection Stories and Reports

As a reputable China travel agency, we are recommended by many former clients. You may read our customers'
China Tours Reviews
on Tripadvisor.
- Last updated on Aug. 31, 2023 by Brenda Lian -
Questions & Answers on China Great Wall
Asked by TRAVELFAR4K | Aug. 31, 2023 07:23

Reply
Where can I find the end of China Wall ? I can't find any video
Answers (1)
Answered by Garry | Aug. 31, 2023 20:26

0

0

Reply
As I know, the end of the Great Wall of the Ming Dynasty is at Jiayuguan in northwest China.
Asked by farrukh ahmad from UNITED STATES | Aug. 16, 2023 16:20

Reply
My husband is tiger and i m sheep
We married been12 years he divorced me but we wants live together again .how will b , my relationship? And what about kids ? Can we live together again ? I wants happylife with him.
Answers (1)
Answered by Gina | Aug. 16, 2023 20:05

0

0

Reply
I'm sorry but your love compatibility is not so good. Though this is only for reference, it is suggested to live independently for some days and think carefully about your relationship. Don't be so desperate and there is always hope in the life. Best wishes!
Asked by ANTHONY JOSEPH from INDIA | Aug. 14, 2023 06:07

Reply
Directions from Subway Line 5 to Mutianyu Great Wall section please. Thank you.
Answers (2)
Answered by James | Aug. 14, 2023 23:31

0

0

Reply
Take Metro Line 5 to Chongwenmen Station and then interchange to Metro Line 2 to Dongzhimen Station. After that, get out of the Exit E and walk northeast about 500m to take Bus Line 916 to Huairou North Avenue. Then transfer to Bus Line H23 or 7 to Xinying Station. Get off and you can see the Mutianyu Great Wall. It takes about 3 hours to finish the whole trip.
Answered by Anthony | Aug. 15, 2023 06:12

0

0

Reply
Thank you James for your response. I'll follow these directions.
Best wishes.
Asked by dfgh from SWEDEN | Jun. 13, 2023 12:10

Reply
what is the colours of the Great Wall of china
Answers (1)
Answered by Fiona | Jun. 13, 2023 20:57

0

0

Reply
Built of bricks, they are mostly iron gray and copper gray. Built of rammed earth, they are soiled yellow...