Hushan Great Wall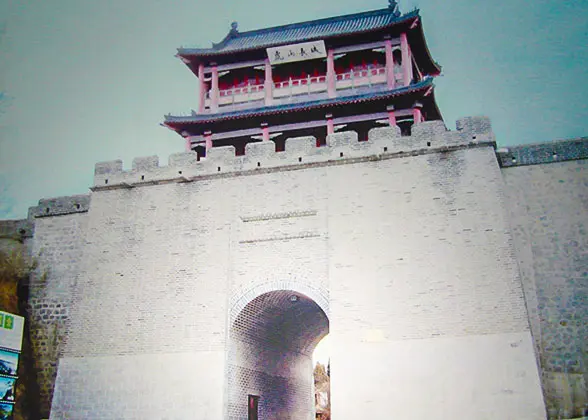 Hushan Great Wall, Dandong, Liaoning
Hushan Great Wall lies near the Yalu River in Dandong City of Liaoning Province, and faces North Korea across the river. It crawls on the Hushan Mountain which literally means "Tiger Mountain", so named because the two towering peaks resemble two tiger ears pricking up into the sky when seen from afar.

Real Eastern Starting Point of the Great Wall
The Hushan Great Wall was built to strengthen the frontier defense in 1469 during the Ming Dynasty (1368-1644), and is the eastern most point of the huge military defensive system. However, due to severe collapse and destruction, people took Laolongtou (Old Dragon's Head) as the eastern-most point for a long time. The excavation of 0.4 mile (600 meters) of ruins in 1989 proved Hushan to be the real eastern-most part. In 1992, a huge amount of money was invested to restore this section. The renovation of 0.8 mile (1,250 meters) of the principal part was completed in 2000 and there are twelve distinctive watchtowers along it.

Gate Tower - Landmark of Hushan Great Wall
The Gate Tower is the entrance as well as landmark of the scenic area. The grand Gate Tower consists of two parts: the main body at the bottom and the two-storey arrow tower on the top. The main body is made of blue bricks, with a height of 31 feet (9.6 meters) and a width of 22 yards (20.5 meters). The parapet wall is 2.6 feet (0.8 meter) high, with crenellated shooting points. The arrow tower is in traditional Chinese style. It is 15 yards (14 meters) long, 12 yards (11 meters) wide, and 46 feet (14 meters) high. The roof is embellished with blue tiles, which contrast finely with the red pillars. On the eave hangs a tablet, which reads "Hushan Great Wall."

No. 8 Watchtower - A Shelter for Soldiers on Guard
Among the twelve watchtowers, No. 8 Watchtower is the most representative, and one you should not miss. It is comprised of two storeys. The first storey is 8.4 yards (7.7 meters) long, and 11 yards (10 meters) wide. You can see four windows on the eastern and western sides respectively. There are also two windows beside an arched door on both the southern and northern sides. Then, you can climb up to the second storey, via a staircase made of blue bricks. It is quite precipitous, so you need to be careful. On the second storey, there is a shelter for soldiers on guard. It is 8.2 yards (7.5 meters) long, and 4.4 yards (4 meters) wide.

How to Tour Hushan Great Wall

Commence hiking from Gate Tower, you will see twelve watchtowers along the way to the mountaintop. You will find that each tower is different and unique if you study them carefully. On the mountain top with an altitude of 480 feet (163 meters), there is a Hollow Watchtower. Here, you can have a bird eye view of the Great Wall. In addition, you can look at people living and working on the other side of the Yalu River in North Korea. Rental telescopes are available at CNY 10, by which you can see more clearly.



You can descend along the same route, or continue to explore the ancient plank road on the back mountain. Built along the cliff over the Yalu River, the plank road is quite steep and narrow, measuring about 1,000 yards (1,005 meters) long. Be careful when walking on it, especially on the suspension bridge. Along it, you can see North Korean villages and fields.



After descending, you can go to visit the "One Step to Cross", the nearest place to North Korea. There is a "One Step to Cross" stone by the riverside, where you can take a photo in traditional North Korean clothes. Please note that "One Step to Cross" is the boundary of China and North Korea. There are soldiers on guard. Don't try to cross the border or take photos by soldiers or military devices.



Finally, you can go to visit the Great Wall Museum near the entrance of the scenic area. It displays historical relics of soldiers of the Ming Dynasty, such as pottery wares and living appliances. Also, you may enjoy the oil paintings, sculptures, and electricity and light show there. The entrance fee of the museum is CNY 10 per person.
Opening Hours
7:30- 17:00
Admission Fee
CNY 60 from April to October;
CNY 55 from November to March
How to Get There from Dandong
It is about 12 miles (20 kilometers) to the northeast of central Dandong in Liaoning Province.



You can take a Tourist Bus Line to the site on the square before the Dandong Railway Station. The buses are scheduled at: 6:50, 8:00, 9:00, 11:20, 13:30, 15:20, and 17:20. The trip takes about 40 minutes. The fare is about CNY 4. Return buses operate until 18:00.



Also, you can take a taxi to the site for CNY 35-40.
- Last updated on Aug. 02, 2022 -
Questions & Answers on Hushan Great Wall
Asked by KR from HUNGARY | Jan. 13, 2020 03:49

Reply
Hushan Great Wall - public transportation
Does the Tourist Bus Line depart in March?
If not, where is it possible to buy a ticket for the bus line 214? Driver/kiosks/travel card? How much is it cost?
Thank you!
Answers (1)
Answered by Shawn from UKRAINE | Jan. 13, 2020 23:09

0

0

Reply
Yes, as I know, it still operates in March. For the bus no.214, there is conductor on the bus. You can pay the cash.
Asked by Marvo from MALAYSIA | Feb. 04, 2019 18:38

Reply
Hushan great wall
Hello,
1. Is walking the Hushan great wall considered as Easy or Hard ?
2. If compared against the Badaling Great Wall ( north section ), which is more difficult ?
We are in our 60s but reasonable health. Thank you.
Answers (2)
Answered by Jesse from USA | Feb. 10, 2019 22:09

0

0

Reply
It is a little bit difficult than Badaling and the descending may be a little hard.
Answered by Marvo from MALAYSIA | May. 02, 2019 09:03

0

0

Reply
Update on HuShan Great Wall.
Thanks Jessie. We did it last week. Our experience were:
1. There is a direct bus from just outside the Dandong Railway Station. Cost is CNY5. Going is 6.50,7.30,8.35,9.50,10.50,12.00,14.20,16.30. Return is 7.30, 8.15,9.30,11.00,12.00,13.00,15.20,17.10
2. It is indeep steep at the higher section but doable if not raining or wet - slippery.
3. Coming down, midway there is option of continuing with the stone steps and then catch a buggy back to the entrance or a more difficult very narrow path along the hillside - challenging but worth the " I did it" feeling.
4. Less touristry atmosphere , less human traffic
5. 50% discount on entrace fee for all over 60
Recommended ? Yes.
Asked by BG | Aug. 06, 2018 12:18

Reply
Hushan Great Wall Return Transportation
Hi, may I know 1) How much is taxi 2-way? 2) any mini-buses at hushan to return to bus/train station? 3) is it easy to find a taxi at hushan? Thanks.
Answers (2)
Answered by Rena from SINGAPORE | Aug. 06, 2018 19:42

0

0

Reply
1. about CNY80 by taxi in 2-way.
2. yes, there are many buses to return to Dandong Railway Station, which departing at 07:30、08:20、09:30、11:00、12:00、13:00、15:20、17:10 with ticket price of CNY5 per person in a single trip.

When you return to Dandong from the Hushan Great Wall, almost all the buses on the roads near the scenic area could stop at any time, with a maximum ticket price of CNY6.

3. Yes, it is.
Answered by BG | Aug. 07, 2018 06:22

0

0

Reply
Thank you!