Laolongtou Great Wall (Old Dragon's Head)
Laolongtou is where the Great Wall of China meets the sea and was once considered as where the Great Wall of China starts. Laolongtou means Old Dragon's Head, so named because the Great Wall here resembles a dragon drinking water from the sea. Located three miles (five kilometers) south of Shanhaiguan and about 190 miles (305 km) away from Beijing; travelers can easily make a side trip from Beijing to Laolongtou Great Wall and Shanghaiguan by high speed train.

The Laolongtou Great Wall was built in 1381 under the supervision of Qi Jiguang, a general of the Ming Dynasty (1368 – 1644). It was an important line of defense against enemies coming from both the land and the sea. After the founding of the Qing Dynasty (1644 – 1911), its military function faded, and it turned into a great tourist destination, attracting numerous visitors to enjoy the seascape and surrounding constructions. Even emperors were regular visitors.
| | |
| --- | --- |
| Laolongtou | Map of Laolongtou (Old Dragon's Head) |

More Laolongtou Pictures
Ninghai City
Ninghai City is to the north of the Laolongtou Great Wall. Its north gate is also the main entrance to the whole scenic area. Inside the city, there are commanders' offices and a training ground, revealing past garrison life. In ordinary days, soldiers were housed and trained there. During wartime, the city became a fortress defending against enemies and also the command post for tactical maneuvers. Your visit can also include some temples and performances to enjoy.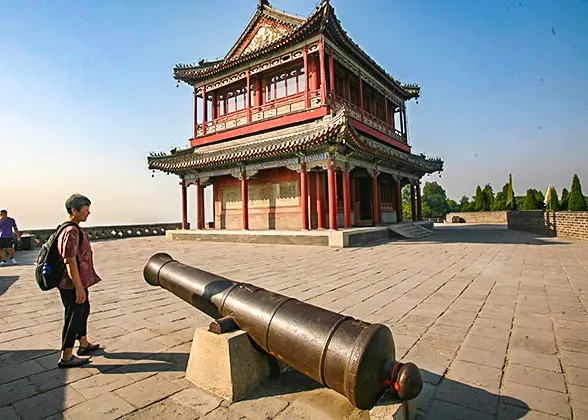 Chenghai Pavilion
Chenghai Pavilion
This pavilion, at the southeast corner of Ninghai City, is a major attraction in the scenic area, leading to the Laolongtou Great Wall. It is a two-storey building built of bricks and wood. It has been a must-visit place of the whole area since the Qing Dynasty. Five emperors of that dynasty (Kangxi, Yongzheng, Qianlong, Jiaqing, and Daoguang) were there for 12 times in total on their way to Mukden (Today's Shenyang) to worship their ancestors. Poems and inscriptions created by these emperors and renowned literature were carved on the tablets and can be seen here.
The second floor of the Chenghai Pavilion is the highest point of the whole area, providing the best view to admire the scenery. Seen from there, the Great Wall and the vast sea are closely connected with each other, and the sea joins the sky in the distance, looking like they are merged into one.

Jinglu Beacon Tower
Walking south from Chenghai Pavilion, you will come to the Jinglu Beacon Tower. It was built in 1565, and is the only beacon tower that was built above the sea.

The Estuary Stone Great Wall
Passing the Jinglu Beacon Tower, you will reach the easternmost point of this section – the Estuary Stone Great Wall, which is also the east end of the Great Wall. Built in 1579 by Wu Weizhong, a military officer of the Ming Dynasty, and renovated in 1987, the wall extends approximately 24.5 yards (22.4 meters) into the sea. It is comprised of nine layers of large strip granite blocks with a height of 30 feet (9.2 meters) in total. Of these, the fourth, fifth, and sixth layers are the original works. Setting foot on it with the waves splashing on the battlements is like you are standing on the nose of the dragon, which is cleaving through the sea and stirring up layers of white sprays.
Sea God Temple
Reconstructed in 1988, the Sea God Temple is about 383 yards (350 meters) west of the Estuary Stone Wall, surrounded by the sea on three sides. If there is some mist or drizzle, the temple looks indistinct as if it is in a fairyland. You can see constructions like archways, the Hall of the Goddess of Heaven, and the Hall of the Sea God there. The last two are the main constructions of the temple for people to pay homage to the gods and pray for a safe voyage and a good harvest in past times. The utmost point of the Sea God Temple is the Sea-Viewing Pavilion, another viewing deck in this scenic area.
| | |
| --- | --- |
| Sea God Temple | Sea-Viewing Pavilion |
When is the Best Time to Visit?
The best time to visit this section is between May and October. Along the seaside, there is a long stretch of golden beach; it is a great resort for a summer escape in July and August to feel the unique charm of Laolongtou with the beauty of both ancient constructions and the sea.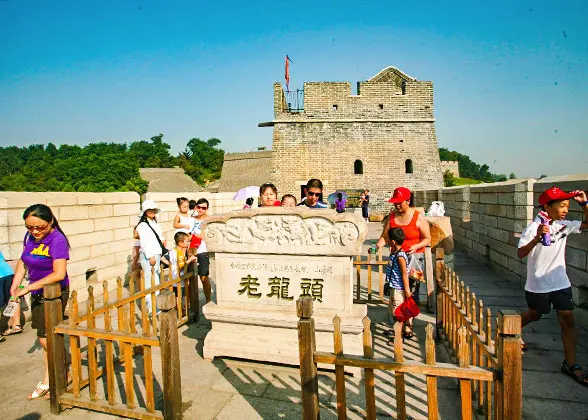 Hebei Laolongtou
How to Get to Laolongtou from Qinhuangdao City

By bus

Take bus no.25 to the scenic area directly.

Take bus no.35, and get off at Nanhai Village Station. Walk east along Longhai Avenue to the scenic area.

By train
If you start from Qinhuangdao Railway Station area, you can take a train to Shanhaiguan Railway Station. A one-way trip takes about 25 minutes. Get out of the station and then take bus no.25 to get there.

How to Get There from Shanhaiguan
You can either take bus no.25 at Shanhaiguan South Gate Station, or bus no.21 at Ying'en Tower Station to go there.

Admission Fee
May to October: CNY 50
November to Next April: CNY 20
Opening Hours
May to October: 7:00 – 18:00
November to Next April: 7:30 – 17:00

Related Tour: Laolongtou-Shanhaiguan-Jiaoshan Hiking
- Last updated on Apr. 15, 2021 -
Questions & Answers on Laolongtou Great Wall
Asked by Felicity Miller from UK | May. 14, 2019 03:28

Reply
How long does the no.25 bus take from Shanhaiguan Railway Station to Laolongtou
Any help appreciated
Answers (1)
Answered by Keira from POLAND | May. 15, 2019 23:33

0

0

Reply
Generally speaking, it takes around half an hour on the way.
Asked by Morgan Einon from UNITED KINGDOM | Apr. 30, 2019 07:36

Reply
Hi, What is the best way for 3 people to visit when staying in Beijing please??
Thank you
Answers (1)
Answered by Hunter from UKRAINE | May. 07, 2019 00:24

0

0

Reply
It is advised to take the bullet train from Beijing Railway Station to Qinhuangdao Railway Station first.
Then transfer to a train to Shanhaiguan Railway Station. After arriving, you can take a taxi or hire a private car to get to the scenic area.
Asked by Susi from INDONESIA | Mar. 08, 2019 07:03

Reply
Laolongtou to sea god temple
Dear all

If i start from shanhaiguan railway to the Laolongtou then i want to visit sea god temple and back to railway station to cash train back to Beijing
Is it possible?
Anyone can tell me the bus route to cover my plan?

Thank you in advance

Regards
Susi
Answers (1)
Answered by Lily from AUSTRALIA | Mar. 10, 2019 19:19

0

0

Reply
Yes, it is. You can take Bus Line 25 from Shanhaiguan Railway Station to Laolongtou. After visit, you can take the same bus line back to the railway station to Beijing. The bus stops operating at about 19:10.
Asked by Susi from INDONESIA | Mar. 08, 2019 06:15

Reply
From chengde to laolongtou
Dear all,

Is anyone know how can i get there from chengde?

Thanks in advance

Regards
Susi

Answers (1)
Answered by Linda from NETHERLANDS | Mar. 10, 2019 19:12

0

0

Reply
Hi, you can take a bus from Chengde East Bus Station to Qinghuangdao Long Tour Bus Station first. The bus departs from 7:40 to 16:20 with an interval about 1.5 hours and it costs about CNY100 for a single trip. After arriving in Qinhuangdao, you can take a bus line 27 to Shenglicun and then walk south about 170m to take Bus Line 35 to Nanhaicun. Walk east about 700m, you can get to the scenic area.
Asked by Mr.ROYNOLAN from ES | Dec. 28, 2018 12:27

Reply
Can this part of the wall be visited from Beijing with the 144hr visa free scheme?
thanks
Answers (1)
Answered by Thomas from USA | Dec. 28, 2018 18:22

0

0

Reply
Yes, it can since the scenic area is in Hebei Province.