Zijingguan Great Wall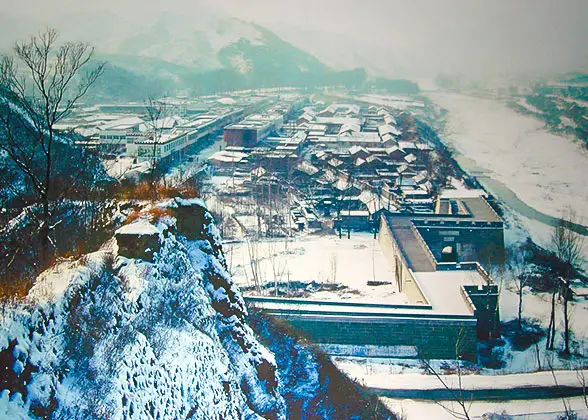 Zijing Pass of Great Wall in Hebei
The Zijingguan Great Wall lies at the foot of Wanren Mountain in the east and Rhino Mountain (Xiniu Mountain) in the west, with the Horse Blocking River flowing swiftly to the north. More than 140 battles took place here owing to its strategic location. Along the 7.5 miles (12 kilometers) long wall lie three city gates, three water gates and two watchtowers. Some sections are renovated, while others retain their old characters.

Generally, the restored section is quite flat and there are wide horse tracks beside the Wall. It is thus easy to climb. However, the original unrestored section is quite narrow and precipitous. The bricks are so severely weathered that they have collapsed into piles of debris. The top of the wall is bare because the battlements and crenels have long since gone. What's worse, the watchtowers lean haphazardly and in danger of collapsing. Some have already disappeared, leaving behind their broken foundation. Visitors need to be careful while hiking.

Zijingguan Pass (Zijing Pass)
The pass is the highlight of the Great Wall. It is known as one of the "Three Inner Passes", together with
Juyongguan Pass
and
Daomaguan Pass
. Its current name originated during the
Song Dynasty
(960-1279). It means a pass amongst the Chinese redbud flowers, which grow in abundance in the mountains then.
The pass had four gates originally. The North Gate is well-preserved with two inscriptions on it. The first reads "Everlasting Country", while the second reads "Zijingguan Pass". Although the words are quite vague but are still legible. The East Gate still stands with the inscription "Solid Stronghold". Unfortunately, the South Gate (Nantian Gate) and West Gate (Yanghe Gate) were ruined and only some relics are left.
Flower-shaped Structure
Zijingguan Great Wall possesses some complicated structures. There are five forts altogether: the Small Jincheng Fort (Sanlibao) to the north of Horse Blocking River, Zijingguan Pass, Small Panshi Fort, Qifengkou Fort and Guanzuoling Fort to the south of the river. Each fort forms a circle and defend itself against enemies independently. However, they may also work together when needed, making it a solid military system.
It resembles a flower with five petals with an aerial view. The Great Wall overlaps and intersects with one another, making it quite confusing for those unfamiliar with its structures, although leaving a long impression after the visit.
How to Get There from Baoding
It is located 28 miles (45 kilometers) northwest of Yixian County, Baoding, Hebei Province.
You may take a coach to Zijingguan from Baoding Passenger Transport Center at no. 1085, East Yuhua Road. The coaches are scheduled at 7:00, 9:50, 11:45, 12:20, 12:45, and 14:00. The trip takes about 2 hours. The fare is CNY 35-45.
Where to Eat
After hiking, you can have some local food at the restaurants in Zijingguan Town at the foot of the mountain. The local cuisine is tasty with natural flavors, such as Mongolian mutton hot pot, stewed mutton chops, lamb shashlik, wild carp cooked in a variety of ways and other local dishes.
- Last updated on Apr. 15, 2021 -
Questions & Answers on Zijingguan Great Wall
Asked by Kees from BELGIUM | Jun. 20, 2018 08:11

Reply
Does anyone know whether there are hotels in zijingguan?
and whether foreigners can stay in them?
Answers (1)
Answered by Bing from GERMANY | Jun. 20, 2018 21:39

0

0

Reply
There is no hotel in this Great Wall, but you can find some in Yi County.