Great Wall in Hebei
It is said that one can not feel the majesty and mighty of the Great Wall until coming to Hebei Province, which boasts the long, well-preserved and skillfully constructed Great Wall of China. Over 20 dynasties in China history have built Great Wall in Hebei Province, which zigzags 863.0 miles (1,388.8 kilometers). The sections of Ming Dynasty (1368 – 1611) totals 831.8 miles (1,338.6 kilometers), taking up to 15% of the whole length of the Ming Dynasty Great Wall of China.

Surrounding Beijing, the capital of the Ming Dynasty, Hebei was the most important defense line guarding the state. Construction materials were carefully selected, and much attention was paid to the quality of every section in this region. There are over 20 essential sections and more than 200 passes, with the most famous sections listed as follows:
The First Pass under Heaven

Photos

Hebei Great Wall Map (Click to enlarge)

Maps
As the boundary landmark between the Central Plain and the nomads' land, Shanhaiguan is one of the three most important passes of the Great Wall, located in the center of Qinhuangdao City. It once had the most complete defensive system with four barbicans in front of the four gates (now only the eastern one remains), which made a double defense line around the pass. The eastern wall was the major firing point with the renowned First Pass under Heaven – Zhendong Tower and the other four fortresses. Collectively, they were praised as Five Tigers defending the frontier.

See more: Legend of Shanhaiguan Pass, The War of Shanhaiguan Pass


Related spots: Shanhaiguan Great Wall Museum, Meng Jiangnu Temple


Tour: Laolongtou-Shanhaiguan-Jiaoshan Hiking

It is the easternmost section and the only one built along the sea. It lies three miles (five kilometers) south of Shanhaiguan, and looks like a giant dragon diving into the sea; hence its name Laolongtou (Old Dragon's Head). Built in the Ming Dynasty, it was a vital fortress of the state, defending enemies from the sea.
| | |
| --- | --- |
| Old Gragon's Head (Laolongtou) | Jiaoshan |
Jiaoshan – the First Mountain the Great Wall Crawls On
Hugging the ridges east of Shanhaiguan, the Jiaoshan section is like a yellow ribbon winding gently in the valley at some points, while at other parts it goes straight up to the sky. By standing at the highest beacon tower and looking southwards, you are able to have a full view of Jiaoshan and Shanhaiguan Pass. And if the weather is fine, you may even be able to see Laolongtou and the sea.
Sandaoguan - Upside Down Great Wall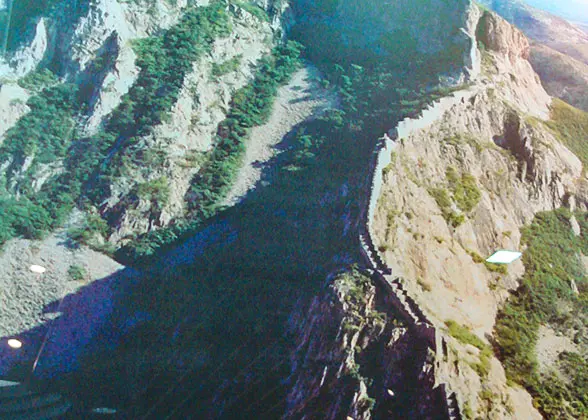 Sandaoguan
In a valley five miles (eight kilometers) north of Shanhaiguan Pass 'hangs' a V-shaped section named Sandaoguan. Built according to the extremely steep mountains, it resembles a giant dragon surging forward to the top of the cliffs and then suddenly rushing down to the bottom of the valley. The seemingly vertical route earned this section a nickname - Upside Down Great Wall.

This section was built with block stones, with a length of 512 yards (468 meters) and a height of 15 feet (4.7 meters). Sandaoguan means 'three passes' and as its name implies, there are three passes along the wall, defending against enemy intrusions during the ancient wars. The first pass lies in a gully surrounded by steep cliffs; the second is the most important which lies on the precipice; the last is a barrier wall with an arched door, located high on the mountain. The original shape of the door, however, cannot be traced. What is left is only a wall with an irregular gap in the middle.
Zhangjiakou is a famous historical city, a military town and a treaty port in Hebei Province. The wall in the city was built in over eight dynasties with various constructional styles, earning itself the reputation as the 'museum' of the Great Wall of China.

Dajingmen is one of the most famous parts of the wall in Zhangjiakou City. Although called Dajing 'Gate', it is actually an important pass from the Qing Dynasty (1644 – 1911). Dushikou or Single Stone Fortress, another famous section of wall in Zhangjiakou, is named after a big rock standing straight before the pass. Unlike other sections built of two battlements with stone pavement in between, Dushikou is literally a single wall separating the central state and the nomads' region. Instead of using lime slurry to bind the bricks, this section was piled up with bricks interlocking with each other.
Tired of viewing mountains as the backdrop, the underwater passes of Xifengkou and Panjiakou in Tangshan City can certainly catch your eye. Due to the construction of Panjiakou Reservoir, the Xifengkou Gateway and Panjiakou Pass are submerged. Like a giant dragon, it extends into the lake from the ridge. Swimming for a while, it crawls up the mountains on the opposite bank, lying between the rolling mountains.
Located at the foot of two mountains in Baoding City, Zijingguan is an old battle field where more than 140 battles took place. Nowadays, certain parts have already fallen into remnants, infusing a bit of desolation to this old section. However, the blooming redbuds all over the mountain endow this ancient battlefield with a romantic feeling.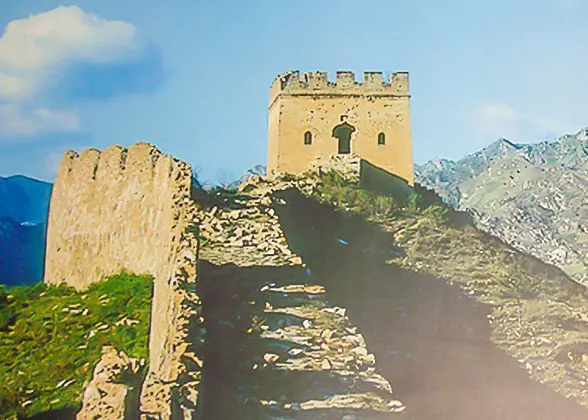 Wulonggou
The 400 years of wind and rain didn't bring much damage to Wulonggou. As a defense line outside Zijingguan, its safety was closely guarded by Wulonggou. Thus, 66 watchtowers were built along the 12 miles (20 kilometers) wall, proving its military importance during war time.
Daomaguan (Tumbling Horses Pass) is located northwest of Tangxian County in Baoding City. It is said that the mountain terrain was so dangerous that horses would fall when they passed. Most parts of it however are dilapidated now. The sites of the beacon towers and battlements have already blended in with the village under its foot, showing the rural beauty of this military fortress.

Damages Brought by Nature and Human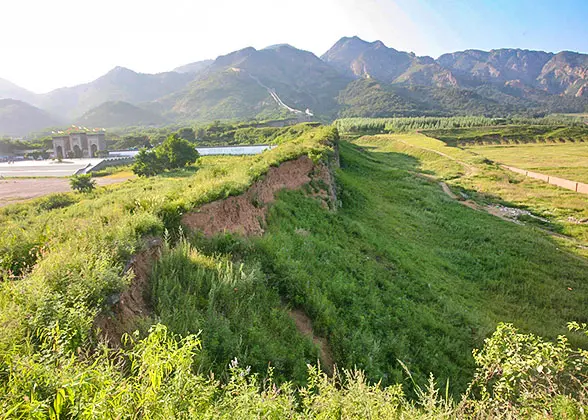 Natural environment is a formidable enemy to this old military construction. Exposed to the elements for hundreds of years, only a few of the battlements are in good shapes. Most of them have only the foundations left on the ground. Additionally, human posed another threat for bricks from the Great Wall were commonly used by villagers to build houses and sheepfold. Some villagers were even making money out the wall by selling bricks with embossed characters on them! In Dongfeng Village, each carved brick is worth about CNY40. Moreover, if a section gets in the way of road construction, it would be levelled without a second thought! For instance in Funing County, Qinhuangdao City, a segment of the wall connecting two watchtowers was broken with a ten-yard (nine-meter) road constructed at the breach.

Current Protection Situation
With more sections being destroyed, some actions have been taken by local government and residences. Regulations of the Great Wall Protection were established to standardize the management of this ancient military fortress. Zhangjiakou even set up a special administrative office to implement the protection measures. Some villagers volunteer to be the guard, patrolling along the wall and preventing any further damages from human activities.
However, it is not that easy to carry out such protection work. With the shortage of budget and manpower, sections in remote area are still under threat. Hence, in order to better protect this great wonder, more investment both in terms of finance and human resources must be put in place before a piece of China's history is lost forever.


Further Reading: Hebei Travel Guide
- Last modified on Apr. 15, 2021 -
Questions & Answers on Great Wall in Hebei
Asked by daltonking from USA | Apr. 08, 2014 10:37

Reply
what section of the great wall of china 70 kilometers northeast of beijing?
Answers (1)
Answered by Rachael from FRANCE | Apr. 10, 2014 01:17

0

1

Reply
I think it is Mutianyu section. You can take No. 916 bus from Dongzhimen to Fulebeidajie and then take No.936(支) to Mutianyu.
Asked by MR>TROLLER from UNITED KINGDOM | Oct. 09, 2013 12:26

Reply
where does The Great Wall of China start and where does it end
Answers (1)
Answered by Henry from USA | Oct. 10, 2013 21:31

1

4

Reply
It starts from Hushan in Liaoning in the east and ends at Jiayuguan Pass in Gansu in the west, via the nine provinces or cities in northern China, including Liaoning, Hebei, Beijing, Tianjin, Shanxi, Shaanxi, Inner Mongolia, Ningxia and Gansu.
Asked by Alister from SOUTH AFRICA | May. 27, 2013 10:27

Reply
How far can I run on the Great Wall
I would like to run for 30 days on it. Is there special permission needed to stay overnight on the Wall and surrounding? In an open hammock are there strict regulations. Who do get permission from ?
Answers (2)
Answered by Uranda from PHILIPPINES | May. 27, 2013 22:16

2

2

Reply
Generally, it is not allowed to stay overnight on, unless some original ones that have not been developd to attractions, such as Huanghualing and Jiankou sections.
Answered by dalton the genius from UNITED KINGDOM | Apr. 08, 2014 10:41

2

0

Reply
30 minutes be fore u run out of breath

Asked by kuruvilla thomas from INDIA | May. 22, 2013 01:41

Reply
Hi, I need to travel from Beijing to Shandong, how? please guide me?
Answers (1)
Answered by Fenny from IRELAND | May. 22, 2013 03:17

1

1

Reply
Well, Shandong is a province, so you must have a destination there, such as Qingdao, Jinan and Yantai. Anyway, let's say, you wanna go to Qingdao. There are direct bullet trains taking you there that depart from Beijing South Railway Station.