Ming Dynasty Great Wall
The Great Wall of the Ming Dynasty (1368-1644) is the most solid, complete and magnificent one in Chinese history. It is well-designed, and known for its unique structure and effective defense system. Most sections of China Great Wall people see today are from the Ming Dynasty, such as Badaling, Mutianyu, Jinshanling, and Simatai in Beijing, which are now developed into popular tourist resorts.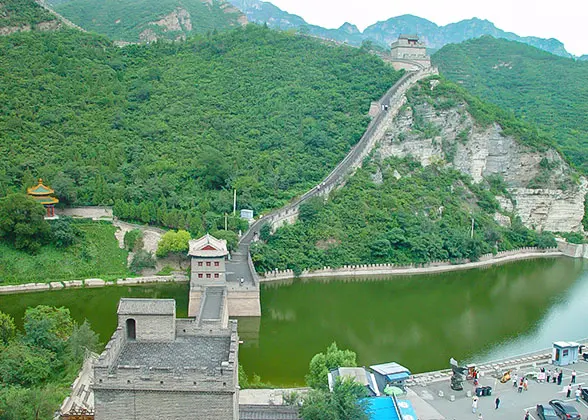 Juyongguan Pass

, Beijing

Facts of Ming Dynasty Great Wall

It runs from Hushan by the Yalu River in the east, and ends at Jiayuguan Pass in the west.

The defense system consists of the walls, watchtowers, beacon towers, forts, passes, and cities.

The wall spans 5,500 miles (8,851.8 kilometers) in northern China. The wall takes up 3,890 miles (6259.6 kilometers). The trench accounts for 223 miles (359.7 kilometers). The natural barrier like mountains and rivers is 1,387 miles (2,232.5 kilometers) long.

The wall passes by 156 counties of 10 regions, including Liaoning, Hebei, Tianjin, Beijing, Shanxi, Inner Mongolia, Shaanxi, Ningxia, Gansu, and Qinghai.
The height and width of the wall varies greatly according to terrain. The wall is relatively low and narrow on mountain ridges or at dangerous places. It is high and wide on the plain or at military strongholds.

The construction materials were acquired locally, including rammed earth, bricks and stones. Stone slabs and blue bricks were used at the most important sections.

Why Did the Ming Dynasty Build the Great Wall?
The Ming Dynasty was established after overturning the Yuan Dynasty (1271-1368) and driving the Mongols back to northern grassland. Nevertheless, the Mongols, who would not take their defeat lying down, often harassed the northern border of the Ming's territory in central China. In mid Ming Dynasty, the Jurchen people in northeast China became powerful, also threatening the border security of Ming. Under these critical circumstances, the Ming rulers ordered to build the Great Wall actively to shore up its territory.
| | |
| --- | --- |
| Simatai, Beijing | Huangyaguan Pass, Tianjin |

Great Wall Garrisons in Ming Dynasty
The wall building never stopped during the rule of Ming Dynasty for over two centuries. The emperors divided the wall into 9 border districts and established 9 garrisons, so that the wall was refurnished and managed more effectively. These garrisons were Liaodong, Jizhen, Xuanfu, Datong, Taiyuan, Yulin (Yansui), Ningxia, Guyuan, and Gansu. Later, two more, Changzhen and Zhenbao Garrisons, were added near the capital city, Beijing. By then, there were 11 garrisons along the Ming Dynasty Wall. Some 97,660 military officers and soldiers were stationed at the garrisons. Many famous sections and pass cities were erected at the garrisons, such as Jiumenkou in Liaodong Garrison, Shanhaiguan in Jizhen Garrison, and Jiayuguan in Gansu Garrison.


Related Reading: War of Shanhaiguan Pass

Relics of Ming Dynasty Great Wall
In general, the Wall of Ming Dynasty is better-preserved than that of other dynasties. Apart from the 5,500 miles of walls, there are 7,062 enemy towers, 3,357 protruding watchtowers, 5,723 beacon towers, 1,176 fortresses, and many other buildings along the wall.

However, most wild sections are exposed to natural erosion and human destruction, such as Jiankou, Gubeikou, and Lupiguan. Other unknown sections are in poorer conditions, and disappearing gradually. Laws and regulations are needed to properly protect the wall before it is gone forever.
| | |
| --- | --- |
| Jiaoshan, Qinhuangdao, Hebei | Ming Dynasty Wall in Fengzhen, Inner Mongolia |

Most Famous Sections
Many sections and passes have been renovated and developed to tourist attractions, especially those in Beijing, such as Badaling, Mutianyu, and Juyongguan.
Travel with Us to See the Great Wall:

Beijing 1-Day or Half-Day Great Wall: to Badaling, Sacred Way, Mutianyu, Juyongguan…


2 Days Private Beijing Packages: private tour to Forbidden City, Badaling, Mutianyu…


4 Days Beijing Highlights: small group tour to Tiananmen Square, Forbidden City, Badaling, Summer Palace, Hutong…

Further Reading:


Great Wall History: from Zhou Dynasty to Qing Dynasty


More Great Wall Facts


How Long is the Great Wall of China?


Who, When and Why Built the Great Wall?