How long is the Great Wall of China?
21,196 kilometers (13,170 miles)
The total length of the Great Wall of China built in different dynasties is 21,196.18 kilometers (13,170.70 miles), announced by China's State Administration of Cultural Relics in 2012. The length of the Great Wall of the Ming Dynasty (1368-1644) is 8,851.8 kilometers (5,500.3 miles), and there is about 526 kilometers (327 miles) lying in Beijing.
How long is the Ming Great Wall? - 8,851.8 km (5,500.3 mi)
The Ming Great Wall is the best-preserved among all, extending from Hushan in Liaoning to Jiayuguan in Gansu. It includes 6,259.6-kilometer (3,889.5-mile) artificial wall, 359.7-kilometer (223.5-mile) trench and 2,232.5-kilometer (1,387.2-mile) natural barrier. It is composed of 5,723 beacon towers, 7,062 watching towers, 3,357 wall platforms and 1,026 other related ruins. The Great Wall sections in Beijing are mainly left by the Ming Dynasty.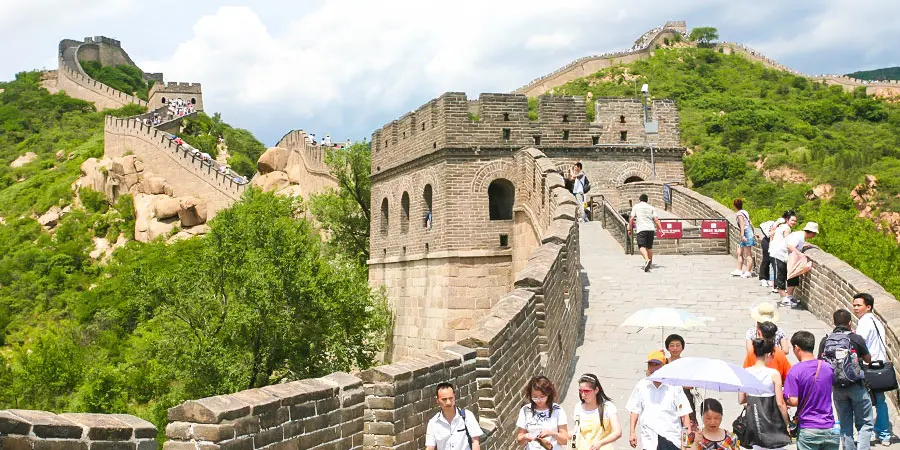 Lengths of Famous Great Wall Sections in Beijing
Total Length - 21,196 kilometers (13,170 miles)
Many ancient dynasties have participated in building the Wall, and many sections are located in remote mountains, grassland or deserts which make the measurement a problem. Thanks to modern measuring techniques, and after a 5-year archaeological survey, the total length has been finally revealed, as 21,196.18 kilometers (13,170.70 miles). The surprising length is more than twice as long as the previous estimates.

The wall relics mainly distribute in 15 provinces and regions, including Beijing, Tianjin, Hebei, Shanxi, Inner Mongolia, Liaoning, Jilin, Heilongjiang, Shandong, Henan, Shaanxi, Gansu, and Qinghai. There are 43,721 relics, including the walls, trenches, towers, and fortresses.

Lengths of Great Wall in Different Dynasties
| Dynasty | Time | Length |
| --- | --- | --- |
| Qi | 1122 – 221 BC | 620 km |
| Chu | 1115 – 223 BC | 500 km |
| Yan | 1122 – 222 BC | 125 km |
| Zhao | 403 – 222 BC | 412 km |
| Wei | 403 – 225 BC | 300 km |
| Qin | 221 – 207 BC | 5,000 km |
| Han | 202 BC – 220 AD | 6,000 km |
| Northern Wei | 386 – 534 | 1,500 km |
| Northern Qi/Sui | 550 – 618 AD | 1,500 km |
| Jin | 1115 – 1234 AD | 1,926 km |
| Ming | 1368 – 1644 AD | 8,851.8 km |
1/3 of the Great Wall has disappeared.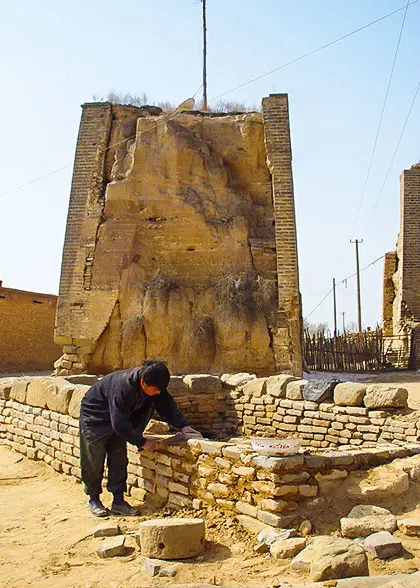 The wall bricks are taken
for private use.
The wall is becoming shorter and shorter day by day due to the natural erosion and human activity. Some people tore down the wall in the name of modern construction, or even took the bricks from the wall for private use. All of these actions brought large damage to the wall and many parts became unrecognizable. The implementation of the Protection Regulation since 2006 stops some human damage, but the length of the Great Wall has been inevitably shortened.

The length of the Great Wall is increasing due to new finds and renovations.
40% of the restoration of Jiankou Great Wall in Beijing is finished by the end of 2016. Hefangkou, Xishuiyu, and many other wild sections are also under renovation, making the wall total longer and longer.

In 2012, a greater than 40-kilometer (24.9-mile) length of Ming Wall was discovered in Jixian County, Tianjin, which is one twentieth of the entire Ming Great Wall. Also in 2012, a 1.3-kilometer (0.8-mile) remnant wall was detected, which belongs to the Northern Qi Dynasty (550 - 577). In 2014, a wall of the Western Han Dynasty (202 BC - 9 AD) measuring 46.585 kilometers (28.95 miles) was found in Ulanqab, Inner Mongolia. In addition, the nine new sections of the Qin Dynasty (221 - 207 BC) were found at the boundary between Ningxia and Gansu in 2015. And around 4-kilometer (2.5-mile) long section was discovered in Liangcheng County, Inner Mongolia in 2017.


How long is the Great Wall of China?


How tall is the Great Wall of China?


Who built the Great Wall of China?


When was the Great Wall of China built?


Why was the Great Wall of China built?


When did the Great Wall become famous?


Can the Great Wall Be Seen from the Space?


Who of the World Leaders Have Visited the Great Wall of China?


Which section to visit?


Which one is better, Badaling or Mutianyu?


How to Get to Great Wall from Shanghai?


How to Get there from Hong Kong?

Further Reading:
Fun Facts about Great Wall: 25 Things You didn't Know
- Last modified on Feb. 04, 2019 -
Questions & Answers on How long is the Great Wall of China?
Asked by Monday Poaiti from NEW ZEALAND | Feb. 21, 2016 19:08

Reply
How long to walk the great wall of China
I thought it takes 9 month
Answers (2)
Answered by Ben from ICELAND | Feb. 22, 2016 01:39

39

23

Reply
It is said that the great wall is about 5,500 miles (8,851 km) long. If you walk 15 miles (25 km) per day, it is roughly estimated that you need one year to cover them all.

Well, I had heard the news that several Singapore monks finished the way in 9 months.
Answered by SharC from USA | Oct. 24, 2017 12:26

8

1

Reply
Wrong. That is just the Beijing portion. The total length of the Great Wall is actually 13,170 Miles
Asked by Zafarullah Malik from PAKISTAN | Dec. 06, 2015 23:01

Reply
The entry to the Great Wall is too steep for senior tourists. Can electric escalator be installed ?
Answers (1)
Answered by Lina | Dec. 07, 2015 01:25

44

18

Reply
I just know the case in Badaling section. At the entry of the wall, there are roads for the disabled, which are quite flat. And the elevator is available near the entry for your convenience. However, the elevator cannot take you to the top of the mountain. To enjoy the wall easily, it is suggested to use cable car~
Asked by Nikiesha Jelly from AUSTRALIA | Aug. 05, 2015 23:22

Reply
people who died building the wall, were they buried with it?
a lot of people are saying they were, but i don't believe it.
Answers (3)
Answered by Amy from ITALY | Aug. 06, 2015 02:19

50

28

Reply
Nikiesha, there are many tales that claim people who died for building the wall were buried in/under the wall. However, I haven't found any historical record regarding of this.
Answered by Andrew from FLORIDA | Jan. 10, 2016 14:03

44

24

Reply
Some builders were buried under the construction
Answered by Tim Lightbowm from ENGLAND | Feb. 04, 2019 15:04

0

0

Reply
Apparently bones of the workers were mixed into the mortar along with roughly 4% sticky rice. This is apparently one reason for the wall being so sturdy.
Asked by Billy Cooper from ISRAEL | May. 28, 2015 23:50

Reply
How significant were the achievements of Qin Shi Huangdi for China?
Answers (1)
Answered by Ivan from INDONESIA | May. 30, 2015 00:45

21

18

Reply
Billy, I think his two biggest achievements are:
1. Unifying China
2. Building the wall

Especially for building the wall, later dynasties followed his steps to extend the wall so that they were not afraid of the invasion from other states.