Jinshanling Great Wall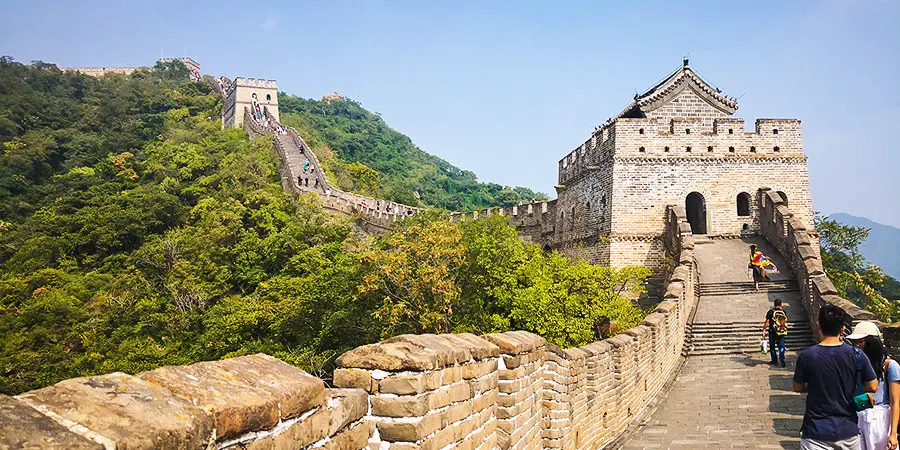 Jinshanling Great Wall, Beijing
Jinshanling Great Wall has been restored for easier climb. Visitors can hike all the way from Jinshanling to Simatai west. The Great Wall at Jinshanling has complete defensive system including barrier walls, battlement walls, watchtowers, gun emplacements, shooting holes, horse blocking walls, and branch cities. It is known as the 'paradise of photographer'. Located about 130 kilometers (80 miles) northeast of Beijing downtown, visitors can take a bus nearby Wangjing West Subway Station to get there.

Basic Facts of Jinshanling Great Wall

It is situated on the Big and Small Jinshanling Mountains, hence its name.

It was constructed under the direction of general Xu Da in 1368 during the Ming Dynasty (1368-1644), and renovated under the supervision of the great general Qi Jiguang and the local governor Tan Lun in 1567.

It zigzags from Longyu Pass in the west, and ends at the Wangjing Tower in the east, with a total length of 10.5 kilometers (6.5 miles), a height of 5 meters (16 feet) to 8 meters (26 feet), and an altitude of 700 meters (2,297 feet) above sea level.

It has 67 watchtowers, 3 beacon towers, and 5 passes. They are densely distributed, at intervals of 50 meters (55 yards) to 100 meters (110 yards).

The watchtowers differ in construction materials, the number of tiers, and the patterns of roofs. Some of them are made of bricks and wood, while others are made of bricks and stone. Some has one storey, while others have two or three. The roofs of the watchtowers also vary, including domes, flat roofs, square ones, and octagonal ones.
Opening Hours
April to October: 6:00 - 18:00
November to March: 7:00 - 17:00
Admission Fee
April to October: CNY 65
November to March: CNY 55
Free for children under 1.2 meters (3.9 feet).
Along this section, there are some sites you should not miss the following sights:
General Tower
Small Jinshan Tower
The Small Jinshan Tower measures 12 meters (13 yards) long, 11 meters (12 yards) wide, and 8 meters (26 feet) high. There is a stone arched door on the east and west side of the tower. There is one shooting hole on the east, four on the north, and three on the west and south. A storehouse is on the upper storey, with two windows and one door.
Big Jinshan Tower
The Big Jinshan Tower is 12 meters (13 yards) long, 8 meters (9 yards) wide, and 36 feet (11 meters) high. The base of the tower is paved with seven tiers of stone slabs. There is a stone arched door on the east and west. There are two shooting holes on the east and on the west of the tower, and four shooting holes on the south and north. A stairway in the east leads northward, which consists of ten brick steps. On the second storey is a delicate storehouse made of bricks and woods. The most striking feature of the Big Jinshan Tower is that the gates are pretty difficult to find.
Bricks with Characters
There are thousands of bricks with characters. The bricks are engraved with the time when they were made and the troops who made them. For example, the characters on a brick read "In the Six Year of the Wanli Period, By the Zhenlu Cavalry Battalion".
Kylin Screen Wall
As a highlight of the architectural art of the Great Wall, the Kylin Screen Wall can be found on the Small Pot Tower (Xiaohu Tower) between the East Five-window Tower and the Three-window Tower. It is a precious screen wall with exquisite relief sculptures. It is made of 15 blue bricks. The Kylin Screen Wall is 2.5 meters (2.7 yards) long, and 2 meters (6.6 feet) high. The kylin is standing on auspicious clouds, with its mouth open and tongue sticking out. It is very vivid and interesting. Because there are no stone stairs leading up to the top of the tower, visitors rarely see the Kylin Screen Wall. Therefore, it is well-preserved. Nowadays, a copy can be found beside Jinshan Gallery inside the scenic area, so that visitors can see the mysterious screen wall easily.
How to Tour Jinshanling Great Wall

There are three gates: the Middle Gate, the Front Gate (West Gate), and the East Gate. Shuttle buses run the routes 'Middle Gate - the core scenic area' and 'Middle Gate - East Gate', and a single trip ticket charges CNY 10 per person.

From November 16th to March 15th, visitors are not allowed to enter from the East Gate and only the Front Gate is available, but they can still exit from the East Gate before 15:00.

The Front Gate is closer to famous watchtowers like General Tower, Small Jinshan Tower and Big Jinshan Tower, hence more popular among visitors.

If you don't want to climb, a cable car is available from the Front Gate to Small Jinshan Tower. A single ride takes about 16 minutes.
Schedule of the Cableway
8:30- 16:30 from April 1 to November 10
Fee of the Cableway
CNY 40 for a single trip
CNY 60 for round-way ticket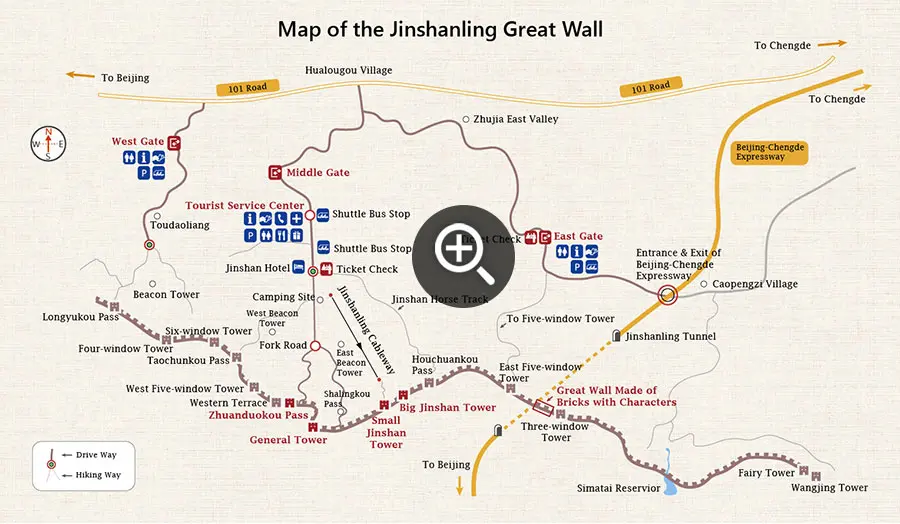 Jinshanling Great Wall Map (Click to enlarge)
Recommended Jinshanling Great Wall Hiking Routes

Route 1: You may hike from Zhuanduokou Pass, via General Tower, to Shalingkou Pass. The distance is about 3km (2 miles) and it takes about 1.5 hours to finish the journey. Afterwards, you can go down the mountain from Shalingkou Pass.

Route 2: You may also start from Zhuanduokou Pass, via General Tower and Shalingkou Pass, to Small Jinshan Tower. After that, you may take a cable car down the mountain. The distance is about 4 km (2.5 miles), and it takes about 2 hours to complete the hiking.

Route 3: Start hiking from Zhuanduokou Pass, via General Tower, Shalingkou Pass, Small and Big Jinshan Towers to Houchuankou Pass. The whole journey is about 5 km (3 miles), and it takes hikers around 3 hours to finish it. After the visit, you may go down the mountain from Jinshan Horse Track.

Route 4: Start hiking from Shalingkou Pass, and go by Small and Big Jinshan Tower, Houchuankou Pass, Eastern Five-window Tower, bricks with characters, and Kylin Screen Wall. Finally, you may go down the mountain and exit through the east gate. The route is about 7km (4 miles), and it takes about 4 hours to complete.
When is the Best Time for a Visit?
The best periods to visit Jinshanling Great Wall are April, May, September and October when the temperature is moderate and the scenery is the most beautiful. One thing to mention is that in early April, the mountains slopes are covered with beautiful apricot flowers in full blossom, making it a sea of apricot flowers. The Apricot Festival is held this time annually.
How to Get To Jinshanling Great Wall from Downtown Beijing

You may take
subway line 13
or
subway line 15
to Wangjing West Station, and then take the bus to Luanping, and get off at Jinshanling Service Area. The bus fare for a single trip is CNY 50, and it takes about 2 hours. Then, take a free shuttle bus to either gate of the scenic area. You can also hike from the Service Area to the scenic area; the distance is about 2 kilometers (1.3 miles).
| Schedule | Onward Trip | Return Trip |
| --- | --- | --- |
| Coach | 6:30-16:00 | 7:00-16:30 |
| Free Shuttle Bus | 10:00, 11:00, 13:00, 15:30 | 10:30, 11:30, 13:30, 15:00 |

Take bus line 980 Express to Miyun County at Dongzhimen Long Distance Bus Station for CNY 17. Afterwards, hire a car and a driver to your destination for CNY 100-200. The schedule of bus line 980 Express is listed below.
| | |
| --- | --- |
| Onward Trip | 6:00- 20:00 |
| Return Trip | 4:30- 18:30 |
Jinshanling Great Wall Marathon
Notably, the Marathon Race is held in late April annually. If you are energetic enough, you may take part in the full marathon, half marathon, or 10km race. It will certainly leave you with a wonderful experience.
See detailed
Great Wall Marathon
Where to Stay and Eat

Inside the scenic area, there is a camp site at the foot of the mountain. But you need to pay for it: CNY 150 for camping and admission fee, or CNY 200 for camping, admission, and tent rental fee. Camping on the Great Wall is not allowed. Alternatively, there are some hotels and farmhouses nearby, where you can stay overnight too.

There are some restaurants near the Front Gate, where you can taste some local delicacies.
Further Reading:
Simatai Great Wall
Jinshanling to Simatai Great Wall Hiking
- Last modified on Jan. 14, 2020 -