Beijing North Railway Station
Beijing North Railway Station is a time-honored station operating high speed trains to Badaling Great Wall and nothern China. It is about 8 kilometers (5 miles) to Tiananmen Square, 10 kilometers (6 miles) to West Railway Station, 11 kilometers (7 miles) from South Railway Station, and 30 kilometers (19 miles) to Capital International Airport.

Address: Next to Xizhimen of Xicheng District


Railway Station See-off Service

Beijing North Railway Station Train Schedule
North Railway Station mainly operates high speed trains to/from Zhangjiakou, Badaling Great Wall, Datong, Hohhot, Baotou, etc.


Major Rail Line from this station to:
See detailed
Beijing Train Schedule
(Last Update on Apr 25, 2023)
To
Trains
Duration
Ticket Fare (CNY)
First/ Second Class Seat

Zhangjiakou

D1023, G2457, G2457, G2459...
52 departures from 06:41 to 20:57
0h48m - 1h31m
CNY 104/ 65
USD 15/ 10

Badaling

D1103, D6703, D1091, D6705...
11 departures from 08:19 to 20:35
0h22m - 0h31m
CNY 29/ 18
USD 4/ 3

Datong

D1103, G2531, D1105, D1107...
15 departures from 08:19 to 20:25
1h46m - 2h45m
CNY 211/ 132
USD 31/ 19

Hohhot East

D1023, G2457, G2457, G2459...
34 departures from 06:41 to 20:57
2h13m - 3h8m
CNY 268/ 175
USD 39/ 26

Baotou

G2491, D1071, D1071, G2493...
12 departures from 08:31 to 18:45
3h18m - 4h14m
CNY 366/ 235
USD 54/ 35

The above schedule is for reference only. For real-time schedule and ticket booking, please click the arrival stations.
Station Plan
The Beijing North Train Station consists of a terminal building and a square in front. The terminal building has six floors above ground and two floors underground.

2F-5F: staff office

1F: waiting hall, ticket office, duty desk, police stand, entrances and exits, platforms

-1F: ticket office, waiting hall, entrances and exits
| | |
| --- | --- |
| Station Building | Underground Entrance |
How to get to Beijing North Railway Station from downtown Beijing

Arrival by bus:
At Xizhimen North (east of the terminal): 375, 438, 632, Te15
At Subway Xizhimen (southwest of the terminal): 16, 26, 87, 305, 375, 438, 651, Te15, Night Bus Line 14
At Suojiafen (northeast of the terminal): 21, 331, 375, 387, 620, 691, 693
At Beixiaguan: 16, 26, 305, 603, Night Bus Line 14
At Yutaoyuan (northeast of the terminal): 27, 44, 80, 331, 347, 604, 618, 620, Te12 (inner line), Night Bus Line 20

Passengers arriving by bus will be dropped off outside the terminal building. The terminal of the station is the building with four red Chinese characters on top of it. Overseas passengers can enter the station directly with the passport, then find the boarding gate for your train in the waiting hall.



Arrival by Subway Line 2, Line 4 or Line 13:
Passengers arriving by subway can leave via exit A1 or A2. Then follow the sign to reach the station entrance.



Arrive by taxi:
| From/ To | Duration (minute) | Cost (CNY) |
| --- | --- | --- |
| Tiananmen Square | 15 | 26 |
| West Railway Station | 20 | 33 |
| Capital Internation Airport | 30 | 100 |
Note: The above duration and cost are for reference only. It excludes delays caused by traffic jams and lights.

If arriving by taxi, you will be dropped off outside the station. If you have already bought the ticket, no matter it is an e-ticket or a paper ticket, please enter the station to find the right waiting room to wait for the departure. Tickets are available at the ticket offices to the east of the ground level waiting hall or at two sides of the underground waiting hall. You can go there to buy one, then enter the station and find a seat in your waiting room according to the ticket information.

Ticket Check and Boarding
A number of check points are available inside the waiting halls. Please find the right check point to have your passport checked. Then go to the platforms by escalators, lifts or stairs to get onboard.

Tips:
1. Read the LED screens carefully to find the right train when arriving at the platforms, because there may be two on the platforms.
2. When boarding, mind your steps because the carriage is higher than the platform.
3. After getting onboard, please put your luggage in the right position, ensuring it won't fall and hurt others when moving.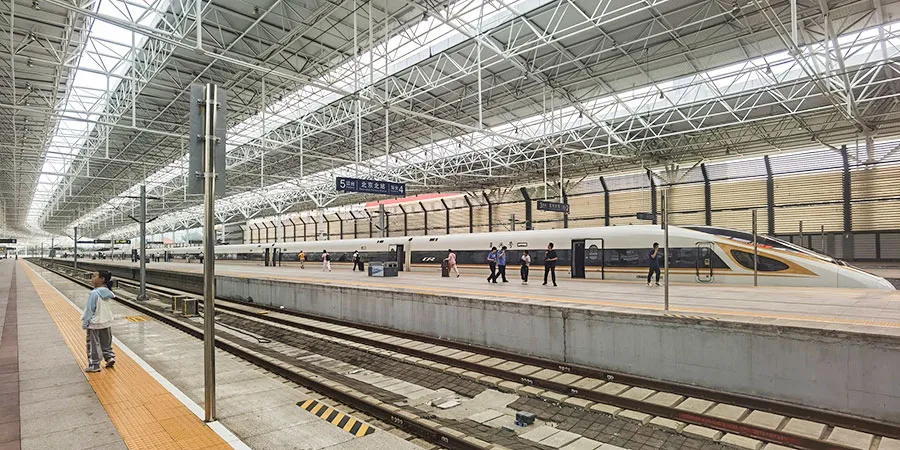 Platform
Upon arrival, passengers can get out the station through exits on 1F, or go down to -1F to exit. LED screen showing the most up-to-date arrival time and stopping platform is available at the exit for the convenience of those meeting passengers. After going through the exit, follow the direction signs to find buses, subway, and taxis to leave the station.



Leave by bus:
Please confirm which bus you are going to take first and then find the boarding sites to the east, southwest, northeast, and southeast of the terminal building.



Leave by subway:
Pay attention to direction signs and you will find the subway easily. There is a passage on -1F leading to the subway entrance.



Leave by taxi:
When arriving, passengers need to go out of the station and walk to the roadside to take taxis. It is very convenient.

How to Get to Other Places from Beijing North Railway Station

Tiananmen Square:
Take subway line 4 at Xizhimen, change to line 1 at Xidan, get off at Tiananmen East and then walk there.



Beijing Railway Station:
Take subway line 2 to get there.



West Station:
Take subway line 4 to National Library, transfer to line 9 to get there;
Take bus 21or 691 at Suojiafen to get there directly.



South Station:
Take subway line 4 to reach it.



East Station:
Take subway line 4 to Xidan first and then change to line 1 to Dawanglu. Afterwards, walk about 900 meters (984 yards) southeastward to the East Station.



Capital International Airport:
Take subway line 2 at Xizhimen, get off at Dongzhimen and change to Airport Express Line to get there.



Daxing International Airport:
Take subway line 4 to Jiaomenxi, then change to subway line 10 and get off at Caoqiao. Finally, take New Airport Line from Caoqiao to Daxing Airport.

Bus and Subway Search

Facilities and Services of Beijing North Train Station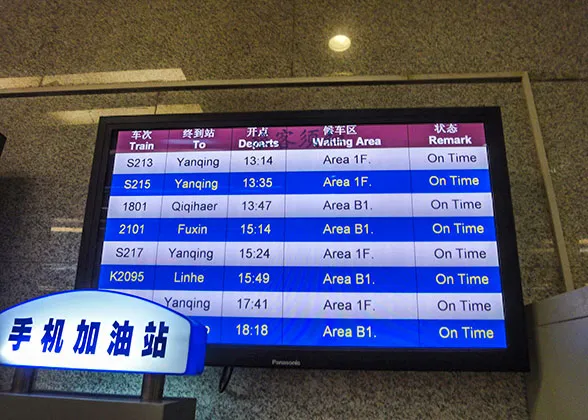 An LED Screen inside the Station

Ticket Offices: They are located inside the terminal building: one to the east of the ground level waiting hall, and two at two sides of the underground waiting hall.



Waiting Hall: Two waiting halls are available in the station. One is in the center of 1F. A special area for the old, weak, sick, disabled, and pregnant is located in its west side. Toilets and hot drinking water are also available in the west of this waiting hall. The other waiting hall is on -1F with entrances in the front middle, and exits at front two sides. Inside the underground waiting hall, there are toilets, hot drinking water, and elevators, etc. on both sides for passengers' convenience.



Left Luggage service: It can be found in the south of ticket office or close to the waiting hall on 1F. It charges CNY20 for each bag per day.



LED screens: LED screens can be found in the station showing departure time, check points, and boarding platforms and arrival times, exits on 1F and -1F.
Print

- Last updated on Apr. 25, 2023 -
Questions & Answers on Beijing North Railway Station
Asked by Pam | May. 06, 2020 17:48

Reply
I heard there are trains from Beijing North Station to Badaling Great Wall
However, cannot find any train on your website. Only option of Qinghe which is far from downtown. Please advise.
Answers (1)
Answered by TravelChinaGuide | May. 08, 2020 19:03

0

0

Reply
Thank you for your inquiry.

There used to be rail service from this North Station to the Great Wall, however, the schedule can be adjusted at any time by Railway Company. For recent dates, there are only trains from Qinghe Station. Sorry for the inconvenience.

Asked by Somphong from THAILAND | Nov. 04, 2019 22:58

Reply
Is the beijing north railway station in operation now?
Answers (2)
Answered by Suzie from SINGAPORE | Nov. 05, 2019 01:06

0

0

Reply
Not yet, I suppose it would be the time when high speed train to Zhangjiakou runs.
Answered by Michael from USA | Jan. 02, 2020 11:55

0

0

Reply
Yes, it's now open. The new high speed train up to Zhangjiakou is now running.
Asked by Veronica from ITALY | Jul. 08, 2019 03:37

Reply
Hi! we looking for a place to leave our luggage for one day.
We arrive at Beijing west in early morning and we would like to go to Summer palace, and I didn't find any luggage storage at Summer palace. So maybe we can stop at North Railway station to leave our luggage for the visit. But I don't understand if the station even if it is in renovation is open (bars, restaurants and luggage service).
Thanks in advance!
Answers (4)
Answered by Carlos | Jul. 10, 2019 04:14

0

0

Reply
Not sure about the North Station, but you can use Beijing West Station. There is left luggage office.
Answered by Veronica from ITALY | Jul. 10, 2019 04:37

0

0

Reply
Yes. I know. But after our visit at summer palace we have to go to our hotel in the centre of Beijing and it would take a lot of time to go back to Beijing west to take our luggage. But if we not find an alternative I think we'll do like you told. Thanks.
Answered by Carlos | Jul. 10, 2019 19:31

0

0

Reply
Where is your hotel? If the hotel is not very far from the West Station, you can consider to left your luggage there first. Most hotel offer this service before and after your checkin.
Answered by veronica from ITALY | Jul. 11, 2019 02:41

0

0

Reply
Yes I know. We've booked an apartment near Dongzhimen...so it's far from Beijing west and Summer palace too. And because is an apartment there is no luggage service before. We've asked to the owner. So after the visit to Summer palace we have to come back to West Beijing Station and then go to Dongzhimen. It's about 2 hours!!!! So please if you know let me know to the answer of the beginning. It could help a lot! thanks!
Asked by art from USA | Jun. 18, 2019 17:33

Reply
Will I be able to pick up train tickets at Beijing North Railway Station in September 2019?
Or has it re-opened by then? Thank you. :)
Answers (4)
Answered by Jada | Jun. 18, 2019 18:30

0

0

Reply
It is not in service yet at this moment, so you cannot collect ticket there. But it back to service this year, it would be fine. It is still not very sure when will it back to service, maybe at end of September or end of the year.
Answered by art from USA | Jun. 19, 2019 04:53

0

0

Reply
At the top of this page it says "But passengers can still buy or collect tickets there." ... that is no longer the case?
Answered by Jada | Jun. 20, 2019 02:28

0

0

Reply
Oh, I did not notice that! So I rechecked about this issue and it seems that it did works. But I only saw that people can buy ticket there. They did not mention about collection, I suppose it should be OK. Ticket change and cancellation cannot work there. The office should work from 8am to 8pm. If you are near there, you can try.
Answered by art from USA | Jun. 20, 2019 06:13

0

0

Reply
Thank you Jada
Asked by Geoff from NZ | Jul. 24, 2018 00:11

Reply
2018 - is it open yet?
Answers (1)
Answered by Jessie | Jul. 24, 2018 02:33

0

0

Reply
no, it would be in 2019