China Train Travel - A Beginner's Guide
In China, train has been the top choice for more and more passengers traveling from one city to another, benefiting from the dense railway network, high running speed, reasonable ticket price, and modern facilities. For a first-time traveler to China, a train ride should also be on their travel list. But for a beginner, the Chinese train system may not be too friendly. Below are guides for beginners to have a smooth and memorable train trip in China.

What are China trains like?
Generally, there are two kinds of trains running in China:
1.
High speed trains
, also called bullet trains at a highest speed of 350 km/h (217 mph). They are white or grey with bullet locomotives, titled G/D/C. They are mostly running in daytime with business class seats, first class seats and second class seats. A few also run overnight with sleepers. They are the first choice for most travelers.
2. Traditional style trains are numbered as Z/T/K/Y/L or just digits. The fastest Z trains only have a top speed of 160 km/h (99 mph), so they are not as popular as the high speed ones. But those running overnight are popular among budget travelers. Most are equipped with sleepers.

Guides on How to Choose China Train Ticket Types

More
China Train Pictures
What China trains are available for my trip?
You can easily check the train schedule by entering the departure city, destination and date even if you are a beginner. The search results are in English; carefully pick one meeting your China train travel demands.


Select seats for free
Reschedule for Free
Delivery service to your hotel
One-to-one service in English
24/7 customer support
2,500+ 5-star reviews on TripAdvisor
There are several ways to buy a China train ticket: book on the official website of China Railway Corporation, buy from the railway stations or ticket outlets, or call the hotline… However, considering the language barrier, the most convenient way for a beginner is to purchase it from a reliable agency like TravelChinaGuide.

4 Tips on Buying China Train Tickets as A Beginner
1. If booking China train tickets online, one will get an e-ticket and need to collect the paper ticket before getting onboard at the railway station.
2. If purchasing at railway stations or ticket outlets on your own, learn some Chinese phrases for train travel. Not all railway staff speak English.
4. To guarantee a smooth a trip, you are strongly advised to book the ticket in advance, especially when traveling by China train during holidays. The tickets are available 30 days prior online and 28 days prior offline.

Preparation Work before Boarding
a. Do not forget your passport and paper ticket if it is already in hand.
b. Take some food and drinks; or buy them onboard at a higher price.

See Food on China Trains
c.
Take some toilet paper; it's available only on high speed trains but runs out quickly.

Check
facilities on China trains
to see if you need to pack more.
Travel light and do not take too much luggage. There are restrictions on luggage weight in China. Each adult is allowed to take a maximum of 20 kg (44 pounds) of luggage.

See more
China Train Baggage Allowance
2. Learn the Hotel – Railway Station Transportation
Including that from your hotel to the departure station and from arrival station to the next hotel. Calculate the time needed on the way, especially that from your hotel to the departure station.

Book
China Train Station Transfer Service
for an easy trip
This will help you find the entrance, waiting hall, platform and exit more easily.
1. Passport and ticket check, and security check at the entrance;
2. Go to the right waiting room and wait for boarding;
4. Follow fellow passengers to your platform;
5.
Find your carriage and get onboard;
6. Find your seat/ sleeper and store your luggage;

See Luggage Space
8. Upon arrival, follow the signs to the exit.
8 Steps to Take China Trains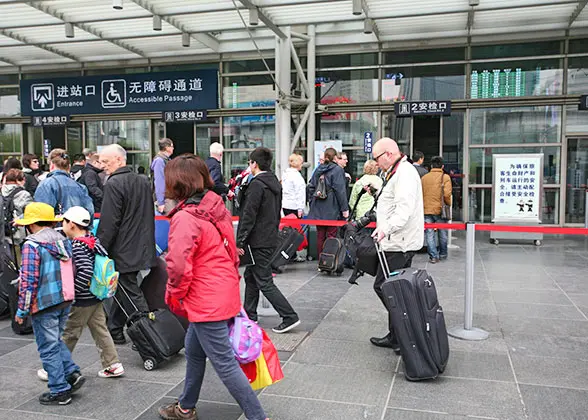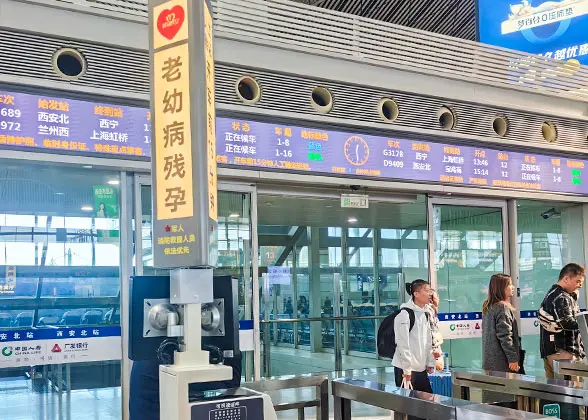 What if I cannot make the trip after buying the ticket?
You can refund the ticket or change the ticket to another departure day. A service fee may be charged. Usually, the earlier you submit the refund/ change, the less you lose.

You can reclaim it from the railway staff and only the service fee of CNY 2 will be charged.
- Last modified on Aug. 27, 2019 -
Questions & Answers on China Train Travel - A Beginner's Guide
Asked by Brice from SINGAPORE | Nov. 12, 2019 04:29

Reply
Hi there, i'd like to take the train from Kunming to Zhengzhou with my bicycle
Is the bicycle allowed on the train and how do i check it in?

Thanks in advance to all.
Asked by Lynda-Jane Dalton from AUSTRALIA | Oct. 22, 2019 07:19

Reply
Luggage restrictions for aerosol?
Can you have aerosol deodorant spray in your luggage?
Answers (1)
Answered by Parker | Oct. 24, 2019 01:37

0

0

Reply
the container should be within 120cm. It is not a good idea to take more that that, very risky as I found that they do not follow the same rules. Sometimes they have there own "station rules", so some of them may let you go and some of them will stop you even under same situation.
Asked by Pat from UNITED KINGDOM | Aug. 27, 2019 11:01

Reply
Bullet Train luggage
I will be travelling from Beijing to Xi'an by bullet train with an organised group, so transfers have been arranged. Will I be able to have a smallish rucksack and handbag in addition to my 20kg case?
Also as I have not booked the ticket myself, can I still use the Red Cap luggage service? If so how do I book this without my ticket for reference - I do know which train and time it is.
Many thanks
Answers (1)
Answered by Naylor from USA | Aug. 27, 2019 18:06

0

0

Reply
It should be no problem to take extra luggage with you, the station do not check the weight. As for Red Cap, it may not able to book it in advance. You may need to find one at station after your arrival there.
Asked by Sharon from USA | Jul. 25, 2019 08:11

Reply
Trains from Beijing to Xi'an
I'm wondering if there are hotels near the Beijing airport that can arrange transportation to the train station?

Answers (5)
Answered by Buster from AUSTRIA | Jul. 25, 2019 18:45

0

0

Reply
Maybe it is more direct to use airport's shuttle bus. There are shuttle bus to Beijing West Station from the airport.
Answered by Sharon from USA | Jul. 26, 2019 10:19

0

0

Reply
Thank you Buster from AUSTRIA...I've flown from Beijing to Xi'an, but really want to take the high speed train.
Answered by Buster from AUSTRIA | Jul. 27, 2019 00:38

0

0

Reply
I mean from Beijing airport to Beijing west station, you can take airport shuttle bus.
Answered by Sharon from USA | Jul. 27, 2019 05:46

0

0

Reply
Which terminal in Beijing airport is the shuttle bus?

Answered by Buster from AUSTRIA | Jul. 31, 2019 19:39

0

0

Reply
Shuttle bus should have stop at each terminal
Asked by Grant from USA | Jun. 26, 2019 11:39

Reply
I am taking an early bullet train from Beijing to Xi'an (G89 at 6:53am).
My departure station is Beijing West Rail Station. Because it's an early departure and I plan to take the subway there and arrive around 6:00AM... Can I get my paper ticket a day or two earlier at Beijing Station (Dongcheng) which is closer to my hotel so that I can avoid the ticket line at Beijing West Rail Station the day of my trip. Will this be enough time??
Answers (1)
Answered by Kyler from AUSTRALIA | Jun. 28, 2019 04:02

0

0

Reply
This is very good option. You can collect paper ticket in advance from another station. If you will have paper ticket, 40min at station would surely work. Your plan by subway is workable.