China Train Travel - A Beginner's Guide
In China, train has been the top choice for more and more passengers traveling from one city to another, benefiting from the dense railway network, high running speed, reasonable ticket price, and modern facilities. For a first-time traveler to China, a train ride should also be on their travel list. But for a beginner, the Chinese train system may not be too friendly. Below are guides for beginners to have a smooth and memorable train trip in China.

What are China trains like?
Generally, there are two kinds of trains running in China:
1.
High speed trains
, also called bullet trains at a highest speed of 350 km/h (217 mph). They are white or grey with bullet locomotives, titled G/D/C. They are mostly running in daytime with business class seats, first class seats and second class seats. A few also run overnight with sleepers. They are the first choice for most travelers.
2. Traditional style trains are numbered as Z/T/K/Y/L or just digits. The fastest Z trains only have a top speed of 160 km/h (99 mph), so they are not as popular as the high speed ones. But those running overnight are popular among budget travelers. Most are equipped with sleepers.

Guides on How to Choose China Train Ticket Types

More
China Train Pictures
What China trains are available for my trip?
You can easily check the train schedule by entering the departure city, destination and date even if you are a beginner. The search results are in English; carefully pick one meeting your China train travel demands.


Select seats for free
Reschedule for Free
One-to-one service in English
24/7 customer support
3,000+ 5-star reviews on TripAdvisor
There are several ways to buy a China train ticket: book on the official website of China Railway Corporation, buy from the railway stations or ticket outlets, or call the hotline… However, considering the language barrier, the most convenient way for a beginner is to purchase it from a reliable agency like TravelChinaGuide.

3 Tips on Buying China Train Tickets as A Beginner
1. If booking China train tickets online, one will get an e-ticket and there is no need to collect the paper ticket. Passengers can enter the station and get onboard with the passport used for booking.
2. If purchasing at railway stations or ticket outlets on your own, learn some Chinese phrases for train travel. Not all railway staff speak English.
Preparation Work before Boarding
a. Do not forget your passport and paper ticket if it is already in hand.
b. Take some food and drinks; or buy them onboard at a higher price.

See Food on China Trains
c.
Take some toilet paper; it's available only on high speed trains but runs out quickly.

Check
facilities on China trains
to see if you need to pack more.
Travel light and do not take too much luggage. There are restrictions on luggage weight in China. Each adult is allowed to take a maximum of 20 kg (44 pounds) of luggage.

See more
China Train Baggage Allowance
2. Learn the Hotel – Railway Station Transportation
Including that from your hotel to the departure station and from arrival station to the next hotel. Calculate the time needed on the way, especially that from your hotel to the departure station.

Book
China Train Station Transfer Service
for an easy trip
This will help you find the entrance, waiting hall, platform and exit more easily.
1. Passport and ticket check, and security check at the entrance;
2. Go to the right waiting room and wait for boarding;
4. Follow fellow passengers to your platform;
5.
Find your carriage and get onboard;
6. Find your seat/ sleeper and store your luggage;

See Luggage Space
8. Upon arrival, follow the signs to the exit.
8 Steps to Take China Trains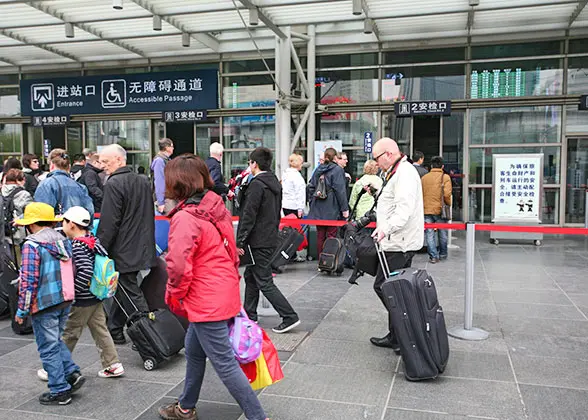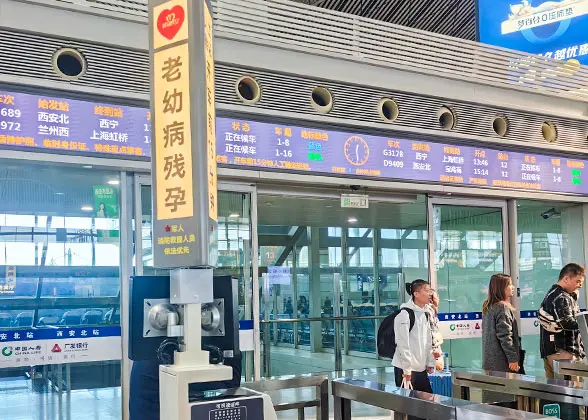 What if I cannot make the trip after buying the ticket?
You can refund the ticket or change the ticket to another departure day. A service fee may be charged. Usually, the earlier you submit the refund/ change, the less you lose.

You can still take the train with your passport used for purchasing the ticket. However, the paper ticket cannot be reclaimed for reimbursement or other purposes.
- Last updated on Aug. 10, 2023 by Catherine He -
Questions & Answers on China Train Travel - A Beginner's Guide
Asked by Helen from SINGAPORE | Sep. 23, 2023 18:58

Reply
Beijing City centre to Huairou North Railway Station
Please advise which Beijing station to train up to Huairou North Station ( heading to a homestay address: 北京市怀柔区渤海镇北沟村30号(跃桐农家院).
My travel date is on Christmas Day 25 Dec 2023.
Please send the link for online purchase. Thank you for your time.
Answers (1)
Answered by Olivia | Sep. 25, 2023 20:09

0

0

Reply
You may take a train from Beijing Railway Station or Qinghe Railway Station in downtown to Huairou North Railway Station. FYI: Huairou North Railway Station is still about 28km away from the Home Stay.

If you still plan to travel by train, you may book a ticket here: www.travelchinaguide.com/china-trains/
Asked by CAY from MALAYSIA | Aug. 09, 2023 23:55

Reply
Train Station
I plan to go Guangzhou from Hong kong then to Shenzhen then back to Guangzhou and return to Hong Kong from Guangzhou. Where is the high speed bullet train stop in Guangzhou, East or South. Train to Hong kong from Gunagzhou East or South Railway Station?
Answers (1)
Answered by Alex | Aug. 10, 2023 20:53

0

0

Reply
Some bullet trains from HK stop at Guangzhou South, while some at Guangzhou East. As for the returning trains, they are available at both Guangzhou South and Guangzhou East, too. You can search for the real-time schedule and revolved stations on this website.
Asked by Jamin Tao from CANADA | Jul. 15, 2023 20:23

Reply
Can I buy speed train tickets 3 months in advance?
We plan to travel back to Hong Kong from Chongqing on November 10, 2023 by high speed train. When is the earliest time I can purchase the tickets? I see the train schedule listing only one train G319 on that date, how likely
that the train may delay or cancel? I have to get back to Hong Kong on November 10 to catch a flight abroad on Nov. 11. Do you know how reliable is the speed train time schedule? Thank you.
Answers (1)
Answered by Emma | Jul. 16, 2023 20:36

0

0

Reply
Generally, the earliest ticket issue time is 15 days before the departure date. However, you can book tickets through TravelChinaGuide at any time and they will grab tickets for you as soon as the tickets are released. The time schedule of the high speed train is very reliable and it hardly delays or cancels.
Asked by FrankTsai from USA | Jun. 11, 2023 17:15

Reply
Do you have rail pass for unlimited travel within one month to one year? like the Europass
Answers (1)
Answered by Jenny | Jun. 12, 2023 01:49

0

0

Reply
No, there is no such train pass allowing unlimited rides. But there are those allowing certain 20, 60 or other rides within 30, 90 or other days on a fixed route. It is popular among those traveling frequently between two cities.
Asked by Holly from UNITED STATES | Mar. 01, 2023 20:58

Reply
Train tickets
Can you buy a monthly train pass ? Do they have year train passes?
Answers (1)
Answered by Kathy | Mar. 05, 2023 17:52

0

0

Reply
Yes, on some routes, the monthly pass, and 90-day pass containing 20 rides have been adopted.