Train Travel in China during Holidays
During holidays, the China railway system is busier than usual with more passengers. This can make the railway stations and train carriages rather crowded and may lead to unpleasant train travel.
Thus, it is recommended that foreigners NOT travel by train in China during the Chinese holidays.
If you must travel at this time, the following tips will help to make your travel smoother:
Holiday Calendar and Influences on Train Travel
Festival
Date
2018 Days off
Influences
New Year's Day
Jan.1
Dec. 30, 2017 -
Jan. 1, 2018
More passengers for short-distance rail rides
Chinese New Year
Jan.1 of
lunar calendar;
Feb. 16, 2018
Feb. 15 - 21
Crowded passengers for both long-distance and short-distance rail rides;
The situation usually begins 25 days before the Chinese New Year and ends 15 days after, known as Spring Festival Rush.
Qingming Festival
Apr. 4 or 5;
Apr. 5 in 2018
Apr. 5 - 7
More passengers for short-distance rail rides
May Day
May 1
Apr. 29 - May 1
Dragon Boat Festival
May. 5 of
lunar calendar;
Jun. 18 in 2018
Jun. 16 - 18
Summer Holiday
July-early Sep.
July-early Sep.
More passengers for long-distance rail rides;
Increasing passengers are mainly university students going between hometowns and schools
Mid-Autumn Festival
Aug. 15 of
lunar calendar;
Sep. 24 in 2018
Sep. 22 - 24
More passengers for short-distance rail rides
National Day
Oct. 1
Oct. 1 - 7
Crowded passengers for both long-distance and short-distance rail rides;
the situation lasts from Oct.1 to Oct.7

Detailed 2018 / 2019 / 2020 China Public Holiday Calendar
| | |
| --- | --- |
| Xian Railway Station during Summer Holiday | A Waiting Hall during Chinese New Year |
Top 10 Train Travel Tips on China Holidays
Try to Avoid Holidays
If you can't avoid the holiday time, please purchase tickets as early as possible. Railway tickets are usually available 30 days prior to the departure date. It is easier if you use a booking agency. In that case, place your order more than 30 days in advance.
Be Careful of Fake Tickets
During the holidays, some illegal traders sell fake tickets on phishing sites and around railway stations. Not only will you lose your money, but this may also ruin your trip. To avoid this, buy tickets from ticket offices at railway stations, the official website, or more conveniently, a legal and reliable agency like TravelChinaGuide.com.


See details of How to Buy Train Tickets
Keep an Eye on Last Minute Ticket Availability
If you fail to get a ticket in advance, check the most up-to-date ticket availability every now and then. Sometime passengers return tickets a few days before departure (known as "refund tide") and the tickets are placed on sale again. Also, some trains may be temporarily added to relieve the transportation pressure, thus providing more tickets.

Avoid Temporary Trains if Possible
Compared with the regularly scheduled trains, those added temporarily are not as well equipped, run at lower speeds, and take longer to reach destinations.

High Speed Trains Advantage
In addition to the high speed and clean and spacious carriages, the high-speed trains usually depart from newly-built modern stations with better air and environment, and more importantly, they are less crowded.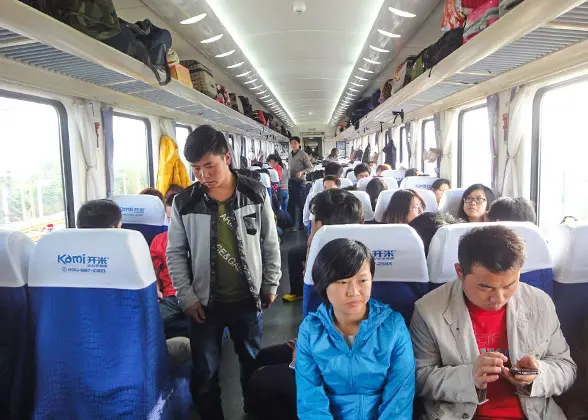 A Hard Seat Carriage Filled with Passengers
Stay away from Hard Seat Carriages
The least comfortable way to travel is in a hard seat carriage. Many passengers are squeezed in with standing room only tickets. The aisles, sometimes even the washrooms, are filled with passengers and luggage; at these times it is difficult to move around, let alone get to the toilet.


See details of Train Ticket Types

The Dining Car is a Good Place to Escape from the Noisy and Crowded Carriages.
Make an order and you can enjoy a meal quietly. You can also order a cup of drink and they should not drive you out until you finish it. However, the dining car sometimes may be used as a regular carriage and the staff there may charge you additionally.
Keep an Eye on the Real-time Schedule
It is very possible that the arrival/departure times may be delayed during the holidays because of the busy traffic flow along rail lines or due to foul weather, in winter or summer, such as heavy snow, rainstorm, landslide or typhoon. Prepare some food and water for the trip in advance.

Get to Railway Station Earlier than Usual
If you already have a ticket, please arrive at the station at least an hour before departure. If you have booked online and need to pick up a ticket, plan to get there at least 1.5 hours before departure and be prepared for long lines.


See details of How to Collect a Ticket

Travel Light and Keep an Eye on Your Luggage
Please try to simplify your luggage. After getting onboard, try to put the luggage where you can see it to be sure it is not mistaken by other passengers or stolen by thieves. If possible, travel with friends or family and ask them to take care of your luggage when you must leave. Always keep your valuables with you and do not display them to strangers.


See details of Luggage Space



Further Reading:


China Train Travel Tips


Facts on China Train Travel - A Beginner's Guide