Spring Festival Travel Rush in China

The 2019 Spring Festival Travel Rush is from January 21 to March 1, when train tickets will be under great demand. TravelChinaGuide recommends you to avoid traveling to China during the period or book the tickets as early as possible.
What is Spring Festival Travel Rush?
The Spring Festival Travel Rush, also known as Chunyun and Chunyun Migration in Chinese, or Chinese New Year Travel Rush, Lunar New Year Travel Rush is the largest human migration on earth happening annually. It usually begins 15 days ahead of the Chinese New Year and 25 days after, lasting for 40 days. The Chunyun 2019 lasts from January 21 to March 1. During the Spring Festival Rush, China, especially its railway system, faces an extremely high traffic load, which results in great difficulties to obtain a ticket, crowded railway stations and train carriages…



2019 / 2020 / 2021 China Public Holiday Calendar for your reference

What are the reasons of Chunyun?
Millions of people working or studying out of their hometowns will be hurrying home to reunite with families as the Chinese New Year (Spring Festival) approaches. This long-held tradition is the main reason for the rush. The other is that the holiday is one of the two week-long holidays of the year, a perfect travel time for many people.

Traveling by Train during Spring Festival Travel Rush
Try not to travel by train during the Chinese Spring Festival. If have to, below are some tips for you to avoid troubles:

Buy tickets as early as possible
If your China tour is happen to be arranged during the Chinese Lunar New Year, you had better make early plan and contact a travel agency or ticket agency to book ticket for you.

To book the ticket on your own, you have to be in China, know some Chinese, and also have a Chinese bank card that supports online payment if booking through internet. Now a ticket can be bought through internet and telephone 30 days in advance and 28 days prior to departure at stations or some ticket windows in towns and cities; due to adoption of real-name ticket policy and identity verification, some ticket outlets in downtown are unable to issue tickets for foreign/ Hong Kong/ Macau/ Taiwan passengers. For detailed methods of booking a ticket, read How to Buy Tickets and How to Buy Tickets Online.

Please note that if you book through internet, you just need to pick up your ticket before departure at stations by showing your valid ID certificate, usually passport. During the Spring Festival Rush, there are more chances to get a ticket through internet than purchasing at stations or ticket windows.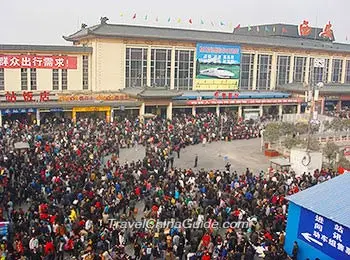 Reach the station at least 1.5 hours prior for boarding process
During the Chinese New Year Travel Rush, the steps of taking a train will take longer time as everywhere of railway stations are crowded with people, so you are advised to get to the station at least 1.5 hours prior to departure. Most stations will set temporary waiting rooms outside of station halls and air-condition and heat are not available, so remember to wear warm clothes as most cities in China are cold during Spring Festival.

Travel light & take care of your luggage
Avoid taking heavy luggage as it will be inconvenient for you waiting in lines to enter the station hall, check in, and get onboard. Also, take good care of your luggage when you are in the crowd. After you get into your carriage, keep your luggage in sight or put it under your lower berth, and try not to expose your personal information to strangers.

Upon arrival, get to your hotel by official transport
Do no throw away your ticket after arriving at your destination, as the ticket carries your personal information. When you get out of a station, ignore the "kind-hearted" venders and take official taxies or buses to your hotel.

| | |
| --- | --- |
| Long Queues in the Booking Office | Crowded Waiting Hall of Xi'an Railway Station |
Railway Passenger Figures during Spring Festival Rush
| Year | Passengers Volume (million) | Growth (%) |
| --- | --- | --- |
| 2018 (February 1st - March 12th) | 382 | 6.8 |
| 2017 (January 13th - February 21st) | 357 | 10.1 |
| 2016 (January 24th - March 3rd) | 325 | 10.2 |
| 2015 (February 4th - March 15th) | 295 | 10.4 |
| 2014 (January 16th - February 24th) | 266 | 12 |
| 2013 (January 26th - March 6th) | 240 | 12.1 |

Further Reading:
Train Travel in China during Holidays
Passenger Rail Transport in China
China Train Travel - A Beginner's Guide
- Last modified on Dec. 09, 2018 -
Questions & Answers on Spring Festival Travel Rush in China
Asked by Siti Rochisah from INDONESIA | Dec. 09, 2018 19:39

Reply
When the Spring Festival Rush Ended?
I plan to have my visit during mid March till end of march, is it still in Spring Festival Rush period?

Answers (1)
Answered by Mr. Simensen from COLOMBIA | Dec. 09, 2018 23:51

0

0

Reply
Haha, you also know this rush? I checked, it will be end around Mar 1. This should be a good news for you.
Asked by Roger Doyle from UK | May. 01, 2018 04:51

Reply
Train travel in January 2019
I hope to go to the Harbin Ice Festival in January 2019 then travel south from Beijing ending up in Hong Kong about the 25th of January. Are there likely to be any problems getting train tickets through your agency for travel before the 25th?
Answers (1)
Answered by Glen | May. 01, 2018 23:01

0

0

Reply
In fact the ticket from Beijing to Harbin is indeed hard to get during that Ice Festival time. The new year holiday is from Feb 04, but the peak season will start in advance and last around 45 days in total. So your travel date may still under some influence. If you decide to travel during these days, it would be better if you can prepare some back up trains and seat class etc so that you got bigger chance.
Asked by John Smith from USA | Feb. 13, 2018 04:54

Reply
Beijing subway
Is the subway fully operational on New Year's Day (Fri, 16 Feb)? I arrive at 5.30pm and want to take the subway from the airport to my hotel. Is this going to be possible?
Answers (1)
Answered by Alonso | Feb. 13, 2018 18:18

1

0

Reply
Yes, the subway lines are on operation during holiday time.
Asked by Sarojo from INDONESIA | Nov. 19, 2017 08:06

Reply
Traveling during Spring Festival Rush
I will arive in Beijing on 31 January 2018 at 17.00
IS THERE ANY POSSIBILITY TO TAKE SUB WAY TO XINTIANDI HOTEL BEIJING DURING THIS RUSH DAY?
Do I have to take Privat transport ?
Thanks
Answers (1)
Answered by Hallie from USA | Nov. 19, 2017 21:18

2

0

Reply
Do you refer to the one at Wangfujin? If yes, it is near Wangfujin subway station, you can use subway to reach there. During the rushing time around 5pm, the subway can be crowded. If you find it too crowded to use, you can change to a taxi as well.
Asked by Voyger from USA | Oct. 15, 2017 08:20

Reply
Train tickets during Spring Festival Travel Rush
Hi, if I book Spring Festival ticket two months ahead through your website, would that be early enough to be guaranteed? If not, how early should it be. Thanks.
Answers (1)
Answered by Padro from MALAYSIA | Oct. 15, 2017 20:01

1

0

Reply
Well, for this rush time, the ticket is hard to be guaranteed. In fact, at this time, the tickets only begin for sale 30 days within departure date, so even if you book them months in advance, they can only possiblely be issued after the sale date. Before the final issuing, the ticket is not a confirmed status. If you cannot avoid these travel date, it would be better to have more back up options in case your first choice are not available.