Mid-Autumn Festival – Chinese Moon Festival and Second Grandest Festival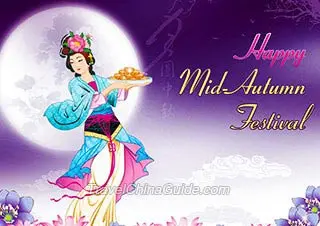 | | |
| --- | --- |
| English: | Mid-Autumn Day, Moon Festival, Mooncake Festival, Autumn Moon Festival |
| Chinese: | 中秋节 zhōng qiū jié |
| Date: | 15th day of 8th lunar month; Sep. 21, 2021; Sep. 10, 2022 |
| Holiday: | 3 days or 8 days if falling within Oct.1-7 |
| Observed by: | All Chinese people; people in some other Asian countries like Korea, Japan, Vietnam, Malaysia & Singapore. |
Mid-Autumn Festival, or Mid-autumn Day, is the second grandest festival in China after the Chinese New Year. It is named so for that it is celebrated on the 15th day of the 8th lunar month, which is always in the middle of the autumn season in China.

Chinese Moon Festival
The day is also known as the Moon Festival, as at that time of the year the moon is believed to be at its fullest and brightest and Chinese always worship the moon and appreciate the full moon on that day.

Time for Family Reunion
In Chinese culture, full moon symbolizes reunion, so that they reunite with their families for celebrations. They worship the moon together, appreciate the moon together, enjoy reunion dinner and even share one mooncake to celebrate the reunion.

Read more:
11 Mid-Autumn Festival Facts You Should Know
10 Unexpected Fun Facts about Mid-Autumn Festival You don't Know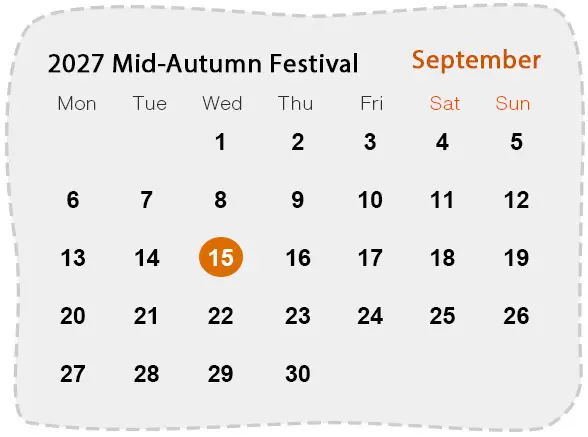 2021
2022
2023
Chinese Mid-Autumn Festival is celebrated on the 15th day of 8th month in Chinese lunar calendar. In Gregorian calendar, it usually falls in September or early October.

People in mainland China enjoy one day off on the festival day which is usually connected with the weekend to be a 3-day holiday. If it falls within October 1th - 7th, the holiday will be 8 days long, celebrated together with Chinese National Day.

In Hong Kong and Macau, people also enjoy one day off. However, it is not scheduled on the festival day, but the following day and it is usually not connected with the weekend. In Taiwan, the one day holiday falls on the festival day.
Year

Date

Holiday

2020

Oct. 1

Oct. 1


It is within the National Day holiday from Oct. 1 to 7 and will prolong the holiday to Oct. 8.
2021
Sep. 21
Sep. 19 - 21
2022
Sep. 10
Sep. 10 - 12
2023
Sep. 29
Sep. 29
2024
Sep. 17
Sep. 15 - 17
2025

Oct. 6

Oct. 6




It is within the National Day holiday from Oct. 1 to 7 and will prolong the holiday to Oct. 8.
How do Chinese celebrate the Mid-Autumn Festival? – Top Activities & Traditions
This is the most popular Mid-Autumn Festival activity. Mooncakes are cookies with various fillings like nuts, read bean paste, lotus root paste, egg yolk, meat, and fruit, etc. They are usually round to symbolize the full moon and family reunion.

Read more:
Appreciate the Full Moon
In traditional Chinese culture, the moon on the festival night is believed to be the fullest and brightest of the whole year, symbolizing family reunion. Even a family member is not home, he or she is appreciating the same moon with other families, seeming like they are together.



Read more Chinese Moon Festivals to Celebrate the Full Moon

Worship the Moon
This tradition has been 3,000 years old. On the night, people set a table with mooncakes and other sacrifices towards the moon, make wishes, offer incense and kowtow to the moon. Afterwards, the families will share the sacrifices.

Enjoy family reunion dinner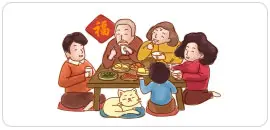 During the festival, all families try their best to go home and enjoy a big feast. In addition to mooncakes, other popular dishes for the reunion dinner include osmanthus cake, osmanthus wine, crab, duck, taro, and pumpkin.



Read more: Mid-Autumn Festival Food in China - Top 10 Dishes You Must Try

Drink Osmanthus Wine
Around the festival, the Osmanthus is always in full blossom, making it a good time to make and drink osmanthus wine. It is light yellow with strong osmanthus fragrance and grape similar flavor, tasting sweet, sour and soft.

Make and Hang Festival Lanterns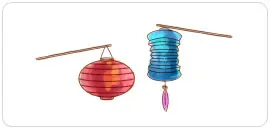 This is an activity popular in Guangdong and Hong Kong areas, favored especially by kids. In other places of China, people also set Kongming lanterns to make best wishes.



Read more: Why Chinese make Mid-Autumn Festival lanterns?

Other traditions to celebrate the Mid-Autumn Festival include fire dragon dance popular in Hong Kong, playing Lord Rabbit in Beijing, and watching Qiantang River Tide in Hangzhou, etc.



Read more:
The top places are usually the best sites to appreciate the full moon, like waterside Shichahai and Beihai Park in Beijing, and West Lake in Hangzhou, where the full moon reflects clearly over the water; and high places such as World Financial Center and Jinmao Tower in Shanghai, and the top of Yellow Mountain, where one can gets closest to the moon. The ancient sites like City Wall in Xi'an are also great places to go, where many traditional ways of celebration are held.

How to Greet Each Other for Mid-Autumn Festival
| 中秋节快乐 | zhōng qiū jié kuài lè | Happy Mid-Autumn Festival! |
| --- | --- | --- |

Send Mid-autumn Festival Greeting Cards

Why do we celebrate the Moon Festival? The festival was originated from the moon worship to celebrate the harvest in autumn season about 3,000 years ago. About 1,800 to 2,200 years ago, the word "Mid-autumn" was started to be used to record the festival. Since 1,100 to 1,400 years ago, mooncake has been widely eaten on the festival date. In the Northern Song Dynasty about 900 to 1,000 years ago, the 15th day of 8th lunar month was finally set as the official festival date. Later, the festival became more and more popular and was celebrated national wide.

Story & Legend
As the Mid-Autumn Festival was originally derived from the worship of the moon god, many interesting stories and legends are told and spread among folklore explaining the purpose of the worship. The most famous one is the 'Chang E Flying to the Moon'. The legend goes like this:

Chang E's husband, Hou Yi was rewarded the elixir of immortality for shooting down the extra nine suns which tortured people a lot. But he would not like become immortal alone and left his wife to live in the heaven, so he gave the elixir to Chang E to keep it well. Unfortunately, one of Hou Yi's followers got to know it. One a 15th day of the 8th lunar month when Hou Yi went out hunting, that follower sneaked into Hou Yi and Cheng E's home and forced Chang E to handed over the elixir. Unhelpfully, Chang E ate the elixir, became an immortal and uncontrollably left the earth for the heaven. As she didn't want to leave her husband, she flew to the moon, the closest place to the earth in the heaven. Hou Yi, in hope of reunion, presented the mooncakes on every 15th day of the 8th lunar month since then.



Read more: 6 Most Well-Known Legends about Mid-Autumn Festival

Where is the Mid-Autumn Festival Celebrated outside China?
Due to frequent communications with China and migrations of Chinese people, Mid-Autumn Festival has become popular in other parts of the world, especially neighboring Asian countries. In addition to some shared customs, they add their own ways of celebration. For instance, in Korea, families also reunite, but their representative festival food is Songpyeon, a kind of stuffed rice cake instead of moon cake; in Japan, in addition to worshipping the moon and appreciating the full moon, house wives like to decorate their homes with flowers and pampas grass; in Vietnam, it is more like children's day in spite of eating mooncakes.



Read more: Mid-Autumn Festival in other Asian Countries: Korea, Japan, Singapore, Malaysia, Vietnam...
- Last modified on Apr. 05, 2021 -
Questions & Answers on Mid-Autumn Festival
Asked by Ming from TAIWAN | Sep. 09, 2019 14:19

Reply
Why does a "mid-autumn" celebration take place during summer?
If it's supposed to be celebrated in the middle of autumn (northern hemisphere), then why are the dates listed during summer? Summer doesn't end until September 22-23 (23rd this year).
Answers (4)
Answered by Jack from CANADA | Sep. 09, 2019 19:52

0

0

Reply
August is always the harvest season. People held a series of ceremonies to thank God's protection. The celebration is called the 'Zhong Qiu'. In the mid-autumn festival, the temperature is getting colder and colder. Generally speaking, it is the best season to watch the moon. Therefore, the content of the festival was gradually replaced by watching the moon.
Answered by Teddy from CHINA | Sep. 13, 2019 08:42

0

0

Reply
lunar calendar~All the Chinese traditional festivals are based on this, even the birth date
Answered by Lucky | Sep. 30, 2020 21:27

0

0

Reply
It's autumn now in China.
Answered by hugo | Oct. 02, 2020 02:00

0

0

Reply
no,it's not in August. it is celebrate on the 15th day in 8th month of Lunar calendar
Asked by Zee from MALAYSIA | Aug. 27, 2019 22:54

Reply
Are schools in Shanghai closed only Sept 13-15 for Mid Autumn Festival this year? Or 1 week closed?
Answers (2)
Answered by Michelle from USA | Aug. 29, 2019 01:24

0

0

Reply
Yes, school will close for Mid autumn festival holiday during September 13-15. The National Day holiday will last for a week.
Answered by Shi Yuan from CHINA | Sep. 12, 2019 23:45

0

0

Reply
Schools are closed only for 1 day for mid autumn festival. However, sometimes if the official day is followed by a sunday, it becomes 2 days. In 2019, mid autumn official holiday is on 13 September - a friday. on saturday 14 September, most schools are open, and on 15 Sept sunday schools are closed. Holidays in schools in Shanghai, beijing, Guangdong are all on teh same day - there is no local holiday (except for when there is a local calamity like a typhoon).