Mid-Autumn Festival
Falling on the 15th day of the 8th month according to the Chinese lunar calendar, the Mid-Autumn Festival is the second grandest festival in China after the Chinese New Year. It takes its name from the fact that it is always celebrated in the middle of the autumn season. The day is also known as the Moon Festival, as at that time of the year the moon is at its roundest and brightest.


The holiday schedule of mainland China in recent years is offered as follows.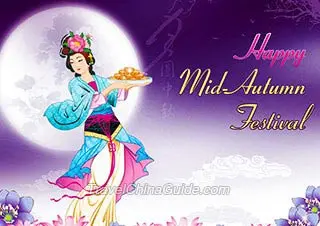 Year

Date

Holiday

2018
Sep. 24

Sep. 22 - 24

2019
Sep. 13

Sep. 13 - 15

2020

Oct. 1

Oct. 1


It is within the National Day holiday from Oct. 1 to 7 and will prolong the holiday to Oct. 8.
2021
Sep. 21
Sep. 19 - 21
2022
Sep. 10
Sep. 10 - 12
2023

Sep. 29

Sep. 29
People in mainland China enjoy one day off on the festival which is usually connected with the weekend. In Hong Kong and Macau, people also enjoy one day off. However, it is not scheduled on the festival day, but the following day and it is usually not connected with the weekend. In Taiwan, the one day holiday falls on the festival day.
History
Mid-Autumn Festival is an inherited custom of moon sacrificial ceremonies. The ancient Chinese observed that the movement of the moon had a close relationship with changes of the seasons and agricultural production. Hence, to express their thanks to the moon and celebrate the harvest, they offered a sacrifice to the moon on autumn days.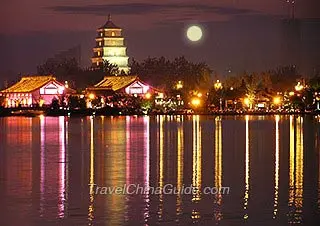 Mid-Autumn Festival in Xi'an
This custom could be traced back to the Zhou Dynasty (1046 - 256 BC) and was more often practiced by the royal class on the Autumnal Equinox. At that time, the custom had no festival background at all. Later in the Sui (581 - 618 AD) and Tang (618 - 907 AD) dynasties, social prosperity inspired the custom of appreciating the moon on the moon sacrifice ceremony day among common people and the two merged. The people expressed their faith more liberally than the royal class and so they did not strictly hold their activities on the Autumnal Equinox. So the 15th of the 8th lunar month, the closest full moon day to the Autumnal Equinox, turned out to be a better choice and was set as a fixed festival. This happened in the Tang Dynasty. By the time of the Northern Song Dynasty (960 - 1127 AD), Mid-Autumn Festival had already become a widely celebrated folk festival.

Romantically speaking, the festival is to commemorate Chang E, who in order to protect her beloved husband's elixir, ate it herself and flew to the moon.

On the festival day, family members gather to offer sacrifice to the moon, appreciate the bright full moon, eat moon cakes, and express strong yearnings toward family members and friends who live afar. In addition, there are some other customs like playing lanterns, and dragon and lion dances in some regions. The unique customs of ethnic minorities are interesting as well, such as "chasing the moon" of Mongolians, and "steal vegetables or fruits" of the Dong people.

See also 18 Popular Mid-Autumn Festival Traditions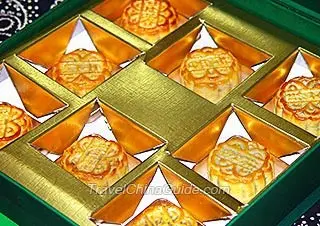 Moon cakes, the special food for
the Mid-Autumn Festival

Chinese Mid-Autumn Greeting Cards
Happy Mid-Autumn Festival!

Moon Cakes

Bright Full Moon

Further Reading:
2019 / 2020 / 2021 China Public Holiday Calendar is available for you to know the schedule of all holidays in China and better make your travel plan.
Chinese Festival Food introducing various delicous dim sum unique to traditional China festivals.
- Last modified on Jul. 15, 2019 -
Questions & Answers on Mid-Autumn Festival
Asked by Marlene Eglinton from UNITED KINGDOM | Jan. 25, 2019 08:19

Reply
Going to China arriving 16th Sep 2019 leaving 5th Oct 2019
Are there any festivals on in that time .if so will all these historical sights be open also the shops
Answers (2)
Answered by Dylan from NEW ZEALAND | Jan. 27, 2019 17:51

0

0

Reply
The National Day Holiday will start from Oct. 1 to 7. All the sights and shops will open at that time. But it will be especially crowded during that time.
Answered by Mrs m eglinton from GREAT BRITAIN. | Jan. 28, 2019 06:20

0

0

Reply
Thankyou for answering my question .it has been very helpfully.
Mrs m Eglinton. 👍👍👍
Asked by Olu from NIGERIA | Sep. 21, 2018 22:28

Reply
Are schools open on this day?
Will schools open / will teachers teach on September 22-24?
Answers (4)
Answered by Tony Gur from CHINA | Sep. 22, 2018 18:04

0

0

Reply
many schools are closed during the chinese mid-autumn festival in china. most high school students don't have the leisure time for vacation,because they have to do more to prepare for their unversity test next year.
Answered by Olu from NIGERIA | Sep. 24, 2018 23:22

0

0

Reply
Dear Tony, So is it possible that some schools are open (primary schools)?
Answered by Tony | Sep. 25, 2018 18:35

0

0

Reply
Generally, they don't open in the festival.
Answered by Olu from NIGERIA | Sep. 25, 2018 23:10

0

0

Reply
Thank you Tony!
Asked by Athena from IRAN | Sep. 20, 2018 00:03

Reply
Where is the best place to see dragon dance in Dalian?
I'm going to be in Dalian on 22. September., where can i go to see a perfect festival ceremony?
And where are the best places for shopping?
Is there any sale on this festival?
Answers (1)
Answered by Henry from DENMARK | Sep. 20, 2018 19:29

0

0

Reply
1. Hi, generally, the Dragon Dance is usually performed on Dragon Boat Festival or Lantern Festival, so you may not see it in Mid-Autumn Festival. As for the festival ceremony, I knew there will be moon worship in some places but I'm not sure if there will be in Dalian. However, maybe you can ask the local people about that, like the staff in your hotel.

2. There is a good shopping mall located in No. 101 Kunming street, Zhongshan district.