Mid-Autumn Festival
Falling on the 15th day of the 8th month according to the Chinese lunar calendar, the Mid-Autumn Festival is the second grandest festival in China after the Chinese New Year. It takes its name from the fact that it is always celebrated in the middle of the autumn season. The day is also known as the Moon Festival, as at that time of the year the moon is at its roundest and brightest.



See also
11 Mid-Autumn Festival Facts You Should Know
10 Unexpected Fun Facts about Mid-Autumn Festival You don't Know

The holiday schedule of mainland China in recent years is offered as follows.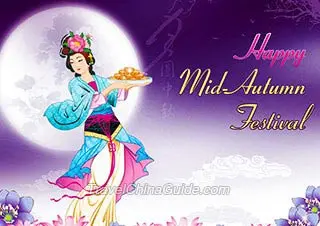 Year

Date

Holiday

2019
Sep. 13

Sep. 13 - 15

2020

Oct. 1

Oct. 1


It is within the National Day holiday from Oct. 1 to 7 and will prolong the holiday to Oct. 8.
2021
Sep. 21
Sep. 19 - 21
2022
Sep. 10
Sep. 10 - 12
2023

Sep. 29

Sep. 29

2024
Sep. 17

Sep. 15 - 17
People in mainland China enjoy one day off on the festival which is usually connected with the weekend. In Hong Kong and Macau, people also enjoy one day off. However, it is not scheduled on the festival day, but the following day and it is usually not connected with the weekend. In Taiwan, the one day holiday falls on the festival day.
Mid-Autumn Festival is an inherited custom of moon sacrificial ceremonies. The ancient Chinese observed that the movement of the moon had a close relationship with changes of the seasons and agricultural production. Hence, to express their thanks to the moon and celebrate the harvest, they offered a sacrifice to the moon on autumn days.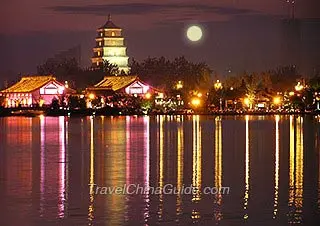 Mid-Autumn Festival in Xi'an
This custom could be traced back to the Zhou Dynasty (1046 - 256 BC) and was more often practiced by the royal class on the Autumnal Equinox. At that time, the custom had no festival background at all. Later in the Sui (581 - 618 AD) and Tang (618 - 907 AD) dynasties, social prosperity inspired the custom of appreciating the moon on the moon sacrifice ceremony day among common people and the two merged. The people expressed their faith more liberally than the royal class and so they did not strictly hold their activities on the Autumnal Equinox. So the 15th of the 8th lunar month, the closest full moon day to the Autumnal Equinox, turned out to be a better choice and was set as a fixed festival. This happened in the Tang Dynasty. By the time of the Northern Song Dynasty (960 - 1127 AD), Mid-Autumn Festival had already become a widely celebrated folk festival.

Romantically speaking, the festival is to commemorate Chang E, who in order to protect her beloved husband's elixir, ate it herself and flew to the moon.


Chang E Flying to the Moon
mentioned above, there are many other legends and stories related to this grand festival. The most well-known ones include Jade Rabbit Pounding Medicine, Wu Gang Chopping Laurel Tree, and Zhu Yuanzhang and the Moon Cake Uprising.
On the festival day, family members gather to offer sacrifice to the moon, appreciate the bright full moon, eat moon cakes, and express strong yearnings toward family members and friends who live afar. In addition, there are some other customs like playing lanterns, and dragon and lion dances in some regions. The unique customs of ethnic minorities are interesting as well, such as "chasing the moon" of Mongolians, and "steal vegetables or fruits" of the Dong people.

See also
18 Popular Mid-Autumn Festival Traditions
Top 6 Mid-Autumn Festival Activities
Why Chinese make Mid-Autumn Festival lanterns?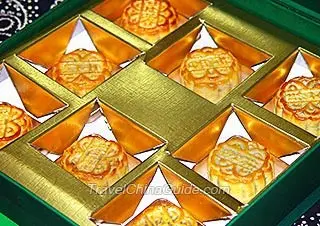 Moon cakes, the special food for
the Mid-Autumn Festival
The Moon Cake is the special food of Mid-Autumn Festival. On that day, people sacrifice moon cakes to the moon as an offering and eat them for celebration. Moon cakes come in various flavors according to the region. The moon cakes are round, symbolizing the reunion of a family, so it is easy to understand how the eating of moon cakes under the round moon can evoke longing for distant relatives and friends. Nowadays, people present moon cakes to relatives and friends to demonstrate that they wish them a long and happy life.



See also
Traditional Mooncakes in China - 12 Types of Regional Variations
10 Best Mooncakes in China - Have you ever tried?
10 Most Popular Mooncake Flavors - Which one do you like?
Halal Mooncake - Features, Fillings, Recipe
Snow Skin Mooncake – Non-Baked Mooncake
Jelly Mooncake - How to Make Colorful and Crystal Mooncakes
3,000 Years' Timeline of Mooncake History, from its Origin 'Taishi Cake'
Mooncake Recipe - How to Make Chinese Mooncakes at Home
Mid-Autumn Festival Food in China - Top 10 Dishes You Must Try

Due to frequent communications with China and migrations of Chinese people, Mid-Autumn Festival has become popular in other parts of the world, especially neighboring Asian countries where it is celebrated in the same way as in China, while others add their own customs.



See also
Chuseok - Korean Thanksgiving, Mid-Autumn Festival in Korea
Tsukimi, Mid-Autumn Festival in Japan
Mid-Autumn Festival in Singapore
Mid-Autumn Festival in Malaysia
Mid-Autumn Festival in Vietnam - Têt Trung Thu, Children's Festival


Further Reading
Mid-Autumn Festival in Hong Kong

Chinese Mid-Autumn Greeting Cards
Happy Mid-Autumn Festival!

Moon Cakes

Bright Full Moon

Further Reading:
Chinese Moon Festival - 5 Days to Celebrate the Full Moon: Lantern Festival, Huazhao Festival, Chinese Ghost Festival, Mid-Autumn Festival and Xiayuan Festival.
2020 / 2021 / 2022 China Public Holiday Calendar is available for you to know the schedule of all holidays in China and better make your travel plan.
Chinese Festival Food introducing various delicous dim sum unique to traditional China festivals.
- Last modified on Oct. 14, 2019 -
Questions & Answers on Mid-Autumn Festival
Asked by Ming from TAIWAN | Sep. 09, 2019 14:19

Reply
Why does a "mid-autumn" celebration take place during summer?
If it's supposed to be celebrated in the middle of autumn (northern hemisphere), then why are the dates listed during summer? Summer doesn't end until September 22-23 (23rd this year).
Answers (2)
Answered by Jack from CANADA | Sep. 09, 2019 19:52

0

0

Reply
August is always the harvest season. People held a series of ceremonies to thank God's protection. The celebration is called the 'Zhong Qiu'. In the mid-autumn festival, the temperature is getting colder and colder. Generally speaking, it is the best season to watch the moon. Therefore, the content of the festival was gradually replaced by watching the moon.
Answered by Teddy from CHINA | Sep. 13, 2019 08:42

0

0

Reply
lunar calendar~All the Chinese traditional festivals are based on this, even the birth date
Asked by Zee from MALAYSIA | Aug. 27, 2019 22:54

Reply
Are schools in Shanghai closed only Sept 13-15 for Mid Autumn Festival this year? Or 1 week closed?
Answers (2)
Answered by Michelle from USA | Aug. 29, 2019 01:24

0

0

Reply
Yes, school will close for Mid autumn festival holiday during September 13-15. The National Day holiday will last for a week.
Answered by Shi Yuan from CHINA | Sep. 12, 2019 23:45

0

0

Reply
Schools are closed only for 1 day for mid autumn festival. However, sometimes if the official day is followed by a sunday, it becomes 2 days. In 2019, mid autumn official holiday is on 13 September - a friday. on saturday 14 September, most schools are open, and on 15 Sept sunday schools are closed. Holidays in schools in Shanghai, beijing, Guangdong are all on teh same day - there is no local holiday (except for when there is a local calamity like a typhoon).
Asked by Marlene Eglinton from UNITED KINGDOM | Jan. 25, 2019 08:19

Reply
Going to China arriving 16th Sep 2019 leaving 5th Oct 2019
Are there any festivals on in that time .if so will all these historical sights be open also the shops
Answers (4)
Answered by Dylan from NEW ZEALAND | Jan. 27, 2019 17:51

0

0

Reply
The National Day Holiday will start from Oct. 1 to 7. All the sights and shops will open at that time. But it will be especially crowded during that time.
Answered by Mrs m eglinton from GREAT BRITAIN. | Jan. 28, 2019 06:20

0

0

Reply
Thankyou for answering my question .it has been very helpfully.
Mrs m Eglinton. 👍👍👍
Answered by Shi Yuan from CHINA | Sep. 12, 2019 23:48

0

0

Reply
I would suggest that you travel either before 1 October or after 8 october 2019. This is because 1-7 October (Golden week) is a week long holiday given to people in China specifically so that they can travel.
There are no special festivities at this time (except that you will see the Chinese flag flown alogn some big roads, as the country was founded on 1 October 2019) - but railway stations, tourist spots and bus statiosn are all ultra crowded. Popular tourist spots in Shanghai, Beijing, Hangzhou, Chengdu, Great wall (Chang cheng) also are VERY crowded. So it is not the best time to travel in China. After the holiday however, it becomes much nicer.
Answered by Alice Lei from CHINA | Sep. 13, 2019 16:03

0

0

Reply
1st October to 7th October is National holiday here in China. Will be very crowded at that time.