Christmas in China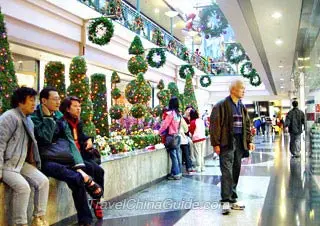 Christmas in Chinese Shopping Centers
Christmas (Xmas) is one of the grandest religious festivals and a widely-spread holiday celebrated by millions of people around the world, especially in western countries. In the olden days, Christmas in Mainland China was not as popular as in the western world, for there are a few Christians in China. However, with the frequent communication with the West, more and more Chinese, especially the younger generations, have started to celebrate the festival. In recent years it has become more popular in the non-Christian world, including Hong Kong, Macau, Malaysia, Singapore and other areas in Asia.

Meaning Christ's Mass, it is celebrated generally on December 25 to commemorate the birth of Jesus Christ. Actually there is no record showing the precise date of Jesus' birth. People just set the date of December 25 about 2,000 years ago, so there is a long tradition to hold a series of special activities around the day. On Christmas Eve (December 24), most of the Catholic churches and some Protestant churches hold services and there are activities such as going caroling. Other festivities are held on December 25 and 26. Some Orthodox churches hold celebrations on January 7.

Christmas is not a public holiday in Mainland China so people can't enjoy a day off, but there are still some traditional festivities. On Christmas Eve some Chinese people may go to church with Christians to see what the religious activities are like. Customs like trimming and lighting the Christmas tree, sending cards and gifts, and holding parties are widely popular in major cities in China. The prosperous commercial streets and shopping malls are well decorated and the festival music can be heard wherever you go. The most popular Christmas songs in China include 'Jingle Bells', 'We Wish You a Merry Christmas' and 'Silent Night'. Many international companies and Chinese companies doing business with foreigners hold some activities and give Christmas presents to their employees, especially companies from western countries.

More Chinese youth celebrate Christmas in a different way and as a carnival time. They would rather go to some more exciting places with their families, friends or lovers. City centers, tourist areas, downtown streets, etc are beautifully decorated and crowded with people. Young people also go to parties held in hotels, restaurants, bars or KTVs, where the charges are usually higher than on normal days. Since so many people go out on the night of December 24, it may be a problem to catch a taxi, a city bus or other public transport. Be prepared and be careful of the crowds!
| | |
| --- | --- |
| Activity during Holiday | Christmas in Hong Kong |
Another custom that is different from the western world and maybe the only thing Chinese people can do in a less exciting way on Christmas Eve is eating apples, for 'apple' has the same pronunciation as 'peace' in Chinese. People believe they will have peace in the coming year by eating an apple.
The celebrations in China do not last as long as to New Year's Day, but it is still a big stimulation to the economy. Around Christmas Day, most department stores, super markets and on-line shops give discounts and small gifts to their customers. Retail sales grow dramatically and all overstock of the year is put on sale. The shopping upsurge lasts from December to the New Year, and even to the eve of the
Chinese New Year
(Spring Festival), which usually falls in January or February.
In
Taiwan
Christmas is not a public holiday either, but the Taiwanese still celebrate,, as do the mainland Chinese.
Hong Kong
and
Macau
used to be colonies of western countries, so they are more influenced by western culture and people there enjoy Christmas holidays. Hong Kong residents have December 25 and 26 off. Many shopping centers are decorated from the middle of November. On December 24, the stock market only runs in the morning, and some establishments ring out ahead of time. At night, many local youth come out to appreciate the dazzling lights or join the various parties. Macau residents enjoy official holidays on December 24 and 25.

Free Christmas eCards
- Last updated on Jul. 26, 2021 -
Questions & Answers on Christmas in China
Asked by Anna from USA | Dec. 09, 2016 09:12

Reply
Is more important New Years than Christmas for Chinese people?
Answers (1)
Answered by Gabriel from USA | Dec. 11, 2016 21:12

2

1

Reply
Yes, the Chinese New Year is the most important festival for the whole country. It is a festival for family reunion. People working in other regions will come back to their home to celebrate the New Year with their family.