Qingming Festival (Tomb-sweeping Day)
Qingming Festival (also known as Pure Brightness Festival or Tomb-sweeping Day), which falls on either April 4th or 5th of the gregorian calendar, is one of the Chinese
Twenty-four Solar Terms
. From that date temperatures begin to rise and rainfall increases, indicating that it is the crucial time for plowing and sowing in the spring. The festival therefore has a close relationship with agriculture. However, it is not only a seasonal symbol; it is also a day of paying respect to the dead, a spring outing, and other activities.
Date
| | | |
| --- | --- | --- |
| Year | Date of Qingming Festival | Holiday |
| 2024 | April 4 | April 4 - 6 |
| 2025 | April 4 | April 4 - 6 |
| 2026 | April 5 | April 4 - 6 |
| 2027 | April 5 | April 3 - 5 |
| 2028 | April 4 | April 2 - 4 |
| 2029 | April 4 | April 4 |
More detailed
2024 / 2025 / 2026 China Public Holiday Calendar
is available for you to know the schedule of all holidays in China and better make your travel plan.
It is said that the Qingming Festival was originally held to commemorate a loyal man living in the Spring and Autumn Period (770 - 476 BC), named Jie Zitui. Jie cut a piece of meat from his own leg in order to save his hungry lord who was forced to go into exile when the crown was in jeopardy. The lord came back to his position nineteen years later, and forgot Jie Zitui but later felt ashamed and decided to reward him. However, Jie had blocked himself up in a mountain with his mother. In order to find Jie, the lord ordered that the mountain should be set on fire. Later Jie was found dead with his mother. In order to commemorate Jie, the lord ordered that the day Jie died was Hanshi (Cold Food) Festival - the day that only cold food could be eaten.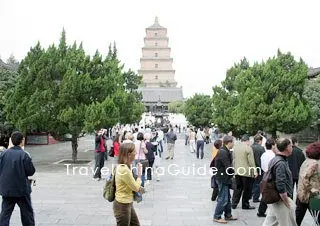 Spring Outing during Qingming Festival
The second year, when the lord went to the mountain to sacrifice to Jie, he found willows revived, so he gave instructions that the day after Hanshi Festival was to be Qingming Festival. Later, the two festivals were combined as one.
Traditional Customs
Qingming Festival is a time of many different activities, among which the main ones are tomb sweeping, taking a spring outing, and flying kites. Some other lost customs like wearing willow branches on the head and riding on swings have added infinite joy in past days. It is a combination of sadness and happiness.

Tomb Sweeping
Tomb sweeping is regarded as the most important custom in the Qingming Festival from which the name of Tomb-sweeping day is got. Cleaning the tomb and paying respect to the dead person with offerings are the two important parts of remembering the past relatives. Weeds around the tomb are cleared away and fresh soil is added to show care of the dead. The dead person's favourite food and wine are taken to sacrifice to them, along with paper resembling money. This is all burned in the hope that the deceased are not lacking food and money. Kowtow before the tablets set up for the dead are made.
Today, with cremation taking over from burying, the custom has been extremely simplified in cities. Only flowers are presented to the dead relatives and revolutionary martyrs. No matter how respect is shown, good prayers for the deceased are expressed.

Spring Outing
Not only is it a day for commemorating the dead, is it also a time for people to enjoy themselves. During March, everything in nature takes on a new look, as trees turn green, flowers blossom, and the sun shines brightly. It is a fine time to go out and to appreciate the beautiful scenes of nature. This custom can be traced back to the Tang Dynasty (618 - 907) and followed by each dynasty later till today. So visitors can be seen everywhere during the month of the festival.
Spring outings not only add joy to life but also promote a healthy body and mind.

Flying Kites
Flying kites is an activity favored by many people during the Qingming Festival. Kites are not only flown during the day time but also in the evening. Little lanterns are tied to the kite or to the string that holds the kite. And when the kite is flying in the sky, the lanterns look like twinkling stars that add unique scenery to the sky during the night. What makes flying kites during this day special is that people cut the string while the kite is in the sky to let it fly free. It is said this brings good luck and that diseases can be eliminated by doing this.
All in all, the Qingming Festival is an occasion of unique characteristics, integrating sorrowful tears to the dead with the continuous laughter from the spring outing.
- Last updated on Oct. 16, 2023 by Gabby Li -
Questions & Answers on Qingming Festival
Asked by Daniel from UNITED STATES | Mar. 25, 2022 20:07

Reply
Should you wish "happy Qingming Festival" to a Chinese individual?
Answers (2)
Answered by Crystal Zhang | Mar. 25, 2022 22:16

0

0

Reply
We won't say that, after all, this festival is to remember and miss our ancestors. so would you say Happy Memorial Day"
Answered by Chris | Apr. 04, 2023 03:00

0

0

Reply
Yes, in the United States, people would say "Happy Memorial Day". In fact, it is a large day of shopping as there are a lot of special prices on this day.
Asked by Aspen Leger from USA | Apr. 08, 2021 18:04

Reply
Can you still celebrate The Qingming festival even if you aren't living in China or near it?
Answers (1)
Answered by Pan Yingshu | Apr. 12, 2021 17:30

0

0

Reply
I will still celebrate Tomb Sweeping Day, no matter where I am.
Asked by Yean from USA | Mar. 27, 2021 15:10

Reply
QingMing for recently departed
My brother-in-law just passed last Nov 2020. Do I follow QingMing traditions for him?
Answers (1)
Answered by Cherry | Mar. 28, 2021 23:54

0

0

Reply
Generally speaking, you should.
Asked by Lisa from UNITED STATES | Jan. 10, 2020 13:14

Reply
Is traffic from Beijing to Mutianyu section of Great Wall congested during Qingming? On Apr 5 & 6
Answers (1)
Answered by Evelyn from CANADA | Jan. 12, 2020 23:01

0

0

Reply
Well, yes, generally speaking, there will have crowded tourists during the holiday. Thus the traffic situation would have more pressure.