Tourism Festivals in China
Brief Introduction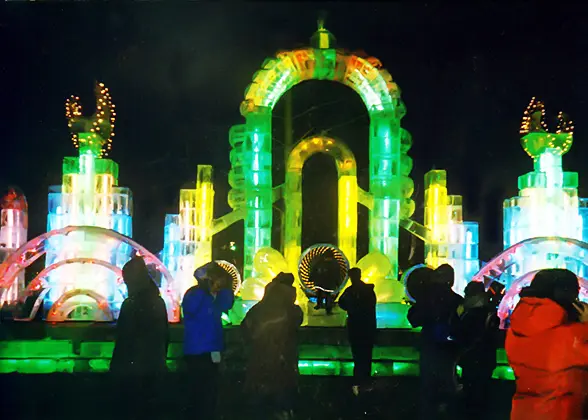 Harbin Ice and Snow Festival
China boasts many picturesque locations. Different places are characterized by diverse places of interest. Governments in different regions organize tourism festivals in order to make local scenic locations better known to people and publicize the country's culture in general. These feasts are closely linked with the famous local scenic places and are full of amusements and activities which give visitors an insight into local customs in a relaxed atmosphere.
Below are some of top famous and important tourist celebrations in China; each of which has its own distinctive characteristics.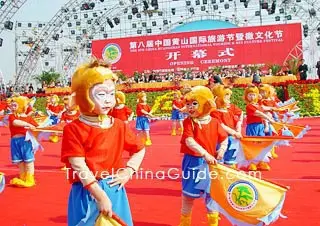 Mt. Huangshan International Tourist Festival
October and November:

1. Huangshan Mountain International Tourist Festival
Date: October
Place: Mt. Huangshan, Anhui Province

Activities: Since the Huangshan Mountain International Tourist Festival was held in 1991 the first time, it has been a favourite event and attracts numerous visitors from all over the world.
Rich and colorful activities are held during the festival including the traditional lantern fair, folk-custom performances, a painting and calligraphy exhibition and Huangshan specialties show. Visiting the famous Huangshan, the ancient Anhui traditional architectures, and the picturesque Shexian County are also important features of the happy event. Not only the scenery of Huangshan can be admired, but also the history of Anhui Province and the custom of the local people can be learned.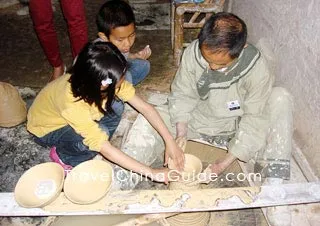 Craftsman making pottery, Jingdezhen

2. Jingdezhen International Pottery and Porcelain Festival
Date: October (October 1 to 31)
Place: Jingdezhen, Jiangxi Province

Activities: Jingdezhen renowned for the delicate porcelain is reputed as the porcelain capital of China. In the Jingdenzhen International Pottery and Porcelain Festival, an exhibition of world pottery and porcelain products is held. Porcelains from Tang Dynasty (618 - 907) to Qing Dynasty (1644 - 1911) in Jingdezhen and porcelain works created by the modern eminent pottery masters are also held. Not only the choice porcelain works can be admired, visitors also have a chance to make and paint porcelain themselves. Some of the well-made ones can be left as exhibits. Through it, every visitor can learn a lot about the porcelain history and Jingdezhen.


3. Guilin Scenery Festival
Date: October 31 to November 8
Place: Guilin, Guangxi Zhuang Autonomous Region

Activities: Guilin is a city surrounded by the picturesqueLi River and has many hills and unique rocks. Every year when the Guilin Scenery Festival is held, visitors have the best chance to admire the beautiful scenery and participate in the rich activities.

The festival is a combination of tourism and for admiring and participating in local custom. An ancient cultural tour of Guilin and other tours are organized. In the evening, the Li River Lantern fair, a bonfire evening on the Love Island and folk singing and dance performance are presented to visitors. Visitors are also offered a self-service barbecue while watching the performances.


Tourism Festivals in China:
- Last modified on May. 05, 2019 -