Tourism Festivals in China
September:

1. Dalian International Fashion Festival
Date: Early September
Place: Dalian, Liaoning Province

Activities: This is the largest and most influential international fashion culture and economy pageant in China that attracts guests and merchants from over 20 countries every year. During it, large evening parties, the Famous Fashion Designers' Works Show, the Chinese Youth Fashion Design Competition, the International Fashion Expo, together with many business discussions, and patrol performances are held.

After the attractive opening ceremony, the evening party is held on the square. Many famous stars attend and perform according to their skill. In the Famous Fashion Designers' Works Show, many world famous brands such as Balmain of France and Ermenegildo Zegna of Italy are shown. The characteristic Chinese Youth Fashion Design Competition always attracts young Chinese designers from different provinces. On the second day the patrol performance acted by the common people and is favored by the Dalian citizens, takes place. Not only famous designers can show their works, Dalian citizens also have a chance to display their self-made clothes on the ramp. This festival has become a carnival that greatly enriches people's lives and an event for people nationwide to take part in.



2. Xi'an Ancient Culture Art Festival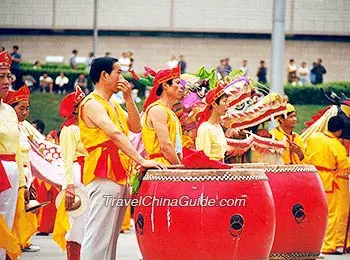 Xi'an people beat drum and gong
to celebrate the Ancient Culture Art Festival
Date: September (lasting for 7 days)
Place: Xi'an, Shaanxi Province

Activities: Xi'an, as one of the four ancient civilization capitals in the world is a city full of unique cultural expressions. Xi'an Ancient Culture Art Festival is a large event to publicize the customs of Xi'an to the world people.

Rich and colorful activities are held. In the street, local dances such as Yangger are performed and the drum and gong are sounded thunderously to accompany the lion dances. Besides, large scale singing and dancing performances are held by famous players. The colorful history of Xi'an is displayed fully through the actors' outstanding performances. In the evenings, grand palace fireworks are displayed, making the sky sparkle with different colors to dazzle the visitors' eyes. The City Wall is full of activities during the evenings on which cockfights like in the Tang Dynasty (618 - 907) and martial arts can be admired.

Visitors can also taste the delicious Xi'an local snacks and buy its traditional arts and crafts works like Paper Cuttings, Tricolor Glazed pottery of the Tang Dynasty, replica of the Qin Terra-Cotta Warriors and Horses figurines and so on.



3. Zhengzhou International Shaolin Martial Arts Festival
Date: September
Place: Shaolin Temple, Zhengzhou, Henan Province

Activities: In the Zhengzhou International Shaolin Martial Festival, visitors can admire a range of marvelous Shaolin martial arts performances and matches. Martial arts lovers have a good chance to communicate with each other here. In addition, the majestic Yellow River can be cruised by the hovercraft. Photos, painting and calligraphy exhibitions are also held. Every year, the festivity attracts a lot of people all from all over the world. It also exhibits Chinese traditional martial arts before a wider audience.
| | |
| --- | --- |
| Shaolin Martial Arts, Shaolin Temple | Confucius Temple, Qufu |

4. Qufu International Confucius Culture Festival
Date: September 26 to October 10
Place: Qufu, Shandong Province

Activities: It is held mainly for commemorating Confucius (a great educator and thinker in the Spring and Autumn period (770BC-221BC). Because the 27th day of the eighth month is his birthday, a grand memorial ceremony is held in the hometown of Confucius - Qufu. The opening ceremony is characterized by the ancient sacrificing dances that attract many visitors. Many exhibitions such as calligraphy and the Cemetery of Confucius (Kong Lin) can be seen. In addition, visitors can tour in The Kong Family Mansion (Kong Fu) and Temple of Confucius (Kong Miao). The local marriage customs can also be seen and authentic Shandong cuisine can be tasted.



5. Zhangjiajie International Forest Festival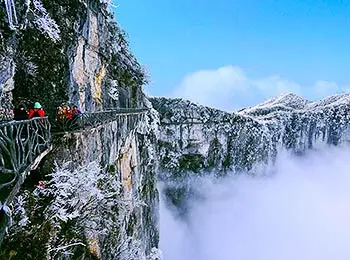 Zhangjiajie Scenic Area, Hunan
Date
: September 18
Place
:
Zhangjiajie
, Hunan Province
Activities
: This first national forest park in China already has over 97% of its allotted area under trees. Besides the luxuriant forest, many national protected rare animals such as macaques and bears can also be seen. One can attend it as part of a planned tour of the forest. There is also the chance to drift along the river, participating in the International Mountaineering Festival and rock climbing competition.

6. Suzhou Silk Tourist Festival
Date: September 20 to 25
Place: Suzhou, Jiangsu Province
Activities: Suzhou is a city with a long history of silk production. Indeed, it is known as the 'Silk Capital'. During the Suzhou Silk Tourist Festival, a silk clothes exhibition, a fashion performance accompanied by the notable symphony orchestra, and activities that are linked with the theme of silk are held every year to attract people from all over the world. Some famous scenic spots in Suzhou are also highlighted.



7. Shanghai Huangpu Tourist Festival
Date: September 21 to 27
Place: Shanghai

Activities: It is held to open the Shanghai customs to the people nationwide and abroad. On the opening ceremony, large floats present the folk customs of Shanghai. Concerts are held on the plaza. Tourist activities include an evening trip on the Huangpu River, and a visit to some characteristic Shanghai Scenic spots. Visitors flock to enjoy shopping for authentic goods or to savour delicious Shanghai foods.
| | |
| --- | --- |
| Huangpu River Cruise, Shanghai | Three Gorges Cruise, Hubei |

8. Hubei Three Gorges Art Festival
Date: September to October
Place: Yichang, Hubei Province

Activities: Hubei is a province that is characterized by the culture of Chu (one of the seven warring states before Qin (221BC - 206BC) in China's first feudal dynasty). During the Hubei Three Gorges Art Festival, diversified activities such as bronze bells playing, Tujia traditional dance and Three Gorges potteries are presented to visitors. Famous scenic spots are worth a visit such as the Three Gorges Dam Project, Gezhouba Water Conservancy Project, the Shennongjia Nature Reserve and so on.


Tourism Festivals in China:
- Last modified on Apr. 14, 2021 -
Questions & Answers on Tourism Festivals in China
Asked by FI from AUSTRALIA | Aug. 14, 2016 02:19

Reply
When is the Xi'an Ancient Culture Art Festival this year?
Answers (1)
Answered by Raphael from GERMANY | Aug. 14, 2016 21:05

0

0

Reply
Generally, this festival is held in the middle of September every year and lasts for 7 days. But till now, it is hard to find the official info of the dates.
Asked by Ndumiso from SOUTH AFRICA | Jul. 03, 2016 05:54

Reply
festival inquiries
Hi am from South Africa. I have my entertainment company, and I would like to come and visit to your festival. what is the procedure I should follow ?
Answers (1)
Answered by Bess from FRANCE | Jul. 03, 2016 22:28

1

0

Reply
The most important thing is to get a tourist visa . You should take the application forms, photos, and passport and its copy to the embassy to get the visa.
The nearest festival is the mid-autumn holiday on Sep. 15. You can think about going to CN around that time.
Asked by Md. Syful Islam from BANGLADESH | Nov. 27, 2013 08:35

Reply
i want to join cultural festival in china.
i am syful.my country name is Bangladesh. plz answer me how processed in attend this program next year that means 2014
Answers (1)
Answered by Kent from USA | Nov. 28, 2013 03:15

1

0

Reply
What aspect do you want to know? Do you want to know how you can get the right to join one of them? If so, would you mind tell me that which festival you want to attend?
Generally speaking, as I know as tourists, you can join some of the activties during the festival if you are at the cities .