Qufu Travel Guide
Qufu Facts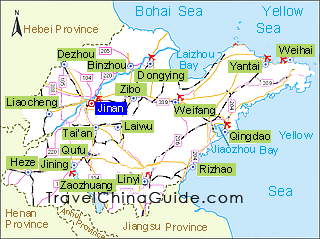 Chinese Name: 曲阜市 (qū fù shì)
Location: Situated in the southwest of Shandong Province, Qufu is one of the first of 24 famous historical and cultural cities announced by the State Council. It is 160 kilometers (about 99 miles) from the capital of Shandong Jinan and 45 kilometers (28 miles) from Jining City, Shandong.

Population: 654,500
Area: 895 square kilometers (345 square miles)
Nationalities: Han
City Flower: Orchid
City Tree: Juniper
Administrative Division: 8 Towns (Wucun, Yaocun, Lingcheng, Nishan, Xizou, Wangzhuang, Shimenshan, Fangshan); 4 Streets (Lucheng, Shuyuan, Shizhuang, Xiaoxue)



Pictures
here
and, while there the cooks of the Confucius Family Mansion made a Confucius Family Feast for him. After the emperor participated in the feast, he was very pleased and satisfied.

Qufu Confucius Temple

Confucius Family Mansion & Cemetery

Confucius Six Arts City & Yan Temple
| | |
| --- | --- |
| Confucius Temple | Confucius Mausoleum |
Through the above introduction, maybe you have learnt something about this city. China is a country influenced by Confucianism. If you want to have a deep understanding of China, you should pay a visit.
Recommended Qufu Tour
Jinan - Qufu -Mt. Tai: 4 days Shandong tour from Jinan to the hometown of Confucius and Mt. Tai
Weather
-

History: Qufu was the capital of the kingdom, Lu, in the Spring and Autumn Period (770 BC-476 BC) and is the hometown of the great Chinese philosopher and educator Confucius. Most visitors go there in order to see the places where Confucius lived, studied and was buried. There aren't any high buildings in the city, since the local people don't allow their buildings to exceed the height of the Dacheng Hall (81 feet) which the main hall of the Temple of Confucius. In this way, they show their respect for this great person.



Local Highlights: It is a city of great character. One fifth of its residents have the surname Kong and they are all Confucius' descendants. Meanwhile, it's a rich productive city. The local special product Qufu rice, it's very famous in China. Also there are many different kinds of handicrafts and each of them is highly appreciated.



Further Reading:


Dining