Pictures of Cemetery of Confucius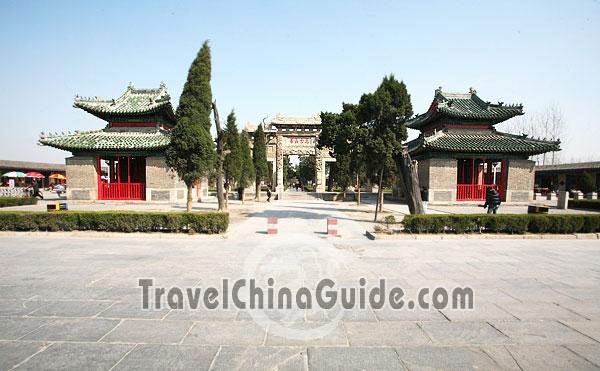 Located to the north of Qufu, the Cemetery of Confucius is the graveyard of Confucius and approximately 100,000 descendants. It is the largest family burial ground in China. Surrounded by a wall, it covers an area of 494 acres. Here many ancient trees reach into the skies and the surroundings are quiet. There are many steles inscribed by great calligraphers of some dynasties. Attraction Intro:
Cemetery of Confucius
- Last modified on Aug. 26, 2017 -
Questions & Answers on Pictures of Cemetery of Confucius
Asked by Mr.anans from INDIA | Dec. 26, 2009 22:32

Reply
How to go from Shaoxing in zheijangProvince to Jining in Shandong Province
Answers (3)
Answered by Mr.John | Dec. 27, 2009 03:13

2

0

Reply
Take train K76 from Shaoxing to Jinan and then to JIning from Jinan by bus or train. It takes 15.5 hours from Shaoxing to jInan and another 2.5-3 hours to Jining.
Answered by Mr.anand from INDIA | Dec. 27, 2009 21:57

2

0

Reply
any flight from hangzhou to nearest place to Jining city
Answered by Mr.John | Dec. 28, 2009 03:25

0

0

Reply
Jining has airport, but only have flights to Shanghai, Beijing, Guangzhou and SHenyang. If you want to take airplane from Hangzhou, suggest you fly to Jinan first. Jinan Airport has four direct buses to JIning daily at : 11:30,14:30,17:30,19:30
Asked by Ms.CODESHACK from NEW ZEALAND | Aug. 14, 2009 00:34

Reply
Can anyone tell me if you can get Jining from Hohot by train.
Answers (1)
Answered by Mr.John | Aug. 16, 2009 22:49

0

0

Reply
No, there is not a direct train from Hohhot to Jining. Suggest you take train to Liaocheng or Jinan first and then change to buses to Jining. Considering the time of arrival in Liaocheng and Jinan, here is my suggestion: Take Train K712 from Hohhot arriving in Liaocheng at 3:22am (nearly 16 hours).Shift to train 2071 from Liaocheng to Jining 3.3 hours later. Train K712 arrive at Jinan East at 5:35am, you can get to JInan Bus station to catch the bus to Jining (a bit more than 3 hours). The other train T284 to Jinan Railway Station arrives at nearly 3am. It is too early, for the next train to Jining is at 7:30. If you are leaving from Baotou, you can get to Jining directly. Hope this help.