Jinan Travel Guide
Jinan Facts
Chinese Name: 济南 (jǐ nán)
Population: 8,908,700
Area: 10,244 square kilometers (3,955 square miles)
Location: in the central area of Shandong Province, east China
Administrative Division: 10 districts (Lixia, Shizhong, Huaiyin, Tianqiao, Licheng, Changqing, Zhangqiu, Jiyang, Laiwu, Gangcheng); 2 Counties (Pingyin, Shanghe)
Area Code: 0531
Zip Code: 250000
GDP (2019): CNY 944.34 billion (USD 136.88 billion)
Known as the City of Springs
Jinan, the capital city and the second-largest city in Shandong Province after Qingdao, is adjacent to Dezhou, Binzhou, Zibo, Tai'an and Liaocheng. When it comes to Jinan, many people think of springs at once. More than 800 springs are distributed all over Jinan, some of which present spectacular gushing scenes. So Jinan is also known as the City of Springs. Most famous springs such as Baotu Spring Park, Black Tiger Springs and Five Dragon Pool are located in the urban area.

After visiting springs, you can go to the shopping malls and Quancheng Square around the scenic spots to feel the prosperity of Jinan. The best time to travel to Jinan is between September and November, because the spring bubble up higher and intensively due to the rising in groundwater level after the rainy season. Also, Jinan is a modern metropolis. It plays an important role in equipment manufacturing and Chinese transportation.
Compared with those capital cities or other large and medium-size cities in China, Jinan has few advantages and lacks a metropolitan atmosphere, the highlight being its numerous springs. Some people say Jinan's glamour is not merely its enticing natural beauty, but more the warmth of the local people. The beauty of nature is thin and weak, but the beauty that comes from people will last forever. The city is hospitable and receives visitors from all over the world. Marco Polo once visited it and left words of praise to this city. The Baotu Spring, Daming Lake and the Thousand Buddha Mountain decorate the city as a beautiful garden.

Top 10 Things to Do in Jinan
Jinan - Qufu - Mt. Tai: 4 days Shandong tour of Jinan - Qufu - Mt. Tai

Golf Vacation Hiking Adventure



More China Tour Packages
Jinan has direct flights with major cities in China and also some international destinations, such as Osaka, Tokyo, Seoul and Bangkok. This city also equips with fast transport network and enjoys developed high-speed rail and highway connection with popular tourist cities, like Guangzhou, Xi'an and Qingdao. City public bus and taxi can be easily taken at most places around the city. Nowadays, the city operates two metro lines.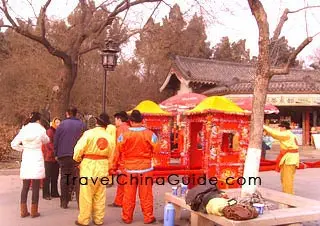 In the Daming Lake Park

History: This is a historical city with a history of some 2,000 years and is famed for its numerous relics. It is the cradle of the Longshan Relics Culture, the reputed prehistoric culture of China and is found in Longshan Town, hence the name. Here you will find far more than you would expect, Great Wall of Qi State (a state of the Zhou Dynasty (770B.C. – 221B.C.)), the colored sculptures of the Song Dynasty (960-1279) in the Lingyan Temple and so on.

Local Highlights: Known as the 'City of Springs', it is popular among visitors for its many springs and unique manly Lu Culture. The city is the home of Shandong cuisine, a popular cuisine of China. The unique souvenirs include Ejiao, Black Pottery, Lu Embroidery and Wooden-Fish wares.

Festival: Jinan is the right place to see some very typical festivals including The Lantern Festival in the Baotu Spring Park, the Lotus Festival in the Daming Lake Park and the Double-Nine Festival on the Thousand-Buddha Mountain.



Further Reading:


Dining

Shopping

Nightlife
- Last updated on May. 05, 2023 -
Questions & Answers on Jinan Travel
Asked by Rini from INDONESIA | May. 05, 2023 05:44

Reply
Adventist Church near Jinan, Shandong.
Hi! I would like to ask if you know the location of Adventist church near Jinan, Shandong? Thank you!
Answers (1)
Answered by Emily | May. 05, 2023 19:40

0

0

Reply
As I know, there is no adventist church near Jinan but there are some in Linyi and Qingdao.
Asked by anna from USA | Dec. 11, 2019 09:21

Reply
I'm a US citizen taking a flight from LAX via Sichuan airlines to Seoul.
I have a 12 hour layover in Jinan TNA with a self-transfer to Shandong Airlines. Will I need to leave the airport to do that or can I transfer within the airport?
Answers (1)
Answered by Ethan from POLAND | Dec. 11, 2019 18:18

0

0

Reply
Your travel route is Los Angeles - Jinan - Seoul, right? If yes, you can enjoy the 24 hours visa free policy. If you want to leave the airport, you need to apply for the stay permit when you arriving there.
Asked by teh from MALAYSIA | Jun. 24, 2019 00:38

Reply
Can I know C-916, High and New Technology Development Zone, Jinan City, Shandong, China zip code?
Answers (1)
Answered by Marie from USA | Jun. 25, 2019 02:08

0

0

Reply
It's 250101.
Asked by Sue from CHINA | Apr. 17, 2019 18:19

Reply
Which is the best bus to catch from Jinan to Red Leaf Valley?
Answers (1)
Answered by Emerson from CANADA | Apr. 21, 2019 23:35

0

0

Reply
If you start from the Main Railway Station, take public bus no.67 to Zhonggong Longshan Road Bus Stop. Then transfer to bus no.65 to Hongyegu Bus Stop. After arriving, take a taxi to the scenic area directly.
Asked by Deborah ghazali from USA | Mar. 14, 2019 11:28

Reply
Postal Code in Shandong Province
Postal code for Rm.1108 Bldg.2 Inzone Center, Harmony Square, Huaiyin District, Jinan, Shandong, China.
Answers (1)
Answered by John from FRANCE | Mar. 19, 2019 00:47

0

0

Reply
It is 250022.