Jinan Travel Guide
Chinese name: 济南市 (jǐ nán shì)

Location: Jinan, the capital of Shandong Province, is located in the midwest of Shandong and acts as a traffic junction to many worthwhile attractions in the province.

Population: 7,060,000
Area: 8,177 square kilometers (3,157 square miles)
Nationalities: Han
City Flower: Lotus
City Tree: Willow
Administrative Division: 7 Districts (Lixia, Shizhong, Huaiyin, Tianqiao, Licheng, Changqing, Zhangqiu); 3 Counties (Pingyin, Jiyang, Shanghe)

Compared with those capital cities or other large and medium-size cities in China, Jinan has few advantages and lacks a metropolitan atmosphere, the highlight being its numerous springs. Some people say Jinan's glamour is not merely its enticing natural beauty, but more the warmth of the local people. The beauty of nature is thin and weak, but the beauty that comes from people will last forever. The city is hospitable and receives visitors from all over the world. Marco Polo once visited it and left words of praise to this city. The Baotu Spring, Daming Lake and the Thousand Buddha Mountain decorate the city as a beautiful garden.
Jinan has direct flights with major cities in China and also some international destinations, such as Osaka, Tokyo, Seoul and Bangkok. This city also equips with fast transport network and enjoys developed high-speed rail and highway connection with popular tourist cities, like Guangzhou, Xi'an and Qingdao. City public bus and taxi can be easily taken at most places around the city. Subway will serve the public in late 2019.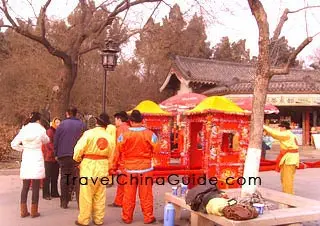 In the Daming Lake Park

History: This is a historical city with a history of some 2,000 years and is famed for its numerous relics. It is the cradle of the Longshan Relics Culture, the reputed prehistoric culture of China and is found in Longshan Town, hence the name. Here you will find far more than you would expect, Great Wall of Qi State (a state of the Zhou Dynasty (770B.C. – 221B.C.)), the colored sculptures of the Song Dynasty (960-1279) in the Lingyan Temple and so on.

Local Highlights: Known as the 'City of Springs', it is popular among visitors for its many springs and unique manly Lu Culture. The city is the home of Shandong cuisine, a popular cuisine of China. The unique souvenirs include Ejiao, Black Pottery, Lu Embroidery and Wooden-Fish wares.

Festival: Jinan is the right place to see some very typical festivals including The Lantern Festival in the Baotu Spring Park, the Lotus Festival in the Daming Lake Park and the Double-Nine Festival on the Thousand-Buddha Mountain.



Further Reading:


Dining

Shopping

Nightlife
- Last modified on Jan. 07, 2019 -
Questions & Answers on Jinan Travel
Asked by Mr.TJANDRA from ID | Nov. 20, 2018 05:50

Reply
I will have 3 days to stay at Jinan.where is the place must visit here?

Thanks for your advise..
Answers (1)
Answered by Hazel from POLAND | Nov. 20, 2018 23:43

0

0

Reply
The city has several nice scenic areas for you to tour around. You can arrange the 3 days in the following:
Day 1: Furong Pedestrian Street, Quancheng Commercial Street, Daming Lake Park
Day 2: Shandong University, Baotu Spring Park, Shandong Provincial Museum
Day 3: Thousand-Buddha Mountain (Qianfo Mountain)

Hope helpful!
Asked by Menaka from SRI LANKA | Oct. 29, 2018 09:27

Reply
Im at qingdao and want to visit jinan
Are there any ancient temples at that 100 buddha mountain
How was the nightlife compared to qingdao
places to stay for foreigners for affordable prices

Answers (1)
Answered by Taban from JAPAN | Oct. 30, 2018 20:45

0

0

Reply
Yes, there are many ancient temples in this mountain and the most famous one is Xingguo Temple. To be honest, the nightlife of Qingdao is better than that of Jinan. As you come to this city, here are also some great places to experience its nightlife, such as the Quancheng Square, night market at Wangguanzhuang or People's Square, Furong Street…

Crace Inn at No.48 Lishan Road is recommended to you, because the hotel is highly cost effective and near the attractions and the railway station. The starting price is about CNY130.
Asked by Robert Kopp from SOUTH AFRICA | Oct. 26, 2018 04:03

Reply
I'm arriving at Jinan railway station at about 16:18 on a Thursday afternoon.
I want to get on a bus to Handan straight away. Are there buses departing to Handan around that time? How much is the ticket? How long does it take to get to Handan?
Answers (1)
Answered by Ethan from USA | Oct. 28, 2018 20:28

0

0

Reply
Yes, there are buses to Handan before 19:00 at the Long-Distance Bus Terminal. The ticket fare is about CNY95/ 100 and the duration is about 4 hours.

You need to take the bus No.K7/15/85 to the Long-Distance Bus Terminal from the railway station at first.
Asked by Gerry Khosa from ZAMBIA | Aug. 23, 2018 14:31

Reply
How do I get from Beijing Capital Airport to Jinan by train?
Answers (1)
Answered by Dennis from FRANCE | Aug. 23, 2018 20:41

0

0

Reply
You can take the shuttle bus line 2 to BJ South Railway Station and then take a high speed train to Jinan. In order to have a smoother trip, you are advised to book the train tickets in advance. Nice journey!