Qingdao Travel Guide
Chinese Name: 青岛市 (qīng dǎo shì)
Location: Qingdao, located in the southeast part of Shandong Province, is a beautiful seaside city with clear air and enchanting sea view. This city, bordered by the Yellow Sea on two sides, has the largest bathing beach in Asia and produces the mellow Tsingtao Beer.

Population: 9,204,000
Area: 11,282 square kilometers ( 4,356 square miles)
Nationalities: Han
Administrative Division: 7 Districts (Shinan, Shibei, Huangdao, Laoshan, Licang, Chengyang, Jimo); 3 County-level Cities (Jiaozhou, Pingdu, Laixi)



Pictures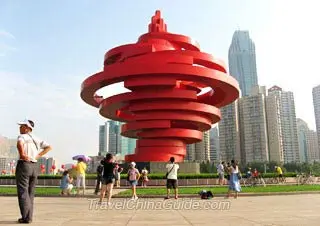 May 4th Square
The red roofs, green trees, blue sea, and azure sky form a bright and colorful picture here. The city is sometimes known as the Switzerland of the Orient. Surrounded by the sea on three sides, the city attracts many visitors with its charming seascape. Sights like the Eight Passes Villas, May 4th Square, the Zhan Bridge, Mt. Laoshan, No.1 Bathing Beach, Badaguan Scenic Area will help you remember the city.

Other major attractions like Xinhao (Signal) Hill Park, Catholic Church (St. Emil Church), Golden Sand Beach, Small Qingdao Island, Lu Xun Park, and Underwater World are also worth a visit. Just walking on the sand and listening to the surf breaking on the beach becomes enjoyable.
3-Day City Tour: visit Mt. Laoshan, Taiqing Palace, Xiaoyushan Hill Park, Small Qingdao Island, Zhan Bridge and No. 1 Bathing Beach
Hiking Adventure Golf Vacation Bicycle Routes


More China Tour Packages
| | |
| --- | --- |
| Zhan Bridge | The seaside city |

Liuting International Airport

Qingdao Railway Station

North Railway Station

Metro

Qingdao has implemented the 72-hour visa-free transit policy to facilitate citizens of some countries and regions to enjoy a visa-free stay up to 72 hours when taking an international transfer via Liuting Airport. As of January 1, 2019, it will be extended to the 144-hour visa-free transit.
Read details about
72-Hour Visa-Free Transit
&
144-Hour Visa-Free Transit
.

History: For thirty three years, up to 1949, the city was a colony of Germany and Japan. Thus, it has a great deal of European architecture. This foreign architecture -a remnant of the colonial past- now beautifies this seaside city.



Foods: The food here is with distinctive flavors--especially seafood. So take this chance to enjoy the delicious seafood. Also, the city is the home of the famous Tsingtao Beer. Do not forget to try it when visiting the city.



Local Highlights: The local government recognizes the importance of the tourism industry and has further plans to develop the local tourism. To enhance the tourism industry, the city now sponsors the International Beer Festival, the International Sea Festival, Beach Culture Festival, the Sea Affection Festival, and the Summer of Qingdao Festival. In cooperation with the Beijing Olympic Games 2008, the city held the Sailing Competition in the Olympic Games in 2008. This great event brings a great opportunity for this charming city to build its bright future.



Relationship with Korea
Since the first Korean companies began doing business in this city in 1988, Korean people have lived here. Thousands of Korean people now live and work here, which makes the city with the most Korea investment enterprises in China. And the city also has the largest Korean population in China. With years of cultural exchange, they have established deep, close friendships and mutual trust with the native Chinese people.



Further Reading:


Shopping

Nightlife
- Last modified on Nov. 13, 2018 -
Questions & Answers on Qingdao Travel
Asked by Andro from BOLIVIA | Nov. 12, 2018 15:51

Reply
What is zip code of this address Fangzi, Changyi, Weifang, Shandong, China?
Answers (2)
Answered by Miu from CANADA | Nov. 12, 2018 20:00

0

0

Reply
The zip code is 261200. By the way, Fangzi District is not included in Changyi District and both are equative administrative districts.
Answered by Andro from BOLIVIA | Nov. 13, 2018 02:09

0

0

Reply
Thank you so much
Asked by piepie from MALAYSIA | Oct. 21, 2018 23:49

Reply
when is metro line 1 (Qingdao Metro)will be completed?
Answers (2)
Answered by Kenneth from USA | Oct. 22, 2018 19:40

0

0

Reply
It is expected to be opened by the end of 2022 according to the latest news.
Answered by Aaron from CHINA | Nov. 08, 2018 05:44

0

0

Reply
It will be opened in 2020,but Qingdao already has 4 metro lines running in 2018
Asked by piepie from MALAYSIA | Oct. 21, 2018 23:45

Reply
How can i go to Taidong pedestrian street from Qingdao railway station?
is there any metro available?
Answers (3)
Answered by Rena from USA | Oct. 22, 2018 19:43

0

0

Reply
Walk about 3 minutes from the railway station to the Feixian Road railway station where you can take the bus No.2/ 301/ 320. Then get off at Taidong. Then walk about 3 minutes to the street. The whole ride needs about 35 minutes and CNY1 per person.
Answered by Piepie from MALAYSIA | Oct. 23, 2018 03:16

0

0

Reply
Is there any signage to go to the feixian railway station? If i didnt read or speak chinese, how do i know already reach taidong?
Answered by Rena | Oct. 23, 2018 18:16

0

0

Reply
Dear, I give you the Chinese name and you many can show the passer-by to ask the way.
青岛火车站(QD railway station) - 费县火车站公交站(Feixian railway station) - 台东公交站(Taidong)
Asked by Alfred from USA | Sep. 06, 2018 00:36

Reply
How to get to Island off Qingdao Zhuchadao?
There is a small island called Zhuchadao. Does anyone know where to get the ferry for this island?
Answers (3)
Answered by Dennis from NEW ZEALAND | Sep. 06, 2018 23:10

0

0

Reply
You can take a ferry from Qingdao Ferry Terminal and the ferry departs at 8:00 and 8:30.
Answered by Alfred from COLOMBIA | Sep. 18, 2018 21:56

0

0

Reply
Hey, thanks for the info.
There is Qingdao Ferry Station, Qingdao Port, Qingdao Cruise terminal. To be sure I get the right one do you know the address?
Answered by Dennis | Sep. 19, 2018 19:05

0

0

Reply
The Ferry Terminal is located at No.21 Sichuan Road, Shinan Distract. Hope to be helpful.
Asked by Tanya from AUSTRALIA | Jul. 16, 2018 15:37

Reply
Zip code for Specific Address
What is the zip code for Room 201, Building 7, Yizhonggaosahn, No 26 Jingde Road, SHinan District, Qingdao, China
Answers (1)
Answered by Jessica from GERMANY | Jul. 16, 2018 19:59

0

0

Reply
It's 266073.