Qingdao Nightlife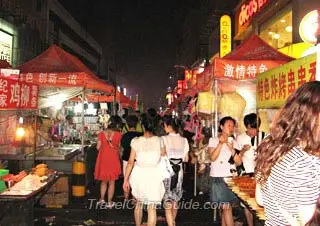 Local Night Market
To young people, one thing that should not be missed is the bar life. The Qingdao entertainment district is located in the downtown area of the east part and the Stone Old Man (Shi Lao Ren) Tourism Holiday area. Although the nightlife here is becoming more active every year, it is more subdued than in other major cities.
The
Honolulu Club
, on the first floor of
Huiquan Dynasty Hotel
, No. 9, Nanhai Road. It is a famous pub in the city that deserves a try.

Freeman Coffee House
, No. 38, Hubei Road, Shinan District
A coffee house in the old city area, it is decorated with antiques, such as an American wireless radio from the 1940s, Irish copper coffee pots, a shabby straw-hat-shaped lampshade, and the graffiti left by customers. All these decorations remind one of a street corner in a European city.



Music Kitchen: No. 5, Hong Kong Middle Road
The Music Kitchen Bar is a three-story building. Here you can watch the stars from the roof. Pizza is the most popular food at the Music Kitchen. They also feature various salads such as Thai eggplant salad and French sweet pepper salad. There's nothing better than pizza with salad!



JFK Bar: No. 2, Zhanghua Road
The bar is actually located in the Sea View Garden Hotel and is named after former-American president John Fitzgerald Kennedy. It is an American-style bar that takes patrons back to the Kennedy era.

There is also a bar street, Yan'er Dao Road, which has loads of bars and has now been extended to First Zhangzhou Road and Minjiang Road. Give this street a try!

Besides bars and pubs, Qingdao offers other types of entertainment, too.



Hailedi KTV: With fashionable and deluxe decorations, the KTV house attracts a large number of customers. It has its own pub, supermarket, and nearly 50 small rooms for private entertaining.
Location: No. 109, Jiangxi Road

The Feeling Club is the largest disco club in Qingdao and it is the hottest place among young people.
Location: Building D, Hong Kong Garden Square, Hong Kong Middle Road



Night Market
Qingdao's nightlife ends a little earlier than some other coastal cities in China. So does the night market. At about 10 pm each night, the night market closes. So if you like to wander through the night market, please go there early. Those on Yan'an Er Lu and Taidong Pedestrian Street are recommended.



Beer Street
Located in the Dengzhou Road of Shibei (north of the city) District, the street features all kinids of Tsingtao Beer and beer from all over the world. The beer street starts from the Yan'an Er Lu at the east and ends at the Guangrao Road at the west.



The Cinema
The Huiquan underground cinema is highly recommended. This cinema is near the seaside with very good facilities. Inside the cinema are the famous Korean BBQ restaurant, Tudari, and also a KFC.
- Last updated on Jul. 04, 2022 -
Questions & Answers on Qingdao Nightlife
Asked by Paul from IRELAND | Dec. 12, 2019 19:09

Reply
Hi I will travel to Qingdao for a Friday and Saturday night.
Are there any bars there that have Philipino bands that I could go see? Thank you!!
Answers (1)
Answered by Luke from NEW ZEALAND | Dec. 16, 2019 00:26

0

0

Reply
You can have a look at Zhongshan Road.
Asked by Robert from URUGUAY | Nov. 14, 2019 15:11

Reply
I have been in Qingdao but in my last visit I found out that New York Bar was closed
also the pub at Shangrila Hotel, anybody can recommend other options for live music bars in the city?

Regards Robert
Answers (1)
Answered by Pam from SINGAPORE | Nov. 17, 2019 23:37

0

0

Reply
Maybe you can go to LAB music bar, located at No.66, South Fuzhou Road.
Asked by Kassy from MEXICO | Mar. 18, 2019 09:29

Reply
Hey yal. so a few of my friends and i want to go to Qingdao for a few days.
i would really appreciate some information on the city.like what area to book a hotel near the beach .and i understand theres a few of them.and the happening night life where all the good restaurants and bars are.thanks in advance
Answers (1)
Answered by Alexis from FRANCE | Mar. 24, 2019 23:09

0

0

Reply
Yes, there are many nice hotels nearby the beach and see. If you want to have a quiet and placid atmosphere, you are suggested to stay at a hotel nearby Houhai Port. In addition, you can find many nice bars at Minjiang Road, Yan'erdao Road, Zhangzhou 2nd Road and Middle Hong Kong Road.
Have a nice journey! Enjoy your time!
Asked by Thomas from GERMANY | Jun. 19, 2018 10:47

Reply
Metal/Rock/Punk in Qingdao?
We're in QD for a few days and would like to check out the local Metal/Rock/Punk scene. Downtown Bar seems to have disappeared. Any tipps?
Answers (1)
Answered by Petrio from FINLAND | Jun. 19, 2018 22:43

0

0

Reply
You can try in Lennon Bar located at No. 20 Zhuhai road, Shinan District.